HBO's Vinyl has had a few rough spins, but as we head toward the first season finale Sunday (9 p.m. ET), the music has stayed loud and clear.
"With a show like Vinyl, you hope the music has a storyline of its own," says music supervisor Randall Poster. "You line songs up for a soundtrack and you hope that if someone listens to the songs, they will get a sense of the show."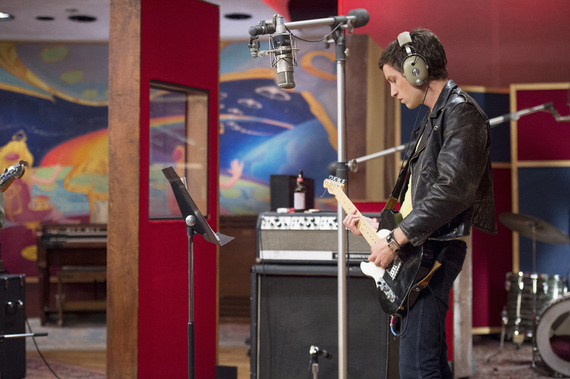 With Vinyl, that means immersion into the music of the 1970s - not the irritating top-40 pop that has given the decade its bad reputation, but the music that was bubbling under the mainstream surface. Punk, rap, R&B, the more creative early disco.
Vinyl mixes songs and artists from the era with original songs performed by characters like Kip Stevens, lead singer of a punk band called the Nasty Bits. Kip is played by James Jagger, son of Mick, who is an executive producer.
[Randall Poster has created playlists of music he imagines characters in Vinyl would have listened to.]
The show revolves around record label owner Richie Finestra (Bobby Cannavale), who comes from an earlier era and wants to capture the musical pulse of this new one.
Poster, who grew up in the '70s, says nailing the music is trickier than it might seem.
"Vinyl starts in 1973," he notes, "which means you're dealing with a lot of songs that were fraught with emotion for viewers. People had all kinds of different relationships with that music.
"There's no hard-and-fast rule for how to present it. You just need to keep your antennas up."
"I like to surround myself with people who are experts," says Poster. His hires here include former Sonic Youth guitarist Lee Ranaldo and Don Fleming, who he calls "punk aficionados."
And yes, he allows that no matter how much attention you pay to authenticity, "You'll always disappoint some trainspotter, especially when you're re-creating music. There's always a certain infringement of original quality, so there's no way around it."
The prize, he says, is not precise replication, but "summoning the experience of a moment. . . capturing the spirit of something."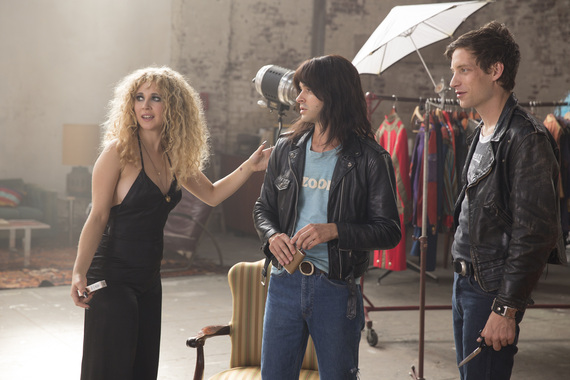 Poster's been pursuing that goal for more than 20 years, supervising the music for hundreds of movies and TV shows from Something's Gotta Give, The Wolf of Wall Street, The Intern and the Hangover series to Boardwalk Empire, Mozart in the Jungle and Lost.
To illustrate the challenge, he cites I'm Not There, the 2007 film about but not featuring Bob Dylan.
"When Dylan played the Newport Folk Festival [in 1965] and pulled out an electric guitar, it was a revolutionary moment to contemporary audiences," Poster says. "But for an audience of young people today, who take the electric guitar for granted, you have to present it in a way that shows why it was revolutionary then."
As the range of his shows suggests, Poster's musical knowledge is broad-based. For specific projects, he will immerse himself in areas where he's less versed.
"Before Boardwalk Empire, I took a deep dive into the music of the '20s," he says. "Recently I've been listening to a lot of big band from the '40s."
And yes, for all that, he does sometimes listen to music just for fun.
"It depends on what I'm working on," he says. "Sometimes I use it as an opportunity to clear my head."
Poster admits his current vocation isn't promoted at many high school career days.
"It wasn't anything I was planning on," he admits. "But it happened pretty organically. I was a New York kid, a movie fanatic, and at some point it dawned on me how music was married to stories and images.
"That impact was born somewhat out of the 4:30 movie. I was pretty crazy for Elvis movies. But the one that had the most impact on me was American Graffiti, because it had such an eye-opening soundtrack. I was thinking, 'How is it there are all these great songs and I didn't know about them?'
"I don't know that I consciously was thinking about who put them there, except the filmmaker. But I also liked Hal Ashby's movies, like Coming Home, Harold and Maude and Shampoo, and a few years later, when I got into filmmaking with friends, I'd work on the music.

"From producing and writing movies I just naturally moved into it."
He moved into Vinyl after previously working with co-creators Martin Scorsese and Terence Winter on Boardwalk Empire and The Wolf of Wall Street.
Most of his work has been in movies, and he says there are upsides and downsides to working with a TV production.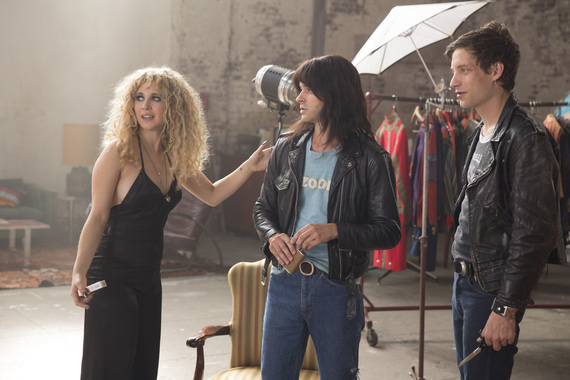 "Vinyl and Boardwalk Empire are much closer to feature films than traditional TV," he says. "So there's a chance to contemplate and experiment over the course of a season.
"But with a TV series, unlike with a movie, you don't know when you start where it's going. The 10th episode probably isn't written when you start the first. So you don't have the same opportunity to set the stage, to plant something in an early episode that could pay off later."
What does work in Poster's favor at this point is his reputation. When he wants a song, he can usually snag it.
"I get almost everything I want," he says. "I use whatever pressure I have available. But people will talk to me. They know if I want a song, I'll use it responsibly and affectionately."
Vinyl has been renewed for a second season, though it was just announced that Winter won't be back as the showrunner.
Hey, chaos did some good things for music in the 1970s. Maybe it can do the same for a show about that music.
Popular in the Community