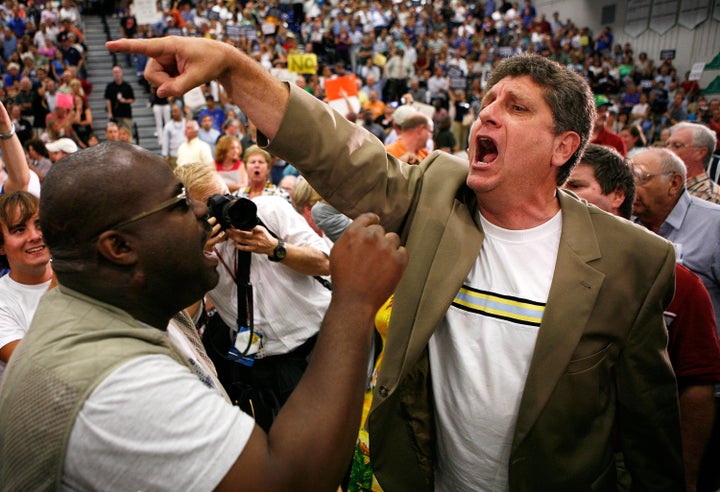 Randall Terry, the anti-abortion activist who announced last year that he would challenge Obama for the Democratic presidential nomination, has resurfaced with a bigger platform to get his message out.
Terry is known for his gruesome ads featuring what look to be aborted fetuses, which have already hit the air in Iowa, and now they are coming to the Super Bowl if he can raise the funds. Television stations and affiliates are normally allowed to block indecent content, but Terry is exploiting an FCC loophole that prevents censorship of political ads within 45 days of a presidential primary or caucus. Christian News Wire reports that the ads will air in 40 markets whose primaries fall in that window after Super Bowl Sunday, Feb. 5--should Terry get sufficient response from his fund-raising appeals. Here is an excerpt, via Slate, from a recent letter he sent his supporters:
We will reach TENS OF MILLIONS OF AMERICANS, and get enormous media coverage as well. And THAT, my friend, is what the babies deserve. And it is exactly what people like "Sophia" and The Abortion Gang who murder unborn babies dread. They FEAR Americans seeing the truth. Let's be a voice for the babies. I beg you to give right away to these Pro-Life Super Bowl ads. We only have a few days to book the ad, and to pay for them in advance in these cities.
Terry hatched the Super Bowl plan a year ago, as the Sunshine State News reported in January 2011:
Terry, who has backed graphic ads of abortion procedures before, hopes to run ads during the 2012 NFL playoff games, including the Super Bowl.

"America has never truly debated child-killing, because America has never truly seen child-killing," insisted Terry. "We will use FEC and FCC laws for federal candidates to bring America face-to-face with this massacre of the innocents."
Popular in the Community