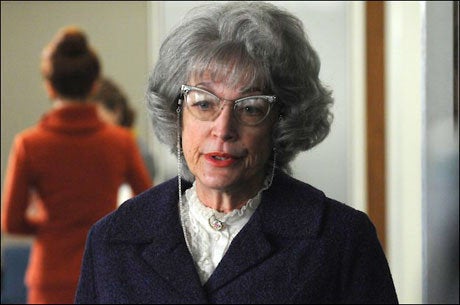 On the three time reigning Emmy-winning drama, in a season that features the downward alcoholic spiral of TV's most dashing leading man, the rising specter of the Vietnam War, and the continued fight for women's rights, it was perhaps the semi-comic death of a newly introduced bit character that generated the most shocking and talked about moment in the last season of "Mad Men."
Only on television can there be so much love for a cranky, racist, octogenarian.
Working as comic relief on such a serious show, Mrs. Blankenship, the elderly secretary assigned to Don Draper, was a season four sensation, delighting fans with her quick wit and wisecracks toward her boss and the rest of the office. Newly introduced for the season, the character's quirks and preposterous lines came just as much a surprise to Randee Heller, the actress who put on pounds of makeup and prosthetics to play her, as they did to the audience.
"Because the show is built on such secrecy anyway, they don't tell the actors either where they're going or what they're doing," Heller, who is nominated for an Emmy for Best Guest Actress for the part, told The Huffington Post. "So, it's kind of fun to work that way, because every week is a kind of surprise about who she is, she's a racist then she's a queen of perversion, she's inappropriate and she doesn't care what people think of her, and she sort of runs the office. She's been there since day one, so whenever you've heard any kind of description or adjective about her, to me, I was getting a big kick out of it, by all of the outside information that kept pouring into me."
Heller, 64, is sweet, earnest and jovial, nothing like the woman two decades her senior whom she portrays. An actor for more than thirty years, she's had roles on shows ranging from "Soap" and "The White Shadow" to "Melrose Place," "Family Matters" and "Grey's Anatomy." Still, she said she's never experienced something like the phenomenon and love that's felt for her Blankenship character.
Of course, her racism isn't what delighted the show's fans and made her effective; stodgy bigots are generally not admirable or applauded, even on screen. Instead, she seems to know all, from whom is sleeping with whom to what secrets each character is hiding. More importantly, she has no problem taking shots at her younger, more glamorous officemates.
"I don't think she cares because she's been there for so long, it's like she was born there almost, know what I mean?" Heller laughs. "She's probably worked there 45 years or more. And, she's not intimidated by anything because, you know, business as usual."
She also created a backstory for Blankenship, making her a single woman who goes back home to drink a martini each day and is working just for the paycheck. In her short run as Don's secretary, she chides him for his dalliances and familial issues, and for some reason, the hot headed exec seems to accept her criticism, and sometimes even looks as if he appreciates the straight talk. Heller chalks that up to a sort of mother-son relationship.
"Like, what are you doing? What are you up to?" she says, dropping into Blankenship's voice to mock a line of questioning. "Why are you drinking? Why are you smoking? Why are you sleeping? She looks at him in a whole different way, not as a peer, it's like a child. She's on to everything. And I think she likes to tease him. There's a little bit of tease there, as well... It just fits, the whole thing, this Shakespearean comic relief, the kind Shakespeare used, in catching the main character, putting him to task, of pointing out his flaws and she's like the foil, and it's good, because nobody else [would do it], but Ms. Blankenship did that to him."
Though she was only on the show for half a season, and was largely kept in the dark on what fate had in store for her character, Heller has nothing but praise for the series' creator and executive producer, Matthew Weiner.
"I mean the man has such a strong vision and I think that's why the show is so successful, because a lot of shows you work on there's too many cooks, and there's a single cook there, and he's a chef and he's a master," she raved. "He knows what he wants, and it's very clear, and you know, when he comes down to the set, which is not all the time, because he's busy writing, but when he comes down there it's awesome because he's great at what he does. He knows exactly what he wants. I loved it when he came down there, because I felt like I was in great hands."
Even if those hands ended up scripting her end, of a heart attack mid-yawn at her desk.
"When he told me, three days before I was going to die, I was like, 'Ohh I don't wanna die,' and he said 'It was all preordained,'" she remembered. "In retrospect, very soon after I did the death scene, it was over, and looking back, I said, that really was a perfect amount. Any more and we would have pushed it. You know, any less, it wouldn't have made that kind of splash. It really was a perfect amount of time, I think, that she appeared, even though the fans were wanting more. Leave them wanting more, right?"
And that, she did with aplomb. And in the process, earned a level of fan adoration she never could have expected.
"I don't even think I realized when I was doing it, the kind of impact, absolutely none, that it would make," she laughed. There was a sweet assistant on the set, and she said 'I hope you're prepare for what's to come, because there'll be a lot of attention,' and I was just like 'What?' I really had no idea. She became this little cult figure."
PHOTO: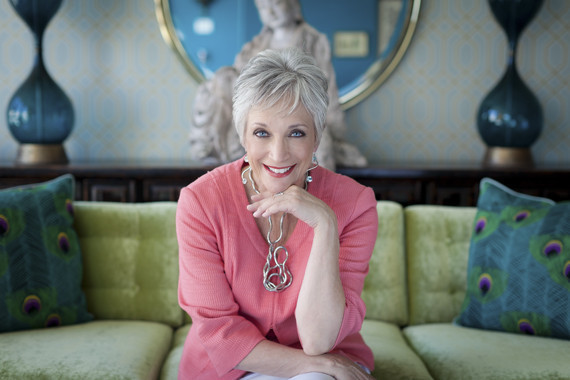 Calling all HuffPost superfans!
Sign up for membership to become a founding member and help shape HuffPost's next chapter