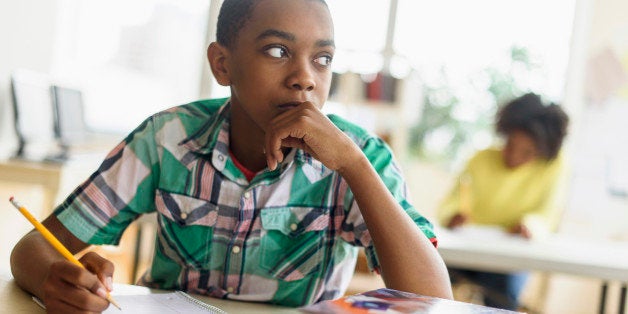 This weekend I had the pleasure of attending the #BlackStudentLivesMatter forum in Oakland, California. At this event I had a chance to hear many compelling stories, including the story of Cameron Simmons, the Youth Advocate from Restorative Justice Oakland Youth; the story of a boy who was first suspended at the age of four for allegedly stealing his own candy; the story of a young man who was suspended over 150 times during his school career and is still standing and free to talk about it; the story of a young man who shared an almost identical (however more impressive) story to my own. My first three suspensions came in the second grade as well as my first recommendation for expulsion for things that would now be considered "willful defiance."

Recently, Eva Moskowitz, the President of one of New York City's largest charter schools, Success Academy - and a former councilwoman - appeared on "PBS Newshour" and American Federation of Teachers President Randi Weingarten wrote a piece in the Huffington Post, both discussed school discipline and its effects on Black students. While I genuinely appreciate their intentions I can't help but to be troubled when I hear Ms. Moskowitz express, "If you get it right in the early years, you actually have to suspend far less when the kids are older, because they understand what is expected of them." Equally troubling was her reference to "sexually explicit language" as an example and a reason for mandatory suspension, which demonstrates both a cultural disconnect and an implicit bias. Daytime television is packed with sexually explicit language, not to mention radio. Sending a kid home to watch Maury and Jerry Springer for three straight days and expecting them to return with a more collegial vocabulary is simply illogical.

Ms. Weingarten seems to be a bit more on the mark with her actions and rhetoric, most notably joining protests in support of Eric Garner, but when she expresses, according to a recent AFT press release, "How many times did I cross the street because I was afraid of some hooded men?" I have to question how often she carried that implicit bias into the classroom, as it would indicate that she fears her students, therefore putting them at a greater risk of being removed from the classroom. In this same press release, Ms. Weingarten recommends that the American Federation of Teachers, "continue and expand its work with the Conferences of Chief Justices to help establish engagement strategies to bridge the gap between minority and low-income communities and court leadership through collaborative efforts that will increase public trust and confidence in the states' courts." I question the logic behind engaging youth in, let alone expanding or increasing, any contact with the court systems, particularly when we know that the court system is set up to subjugate and ensnare Black Lives.

During the PBS piece that featured Success Academy, Marie Chauvet-Monchick, principal at P.S. 138 in Brooklyn, was asked about her use of suspensions. In response, she stated, "No, I can't. I can't see it. I don't see the benefit of it. When you send a child home, the child is missing instruction. So, I'm actually robbing the child of an education if I suspend the child." From my perspective, this is an approach of love and the expectation that the student can - and deserves to - receive an education. Other than her statement on suspensions the fact that she was a Black woman feeling this way and acting this way was in stark contrast to the other two educators. It led me to reflect on the fact that although I have only had three Black teachers throughout my education, I have never been suspended by one of them. I was pulled out of public school after my mother got sick of my being ostracized, and was placed into a school run by master educator Marva N. Collins, where I didn't receive as much as a detention. Being a Black woman, Ms. Collins perfected her methodology on her own Black children that were in a system not designed for them and started a school with the students who had been expelled. She did this so well that she became an expert at educating the "unteachable" kids on the Westside of Chicago because she loved them and had high expectations.

To Ms. Markowitz and Ms. Weingarten: the best action that either of you can take for Black kids is to decide to stop suspending them now. Commit to the hard work of being creative in finding new restorative justice models. Support organizations that truly consist of the people that they are supposed to help. Too often in labor - especially in education reform - there are groups who do the work for saving Black and Brown folks but whose boards are all White with the top positions and pay going to White individuals, ironically leaving the Black and Brown folks to literally work out in the field for the lowest wages. There are organizations that have been doing this work for the people and with the people for years, making it simple for you to just plug in and support them. That is how to best use your "privilege". No need to hire and pay consultants who try to figure this out but ultimately do nothing. Send those resources to the Black and Brown organizations that already exist to show solidarity. Stand with us, not for us or on us.

I know that your hearts are in the right place, but the fact is that White women constitute 80% of public-school teachers, which suggests you are in a unique position to disrupt the school "push-out" movement (a tactic in which in and out-of-school suspensions are used as an arm of the school-to-prison pipeline) through direct action. According to the UCLA Civil Rights Project, during the 2011-12 school year, almost 3.5 million public school students were suspended at least once. Putting this into perspective, they went on to indicate that "the number of students suspended in just one school year could fill all of the stadium seats for nearly all the Super Bowls ever played-- (the first 45). Of the 3.5 million students who were suspended in 2011-12, 1.55 million were suspended at least twice. Given that the average suspension lasts 3.5 days, we estimate that U.S. public school children lost nearly 18 million days of instruction in just one school year because of exclusionary discipline."



Make the decision to stop suspending students as fast as you decided to empty out schools for a rally and make that decision with as much fight as you have approached the "opt-out: campaign where a quarter-million students in NYC alone refused to participate in high-stakes testing. We can't test or opt them out if they are pushed out before they can know what's expected of them.
Popular in the Community