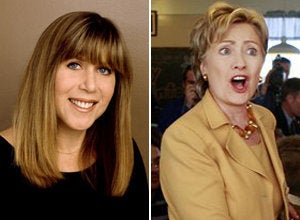 Update: Randi Rhodes went on Larry King Live and contradicted earlier statements regarding the manner in which her relationship was terminated with Air America. Rhodes said that Air America had new owners and that "this thing is really about them wanting to change my contract." According to Rhodes, when the new owners discovered "they didn't have the right to fire [her]" they used parts of her stand-up routine as a means to get her to leave Air America.
The Huffington Post has learned that Richard Belzer will fill in during Randi Rhodes' time slot next week. Read more here.
Update: The Huffington Post has learned that Randi Rhodes quit Air America after being asked by the network to apologize for her inflammatory remarks against Hillary Clinton and Geraldine Ferraro.
A source at Air America, who asked to remain anonymous, said, "Many people screw up and then apologize and move on. Like Imus. Like David Shuster. Like Jay Rockefeller on McCain. Like Obama on Rezko. Like Hillary on Bosnia. Randi Rhodes refused to apologize for her obscene comments and has chosen instead to terminate her relationship with Air America."
The source also said that there is no love lost between Rhodes and her colleagues at the network. "No one is upset. She made the move but there's relief and joy."
Dismissing claims that Rhodes was just doing stand-up comedy in San Francisco when she made the remarks, the source confirmed that Air America paid her way to California, that she was advertised as "Air America's Randi Rhodes," and that the Air America website urged people to go for "an evening of politics and pop culture." The source said, "Air America pays people to be talk show hosts, not stand-up comics, or else we'd hire Chris Rock."
It remains unclear who will substitute for Rhodes' time slot in both the short- and long-term, but the source said the network is looking at Rhodes' departure as an opportunity to rebuild. "Sometimes it's for the best that the leading player leaves so you can rebuild with better talent."
Original Post: Randi Rhodes has quit Air America Radio just a week after being suspended for calling both Hillary Clinton and Geraldine Ferraro a "fucking whore" in a public appearance (seen here). The station has condemned her lanaguage, but she herself has not come out publicly to retract her statements. Now a statement from Air America reveals that she has walked away from the station.
Charlie Kireker, Chair, and Mark Green, President, for Air America Media released the following statement:
Last week Air America suspended Randi Rhodes for abusive, obscene language at a recent public appearance in San Francisco which was sponsored by an Air America affiliate station.

Air America Media was informed last night by Ms. Rhodes that she has chosen to terminate her employment with the company. We wish her well and thank her for past services to Air America.
Reports surfaced yesterday that Rhodes was leaving the network, possibly to join KKGN/San Francisco. From a report on RadioAndRecords.com:
According to John Scott, PD of Clear Channel talk KKGN/San Francisco, suspended talker Randi Rhodes and Air America network have parted company as of Wednesday (April 9). In a posting on the station Web site Scott says that on Monday (April 14), "it will be our pleasure to announce the return of Randi Rhodes to the Green 960 family."
The Nova M Radio Network is thrilled to announce the addition of "The Randi Rhodes Show" to its nationally syndicated talent offerings beginning this Monday, April 14, 2008.

Randi Rhodes is the #1 rated progressive talk radio host in the nation.

Nova M CEO John Manzo says, "I just can't stop smiling - Randi is simply the biggest and the best. Randi Rhodes and Mike Malloy under one roof - talk about TALENT!"

Randi Rhodes adds, "With Manzo at helm of Nova M, I am truly going to work for the best of the best. He is radio elite...and I am too

"The Randi Rhodes Show" will air live Mon-Fri from 3-6pm Eastern on The Nova M Radio Network.
Related
Popular in the Community