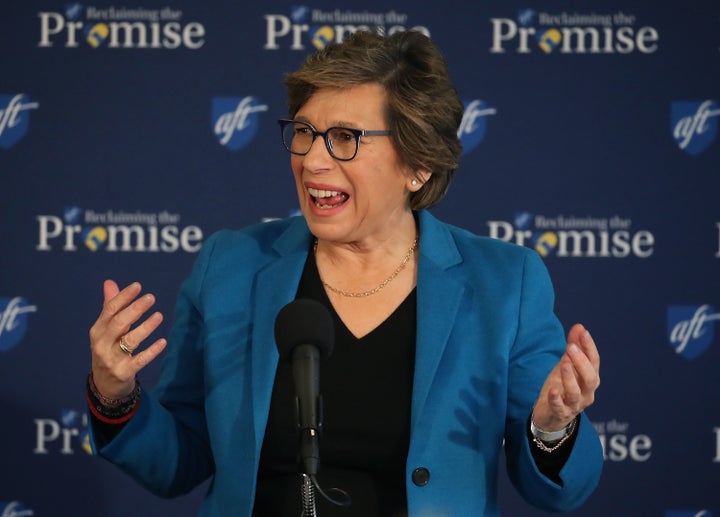 Randi Weingarten, the president of the American Federation of Teachers union, on Monday excoriated President-elect Donald Trump's pick for secretary of education, calling Betsy DeVos "the most anti-public education nominee in the history of the department."
"Betsy DeVos lacks the qualifications and experience to serve as secretary of education. Her drive to privatize education is demonstrably destructive to public schools and to the educational success of all of our children," Weingarten said in a speech at the National Press Club in which she laid out priorities for public education.
The AFT endorsed Democratic presidential nominee Hillary Clinton during the campaign, and Weingarten has long been a close personal ally of the former secretary of state. The union came out against DeVos, who has never worked in a public school, when Trump named her as his education secretary pick in November.
Weingarten spoke specifically about the new Every Student Succeeds Act, which passed with delicate bipartisan support to replace the long-expired No Child Left Behind Act. She called DeVos "a billionaire with an agenda" who could reignite "education wars" between Democrats and Republicans.
"If DeVos is confirmed — if she shatters this hard-won consensus, if she reignites the education wars — she will demonstrate that her ultimate goal is to undermine public schools, the schools that 90 percent of American children attend," Weingarten said.
Teachers unions have warned that DeVos' favored education initiatives operate at the expense of traditional public schools. The billionaire DeVos family, which is based in Michigan, has poured money into propping up charter schools and private schools in the state.
The family helped drive an initiative in 2000 that would allow for students to use taxpayer money to attend private schools in the state. After that initiative failed, DeVos pushed for similar voucher programs around the country.
"She's devoted millions to elect her friends and punish her enemies, and, at every critical moment, she has tried to take the public out of public education," Weingarten said. She ended her speech by challenging DeVos to spend more time in public schools.
In anticipation of the speech, a spokesman for the group Friends of Betsy DeVos said that "in a nutshell, labor's opposition to Betsy is about loss of power and turf."
"Randi Weingarten this morning will be preaching to the pro-status quo choir," Ed Patru said in a statement for the group. "Most Americans do not support organized labor's opposition to accountability. Betsy DeVos this week will show up for her confirmation hearing with the support of millions of parents – Republicans and Democrats alike – who are fed up with business as usual in education and are clamoring for a public policy shift that puts kids first, rather than the education establishment."
Some members of the Republican establishment have praised Trump for selecting DeVos. Her "key qualification is that she cares deeply about our children and will do everything in her power to offer them a brighter future," Mitt Romney, the party's presidential nominee in 2012, wrote in The Washington Post over the weekend.
However, Democrats have expressed alarm over the deep-pocketed donor's potential conflicts of interest and have said they'd like DeVos' confirmation hearing ― which is scheduled for this Wednesday ― to be postponed until the Office of Government Ethics has finished a review of her financial holdings.
Rebecca Klein covers the challenges faced in school discipline, school segregation and the achievement gap in K-12 education. Tips?Email: Rebecca.Klein@huffingtonpost.com.
Popular in the Community