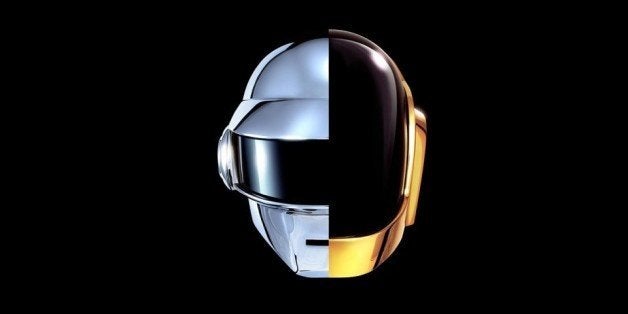 The lead-up to Daft Punk's "Random Access Memories" has proven the robots and Columbia Records to be masters of hype. There were rumors upon rumors, most of which turned out to be true in some weird and twisted way (case in point: Daft Punk was at Coachella, but just to walk around in their civvies and watch the crowd react to a trailer for "Get Lucky").
But building up expectations often comes with plenty of risks. When the album arrives in stores on May 17, it will easily be the most-hyped record of the year. A few critics got an early listen of the project, and though most admit they need to spend more time with the album, here's what they have to say.
Over at MTV, James Montgomery writes that the record "is not a reinvention so much as it is a revolution; their attempt to liberate themselves from dance music entirely." The review is mostly positive, noting that one track ("Giorgio by Moroder") particular will make you "dance until you drop."
Nick Stevenson reviewed "Random Access Memories" for MixMag and agrees that "Giorgio by Moroder" is "a highlight." Stevenson took issue with a few of the album's tracks, including "Fragments of Time" and "Instant Crush," which came off as duds. By the end of the first listen, however, Stevenson decided the record is "an exhilarating album you'll keep going back to." (MixMag posted multiple reviews; read what the site's electro, club and deputy digital editor had to say over at their site.)
"What we can tell you is that 'Random Access Memories' lives up to its billing as the year's biggest electronic album, and one of its biggest comeback records (in a year that's seen Bowie, My Bloody Valentine, Boards of Canada, Sabbath and Neutral Milk Hotel return, there's a lot of competition)," FACT Mag's Tom Lee writes in his review. Yet again, the "Giorgio" track is said to be the album's high point.
Clash's Matthew Bennett didn't seem to love "Giorgio by Murder" as much, describing it as "exhaustingly dense." He also characterized much of the album as "depressed robot day care center fare," but given that we're talking about Daft Punk, it's hard to know if that's a rave or a slam. All in all, the record left him "slightly confused but happy that Nile Rodgers can channel such incredible talent into Daft Punk's increasingly melancholic robotic vision."
It appears as though the critical reception is positive with a dose of disorientation. In other words, just the way the robots want it.
Featuring Pharrell Williams, Nile Rodgers, Julian Casablancas (The Strokes), Panda Bear (Animal Collective) and a few other standout collaborators, Daft Punk's "Random Access Memories" is set for a May 17 release.
PHOTO GALLERY
Celebrity News & Photos
Calling all HuffPost superfans!
Sign up for membership to become a founding member and help shape HuffPost's next chapter
BEFORE YOU GO