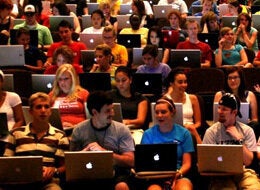 One of the most addicting aspects of Chatroulette, an online service that allows users to video chat with an endless, random, and anonymous set of strangers, is the element of surprise. The person you with whom you connect could be young or old; clothed or nude (more likely the latter); animal, mineral, or vegetable. S/he could be dressed as a cat, or playing the piano.
A new video chat service offers Chatroulette with a twist--and some restrictions.
RandomDorm, created by Josh Weinstein and maintained by startup GoodCrush, limits the pool of potential chat partners to college students (or, really, anyone with a '.edu' email address).
Like Chatroulette, the barrier to entry is low (all that's required is an email address) and users' anonymity is maintained.
The goal is to enable people of a similar 'demographic and psychographic' to connect and share ideas about everything from parties to politics, Weinstein told the Huffington Post.
'If you're in college, you probably want to talk to other people in college, all around the world,' says Weinstein, 'With RandomDorm, you can develop penpals around the world--or you can find out what the cool parties are on other campuses, talk to people from similar sororities and see what they're doing, or bond with other nerds like myself.'
RandomDorm also hopes to be able to weed out some of the more graphic content that has proliferated on Chatroulette--a recent survey of Chatroulette estimated that '1 in 8 spins yield something R-rated (or worse).
The New York Times notes, 'Tying the users to a specific identity will in theory make them more accountable, although it's unclear whether RandomDorm's limited pool will increase the chances of seeing someone chugging beers online or performing more extreme college antics.'
BusinessInsider observes that RandomDorm's college focus evokes 'how Facebook first differentiated itself from similar social networking sites like Friendster.'
Related
Popular in the Community