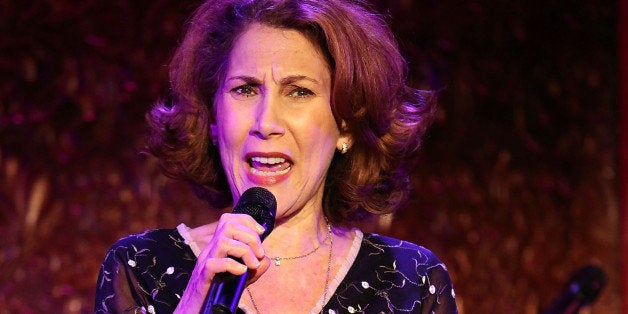 Randy Graff brought standing-room-only audiences to tears as Broadway's original Fantine in "Les Misérables" and nabbed a Tony Award for her role in the film noir musical "City of Angels," but ultimately, the celebrated actress-singer considers herself "just a broad from Brooklyn" who got lucky.
Of course, Graff, 58, is quick to acknowledge that the Brooklyn of her youth is a far cry from the chic, gentrifying borough that has been named the second-most expensive place to live in the country -- the first being Manhattan.
"True, the old coffeehouse is now a Starbucks or a Chase Bank or a Duane Reade," Graff says matter-of-factly. "But no matter where I go -- from Minneapolis to L.A. to New Jersey -- where I come from has been really tugging at me. Brooklyn is changing, but it still feels like home."
Graff's early days of "hanging out on a street corner in Canarsie and singing with my girlfriends" inspired her new cabaret show, "Made in Brooklyn," which returns to New York's 54 Below on March 5 after a smash debut last month. Graff says her set, which she developed with her husband and musical director Tim Weil, will feature renditions of songs by the likes of Carole King, Harry Nilsson and George Gershwin, among others -- the common denominator being that each performer or composer also hails from Brooklyn.
Check out exclusive video of Graff performing "Mama, A Rainbow" below:
While her Broadway contemporaries Patti LuPone and Betty Buckley have been performing successful cabaret acts for years, Graff says she never had much desire to make a similar transition until recently, noting that she "wasn't entirely ready to drop that fourth wall, not play a character and simply be me." Although she saw cabaret as an opportunity to "create something of my own," she chafed at the idea of simply pairing songs from her musical theater catalog with commentary: "I really wanted it to be something more personal."
But Graff didn't entirely abandon her theatrical roots for the show, and she hints that her standard "You Can Always Count On Me," penned by Cy Coleman and David Zippel for "City of Angels," will appear. Interestingly, her connection to the tune can be traced back to well before the Broadway opening of "Angels" in 1989.
"My go-to audition song when I was starting out in show business was 'Nobody Does It Like Me,' from Cy Coleman's 'Seesaw,' which, in turn, was the prototype for 'You Can Always Count On Me,'" Graff recalls. "When I had my 'City of Angels' audition, Cy asked me to sing 'Nobody Does It Like Me' because 'You Can Always Count On Me' hadn't been written yet. So it ended up being the song that helped me land the role in 'City of Angels' all those years later. Talk about coming full circle!"
As for "Les Misérables," Graff says she couldn't have predicted the musical's continued relevance more than 25 years after its premiere.
"To see it turn into the international cultural phenomenon that it has, and how it's changed so many people's lives and how it was the show that made young actors want to pursue theater…you never know any of this stuff when you're in it," she says of the show, a revival of which opens on Broadway this spring. "It blows my mind just how huge it is."
Graff sings "I Dreamed a Dream" from "Les Misérables" below:
Graff, who was set to star in a 2012 revival of "Funny Girl" alongside "Six Feet Under" actress Lauren Ambrose before producers shelved the project, is hopeful for a return to the Great White Way, naming Mrs. Lovett in "Sweeney Todd" and Dolly Levi in "Hello, Dolly!" as being among her dream roles, having played the latter part in a 2007 St. Louis production. As for stars and audiences who grovel that Broadway has become overrun with Hollywood names as the theater industry has gotten more corporate, she notes, "If you look at something like 'Once,' which is my favorite musical on Broadway right now and unlike anything else I've ever seen, they're casting working theater actors who aren't big stars at all. So good is good and there's room for everybody."
These days, however, her main focus is "Made in Brooklyn," which she'd like to take on the road following its 54 Below reprise. Citing Weil's support as crucial to the act's development, she hopes her audience sees her performance as representative not only of her hometown roots but of deeper, more intimate ties to family and loved ones: "That's what's in my heart, and I wanted the show to come from my heart."
REAL LIFE. REAL NEWS. REAL VOICES.
Help us tell more of the stories that matter from voices that too often remain unheard.
BEFORE YOU GO
PHOTO GALLERY
2014 Broadway Season Preview