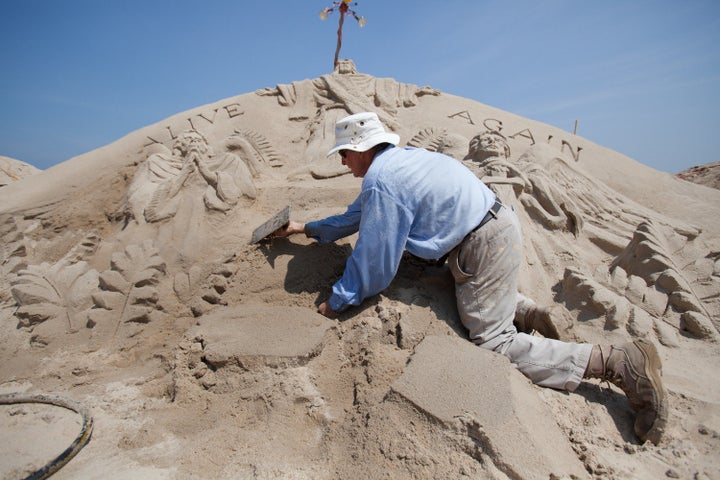 There are certain things you expect to see along Maryland's Ocean City Boardwalk during the summer: Children eating ice cream cones and funnel cake. Booze. Skimpy bikinis and sunburns.
But giant replicas of Noah's Ark and the Last Supper? Not so much.
As I walked along the roughly 2.5-mile stretch of hotels, restaurants and tacky gift shops last July, I was stunned to see Jesus' face protruding from a massive pile of sand. I later discovered that this biblical sand sculpture was the work of local artist and minister Randy Hofman, who creates about 15 such works every summer on the Ocean City beach near Second Street. I resolved that I would return in July 2012 to meet Hofman and photograph his creations.
Biblical Sand Sculptures
"It touches people," said Hofman, describing his work to me as we cowered from the scorching summer heat on a shaded hotel porch. Hofman, 60, has been sculpting biblical scenes and messages in Ocean City since the 1980s, often with the help of volunteers from a local ministry. He learned the craft from another biblical sand sculptor, Marc Altamar, during the previous decade.
Raised Catholic, Hofman was once a part of the advertising industry in New York.
"It just didn't feel right, but coming down here to the beach and doing this Bible stuff, it's like God knew what the story was," he said. "So now I'm advertising the Lord."
Each giant sand sculpture requires an entire day of work. When I visited on July 17, Hofman and his volunteers began working at 8 a.m., and didn't finish until about 10:30 that evening. The new "Noah and the Ark" piece replaced an older sand sculpture of Jesus on the cross, and was one of three such sculptures on the beach.
Beachgoers were clearly captivated. As the heat dissipated, crowds clogged the wooden planks of the boardwalk. People took pictures, or just watched in awed silence.
Hofman adorns each of his sculptures with a succinct message. On the "Noah and the Ark" sculpture, it's "Last Call." He said he tries to keep the theology "simple and upbeat."
"A little candy makes the medicine go down," he said.
Support HuffPost
The Stakes Have Never Been Higher
Related
Popular in the Community