It was one of the most powerful wind and rainstorms I've ever experienced. Trees were down and stoplights and power were out everywhere in the Seattle area, but we managed to get through it all to Chateau Ste Michelle (CSM) for Randy Newman's concert Saturday night. I did call first to make sure that CSM had power and that the concert was happening. It was then that I learned that they prepared for almost anything with generators on hand.
And prepared they were as staff greeted patrons as no one had been overwhelmed by winds gusting to sixty miles per hour and pounding rain. Still, the beautiful grounds showed the damage as concertgoers were guided by yellow caution tape where limbs hung from giant trees.
The concert did begin at 7 just as advertised, and the day's weather events seem to have taken a break for Randy Newman. Granted the lawn at Chateau Ste Michelle was not brimming with fans, but those who had made the trek were treated to a single guy and a grand piano playing old favorites and a few new songs.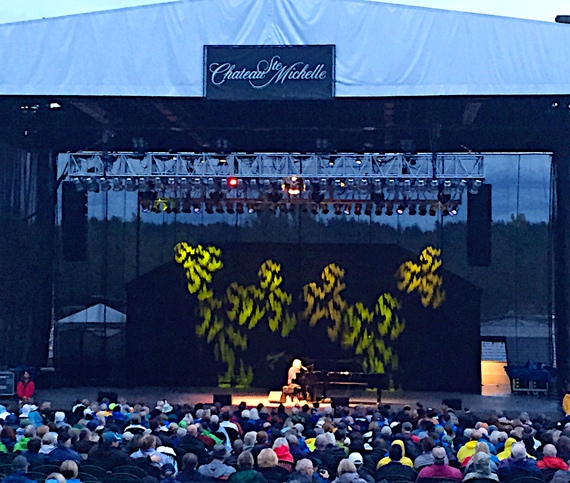 Halfway through the show, it began to sprinkle, but most of the hardy Seattle fans remained bundled up in ponchos and rain gear. Then, as darkness fell, the rain picked up, but most fans remained in their seats. I don't know if it was on Newman's play list, but when he we all noticed and cheered when he performed Feels Like It's Going To Rain Today.
Naturally, Newman performed all his hits including I Love LA, Short People and the classic You've Got a Friend In Me, which he said he was doing early in the show so that the kids in the audience could go to sleep. Still, I doubt that there were very many kids remaining for the end of the show when the rain came down in torrents. Fortunately, by that time the CSM staff was not enforcing their no umbrellas policy, so many of us just hunkered down under our umbrellas and stuck it out to the very end.
Newman himself expressed what appeared as genuine gratitude that people showed up and stayed. Personally, I was thrilled by a wonderful show at a splendid venue - even in the pouring rain.
And there was no lack of humor as the CSM sound system played Singin' In the Rain as we all headed for the parking lot and a long ride home through streets darkened by power outages and blocked by fallen trees and a lack of working stoplights.
All in all, it was a difficult travel night, but well worth the trouble to hear the always entertaining Randy Newman at the always hospitable Chateau Ste Michelle.
Calling all HuffPost superfans!
Sign up for membership to become a founding member and help shape HuffPost's next chapter