As they say, everything's bigger in Texas! In today's Huffington Post Gay Voices RaiseAChild.US "Let Love Define Family™" series installment, contributing writer Beth Hallstrom shares the story of a gay couple, their adopted children, and the village of loving friends they've enlisted as their extended family.
Call it fate, kismet, or even providence, the journey of Randy Noble and Phillip Mueller of Cedar Park, TX, from single guys to devoted Dads, was marked with many signs that their happy family of four was destined to be.
Randy, 39, an occupational therapist who manages the rehabilitation department of a skilled nursing facility, and 38-year old Phillip, an actuary, married in 2010 after meeting on Match.com five years before. Each knew the other was "the one" on their first date, although, Randy said, "We won't talk about all the fails before we found each other."
They also acknowledged on that first date that family was very important to both of them.
"One of the first things we talked about was having a family. We had both pretty much given up on the idea of kids because we were around 30 and still unattached but, after we were together for a while, we began talking seriously about adopting," Randy explained.
Randy and Phillip initiated the adoption process in June, 2012 through Pathways Youth and Family Services. Fate stepped in again with an email from their Pathways caseworker.
"We were matched with these kids even before we were certified. The subject line of the email read, 'I know you're not licensed yet, but...,' and there was a flyer attached with their photos and we looked at each other and said 'Oh my God, those are our kids!'"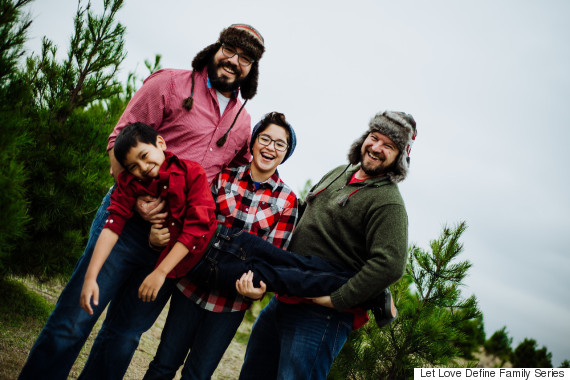 They were three siblings, little brother Adrian, then nine, sister Jovanna, then 11, and an older sister who was 14 at the time.
"We took it as a sign," Randy said. "We both come from three-kid families. We are the youngest and both have two older sisters. It just felt right."
They finally had their storybook ending -- almost.
"The first time we met the kids at their foster home, the older sister was a little standoffish and we figured that was normal for a teenager. Then, they came to spend the weekend with us and were told that at the end of the weekend, each of them could choose to stay or go. The younger two said they wanted to stay but their sister said, "no," Randy explained.
"She absolutely did not want to be adopted and dug in her heels, believing that things would change with her biological family and she would be able go home, " he continued. "She wouldn't let go of them. The last we heard of her, she was in juvenile detention."
"The older sister tried to sway her younger siblings not to stay with us. But, Adrian and Jovanna said they always wanted a family and they didn't give up on that. They told us they were choosing us to be their family," he said.
Randy said it was a dark time for the fledgling family, but Adrian and Jovanna came to terms with their sister's decision not to join them. Jovanna, especially, had a difficult time but eventually told her Dads, "She made her choice and I've made mine."
"She is a brave, mature girl and we are very proud of her. They are both such wonderful kids. We're sorry their sister chose the path she did, but at least we could help the two of them," Randy noted.
But fate wasn't through with the Noble-Mueller family. After Jovanna turned thirteen, she came out as a lesbian to her fathers, who had long-suspected their daughter's sexuality.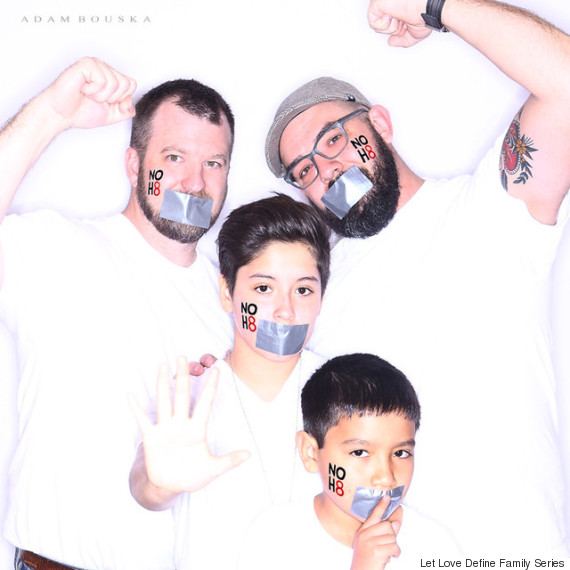 Randy explained, "She told us she knew she liked girls since first grade and we said, 'Yeah, we know.' She was crying and asked what was wrong with her and we told her absolutely nothing. She looked at us and said she felt so much lighter. The weight of the world was off her shoulders.
"She said she didn't know why she was so worried about telling us she is gay. Who better to understand than two gay men? She is so happy now. She blossomed and she can be herself. It makes my heart smile to see her so happy. What a great time for her to grow up. She's going through all the normal teenage crap but she has a girlfriend, so it's with the right gender. She can work it all out now, unlike me, who dated girls and didn't come out until I was twenty. Then I had to go through it all over again."
It seems Adrian and Jovanna, who will be twelve and fourteen, respectively, in July, and their Dads got their happily-ever-after ending. Both kids are happy, busy teens doing well in school and reveling in the large, extended group of friends and family that surround them.
"They are both so open and loving. Adrian is turning out to be quite a comedian -- he jokes about being the only straight person in our family," Randy said.
"Adrian and Jovanna are definitely being raised in that 'it-takes-a-village method.' Phil is from this area and still friends with people from his grade school. We have such a feeling of family. Everybody knows everybody's parents and our group has straight couples, lesbian couples, families with children and families without children. It's great for our kids to see so many different types of families.
"We go to t-ball and band concerts and they are close with their three cousins who live nearby," Randy adds. "Adrian and Jovanna were in foster care for four and a half years. Now they are surrounded by so much love and family. It makes up for all that lost time."
RaiseAChild.US is the nationwide leader in the recruitment and support of LGBT and all prospective parents interested in building families through fostering and adopting to meet the needs of the 400,000 children in the foster care system. RaiseAChild.US recruits, educates, and nurtures supportive relationships equally with all prospective foster and adoptive parents while partnering with agencies to improve the process of advancing foster children to safe, loving and permanent homes. For information about how you can become a foster or adoptive parent, please visit www.RaiseAChild.US.
Calling all HuffPost superfans!
Sign up for membership to become a founding member and help shape HuffPost's next chapter