Jazz is, like the Blues, one of the music genres that is purely and genetically Classical American music in the sense of "classical" denoting "of a form regarded as representing an exemplary standard, traditional and long-established in form or style". Jazz is pure American music. Its creators are Africans who were brought to the Americas so that Jazz's umbilical cord and its genesis are fused with while, at the same time, being parallel to the history of African people in America, "African-Americans" in today's parlance.
One way we get knowledge of Jazz's history and its contributions to our American culture and memory is through the series as those presented by public television such as the Public Broadcasting System. One of these Jazz monuments to our common memory is "Jazz, A History of America's Music" by Ken Burns.

One of the still standing giants of this music genre is Randy Weston, a very active and living legend at 89 years old, a giant of Jazz and also a giant of a man (almost 8 feet tall). Everything about Randy is giant, huge (including a booming voice and laughter) that, as Jazz critic Stanley Crouch wrote, "Weston has the biggest sound of any jazz pianist since Ellington and Monk, as well as the richest most inventive beat..." Langston Hughes commented: "When Randy Weston plays, a combination of strength and gentleness virility and velvet emerges from the keys in an ebb and flow of sound seemingly as natural as the waves of the sea." And, as we wrote in the "Liner Notes" to his 2006 Zep Tepi release, "With age, like African Palm Wine, his music has grown tastier, deeper, sweeter, greater, soul-pleasing, spirit-uplifting, and body-regenerating at the loftiest level".
Randy Weston's music, "Jazz", has reached the magical dimension that is referred to as "spiritual" by those initiated priests in the Original Knowledge of the gods. This has not just happened by knowing the notes, hitting the piano keys, or by composing. The coming of life and the spirit of hearing and learning and playing with the masters both in America and in Africa have aged Randy Weston's music to the point where those who have the heart and spirit to hear can experience and "live" his music. That is Randy Weston's Jazz, which he calls as he has named his band, African Rhythms.
Talk to Randy Weston and he will tell you of music, of jazz, and of musicians he studied from and played with such as Count Basie, Duke Ellington, Art Tatum, Nat King Cole,... and, above all, Thelonious Monk who, not only tutored young Randy, but Randy Weston says of Monk, "He was the most original I ever heard... He played like they must have played in (Ancient) Egypt 5000 years ago."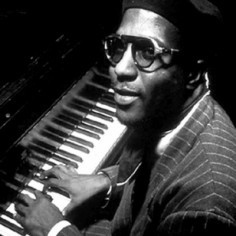 Thelonious Monk, Randy Weston's teacher and inspiration: "He was the most original I ever heard" (photo cr.: olympiahall.com)

Born and bred in Brooklyn, New York, circa 1926, of Jamaican parents, Randy Weston is also a veteran of World War II. His father, Frank Edward Weston, planted the seed of self-knowledge in him that he was "an African born in America" similar to Italian-Americans, Irish-Americans, etc. So, as Randy grew, embraced, and performed music in the 50's and the 60's, when racist Jim Crow laws in America evicted and eviscerated Black people, in general, and Black artists, in particular, Randy Weston chose to migrate to Africa, instead of Europe like most Black artists of the time. Randy, who visited Nigeria in 1961, moved to Morocco where he lived permanently from the 60's into the 70's. This African stay deepened Randy's initiation into the spirit dimension of African music.
From America to Africa and back to America, Randy has not only traveled the world, but he has englobed world's cultures in his music, from all the continents... His autobiography, The Autobiography of Randy Weston, African Rhythms, that came out in 2010, gives us a story of the man and his more than seven (7) decades - now - of work and contribution to Jazz from its roots and its existence as part of the One spirit of world music.
No wonder, then, that when one glances at Randy Weston's discography, one discovers titles that not only show this giant's musical roots, time, and reach in America ("High Fly", "Berkshire Blues", "Greenwich Village Jazz", "New Faces at Newport", "Plays Cole Porter in a Modern Mood", "Portraits of Monk", "Portraits of Duke Ellington",...), in Africa ("Uhuru Afrika-Freedom Africa" - which was banned in Apartheid South Africa, "African Cookbook", "African Nite", "Little Niles", "The Splendid Master Gnawa Musicians of Morocco",...), in the world ("Blue Moses", "Tamasi", "Khepera" - connecting African with Chinese music), and in deep cultural realm ("The Healers", "Zep Tepi", "The Spirits of Our Ancestors", "Ancient Future",...).
The seventy (70)-plus years of Randy Weston's impact in world culture and in Jazz have brought him some recognition and accolades, a tiny sample of these is: honorary doctorate of music degrees from American universities, being honored by the Congressional Black Caucus Foundation at the Jazz Issue Forum in 2011, being named a "Jazz Master" in 2001 by the National Endowment for the Arts (considered the nation's highest honor in Jazz), recipient of 1997's "French Order of Arts and Letters" and of 1999's Japan's "Swing Journal Award", 2000's Black Star Award from Ghana's Arts Critics and Reviewers Association, 2011's Honoree of Morocco's King Mohammed VI for his "lifelong engagement with Morocco and deep commitment to bringing Morocco's Gnaoua (or Gnawa) music tradition to the attention of the Western world"...
However many more years of music has Jazz Giant Randy Weston in his body, soul, and spirit to birth and nurture, shouldn't he be heading and leading one of the nation's great Jazz institutions where he could share his monumental knowledge, legacy, and experience?

PS: For his 90th birthday (born April 6), by the Creator's grace, Randy will perform at the Carnegie Hall (Zankel Hall) in New York, USA, on March 19, 2016.
Calling all HuffPost superfans!
Sign up for membership to become a founding member and help shape HuffPost's next chapter