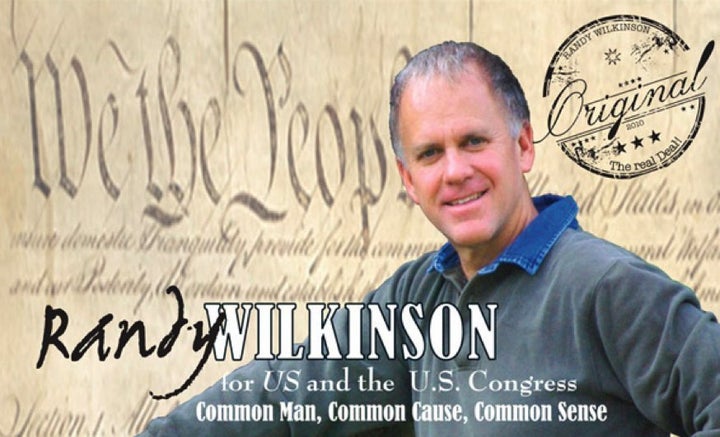 The Tea Party movement can now boast its first elected official.
Randy Wilkinson, the Polk County Commissioner running for Florida's 12th Congressional District, decided to switch parties last week after the official Florida Tea Party gave him its blessing. Wilkinson plans to run in November as a third party Tea Party candidate.
"There are other self-identified Tea Party candidates across the country running as Republicans or independents, but Wilkinson appears to be the first elected official running on a Tea Party ticket affiliation."
Wilkinson faces powerful major-party challengers, however, and having raised only about $27,000 as of the end of March, according to The Hill, he certainly faces an uphill battle.
Under the Tea Party mantle, Wilkinson said he plans to run to the right of both candidates. Wilkinson spoke with The Hill about his opponents:
"I'd say both of those candidates are pretty well moderate," Wilkinson told The Hill. "Dennis is to the left of Putnam. Putnam was a little to the left of (former Rep. Charles) Canady (R-Fla.). We keep moving towards a mushy middle."
According to Fred O'Neal, founder of the Florida Tea Party who spoke with the Daily Caller, this newly formed official third party is also dispatching conservative candidates to challenge Democratic Rep. Alan Grayson in Florida's 8th Congressional District and in 25th congressional district in Miami.
But O'Neal clarified to the Daily Caller that the party would limit their challenges to seats without incumbent Republicans, and instead try to mount independently conservative campaigns on open seats.
"We're not trying to knock off conservative, Republicans," O'Neal told the Caller. "That's not our agenda."
Not every self-proclaimed Tea Party activist is welcoming Randy Wilkinson's third party run, in fact some are now declaring that he isn't part of the "real Tea Party," the Daily Caller reports.
Tea Partiers outside the Florida Tea Party are now mounting a lawsuit against the group, claiming that they commandeered the "Tea Party" title.
"Sorry, but the Tea Party political party you are writing about is not a part of the authentic Tea Party movement," Michael R. Caputo, a Florida PR firm director behind the lawsuit, wrote in an e-mail to The Daily Caller. "The party is a sham; you were duped."
Wilkinson, however, defended his Tea Party authenticity and accused those seeking to bring him down of being misinformed.
Fred O'Neal, head of the Florida Tea Party, is now in the midst of launching a counter-suit against his party's naysayers.
Calling all HuffPost superfans!
Sign up for membership to become a founding member and help shape HuffPost's next chapter