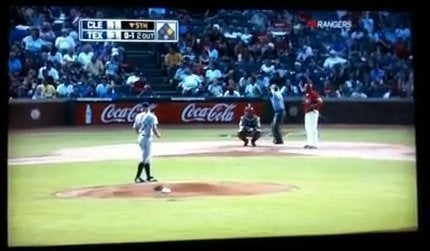 A fan attending a Texas Rangers game fell 30 feet Tuesday night, delaying the game 16 minutes while medical crews attended to the victim. The fall occurred during the bottom of the 5th inning, and the frightening incident audibly shocked stadium attendees, as well as the home plate umpire (footage below).
UPDATE: ON JULY 7, 2011, A RANGERS FAN FELL TO HIS DEATH. CLICK HERE FOR THAT STORY
According to MLB.com, the fan "was sitting in the front row of section 235 and was reaching for a foul that had sailed over his head and caromed back toward the field." A witness says the man lost his balance and plunged a terrifying 30 feet.
A Rangers executive says that the fallen fan was stabilized and "able to move all his extremities." The Fort Worth Star Telegram reports that four other fans were injured during the scary incident, although none required hospitalization.
Popular in the Community