What does it take to survive as a fashion journalist today? Versatility, deep knowledge of industry practices and digital formats, and the ability to anticipate and adapt to an ever-changing media landscape.
For aspiring fashion journalists, navigating through the precarious landscape of paper and pixel can be overwhelming. Journalism has taken on new life, and the way we produce and consume news and content is constantly evolving. This technological revolution compounded with the deepening demand for wide-ranging content underscores the need for well-trained journalists who can reshape the industry's digital-first infrastructure and lead it to its new frontier. The new generation of journalists need to be fluid in the latest media forms as well as have a command of the tools, technologies, and techniques that mobilize them. The lines have blurred and tomorrow's journalists need to be masters of all.
Earning a top-rated journalism degree is one of the most direct and effective ways to gain the skills and know-how to prevail in the industry. There's no one-path-fits-all when it comes to careers, but obtaining a solid education can be an important and influential foundation in one's journey to a byline. Surveying schools that claim to produce fashion journalists, only the top five have managed to stand out and make the cut. Below, we present a list of programs around the world that are staying ahead of the curve.
As the largest private university of art and design in the U.S., Academy of Art University has the most versatile and comprehensive curriculums in fashion journalism education. It's unparalleled AA, BA, and MA fashion journalism programs are the only designated and accredited programs of its kind in the nation. From social media law and ethics to data analytics and fashion criticism (exclusive to the program), the courses offer a broad spectrum of online and on-site courses that give students a multidisciplinary education that merges digital media, visual communication, journalistic techniques, and historical and contemporary studies. Students are taught by a cadre of prolific industry experts how to effectively create and deliver timely, relevant content across platforms, as well as the art of packaging and distribution. The school even has a Social Media Center, establishing itself as a leader in the social media revolution. Students have gone on to work for Women's Wear Daily, Nylon, and Refinery29.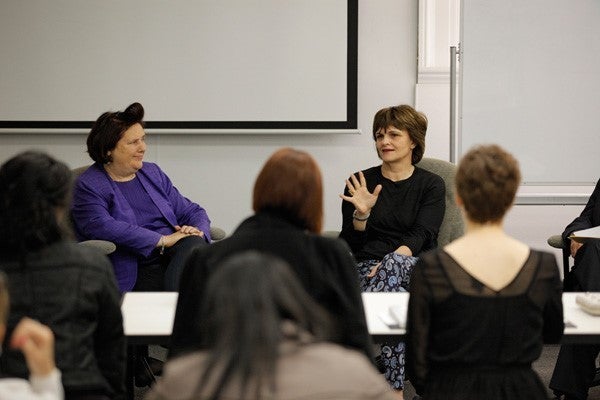 Legendary journalists Suzy Menkes (left) and Cathy Horyn (right) talking to Academy of Art University Fashion Journalism students.
Spread across San Francisco, students get to experience the perks and infrastructure of a prominent university while enjoying the freedom and diversity of an urban campus life. The university's open admission policy offers an opportunity for quality education for all. The education, however, focuses on prepping students to succeed in this unprecedented state of media, providing them the versatile skills and resources needed to prevail in an industry that's redefining itself.You can get more Info here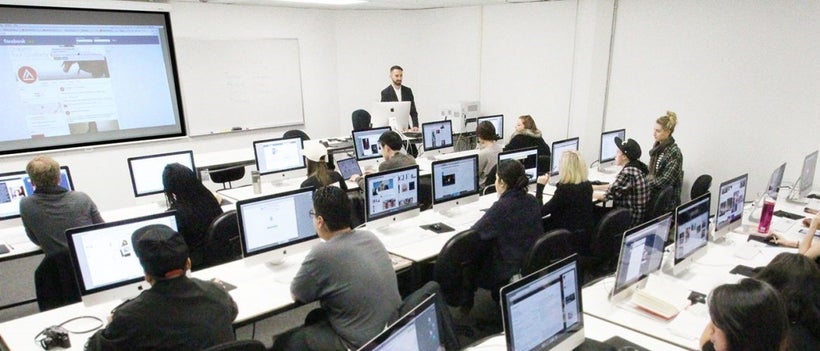 Stephan Rabimov, director of the Social Media Center and Fashion Journalism at Academy of Art University, leading a discussion on social media strategies.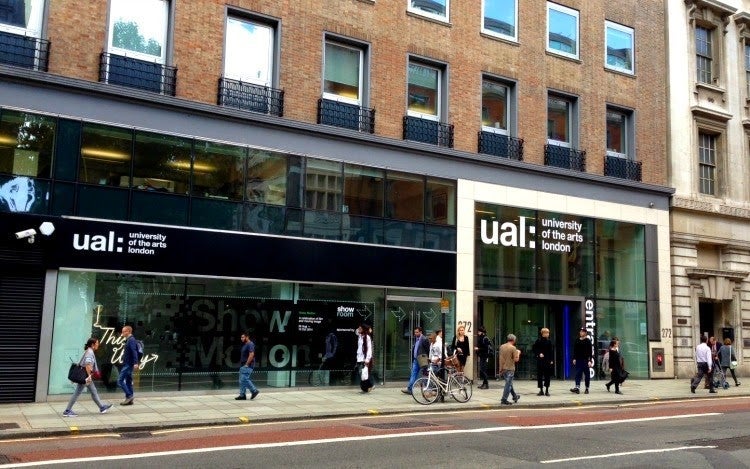 For those looking to gain the technical and conceptual skills of fashion journalism in the culturally rich and diverse setting of a fashion capital, University of the Arts London: London College of Fashion (LCM) is a standout. Out of over 70 specialized undergraduate and postgraduate degrees that LCM offers, its BA (Hons) and MA Fashion Journalism programs are exceptional. As part of its School of Media and Communication, the undergraduate course is a leader in digital design and media as it explores a variety of practical and theoretical journalistic skills such as research techniques, visual communication, media law, and cultural and historical significance. The school's 15-month MA fashion journalism graduate course also covers practical skills, but is unique in its emphasis on cultural theory, allowing students to delve into theoretical study of the field. Both programs underscore ethical awareness and critical thinking.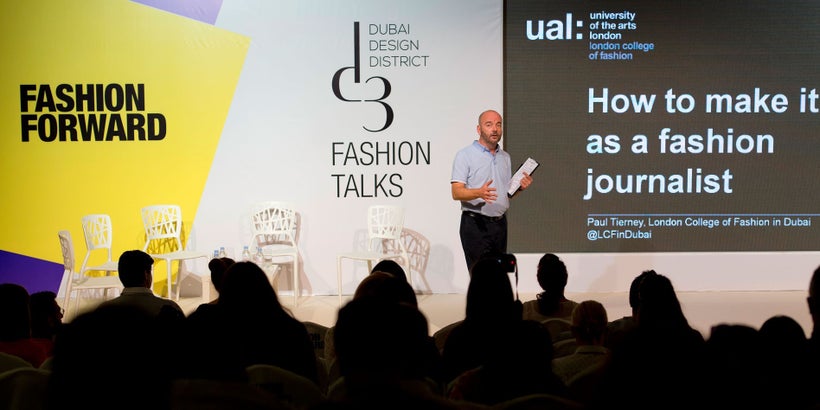 Paul Tierney presents 'How to Make it as a Fashion Journalist.
The most common student complaints revolve around industry employment rate upon graduation and below-average business preparation. With a student body of roughly 5000, along with a relatively high student-teacher ratio of about 20-to-1 (17-to-1 for graduates), the programs are better suited for students who prefer independence and less guidance.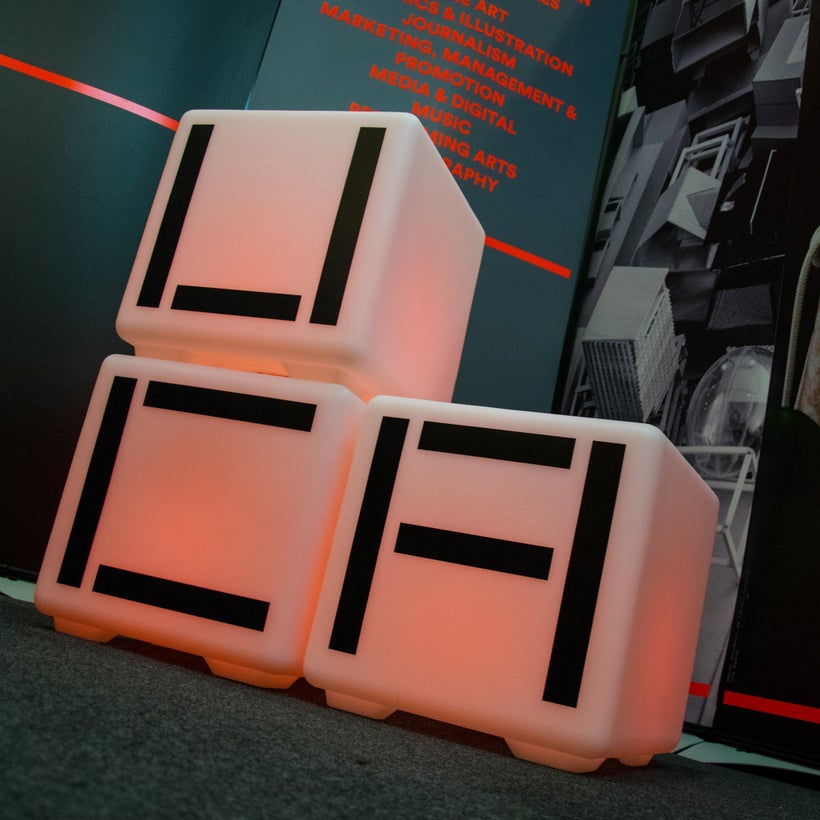 Dubbed as one of the U.K.'s top 40 universities, University for the Creative Arts (UCA) is a specialist institution that boasts an excellent BA (Hons) Fashion Journalism program. Taught at the Epsom campus, the three-year program offers a wide range of creative classes, from fashion history and vocabulary to digital media and innovative publishing. The program focuses on the art of communication and aims to develop highly articulate fashion commentators by encouraging students to find, develop, and express their own voice. The program also emphasizes independent study and aims to help students achieve greater levels of independency. This philosophy has led its graduates to undertake work placements at the likes of Another, Dazed and Confused, and Love.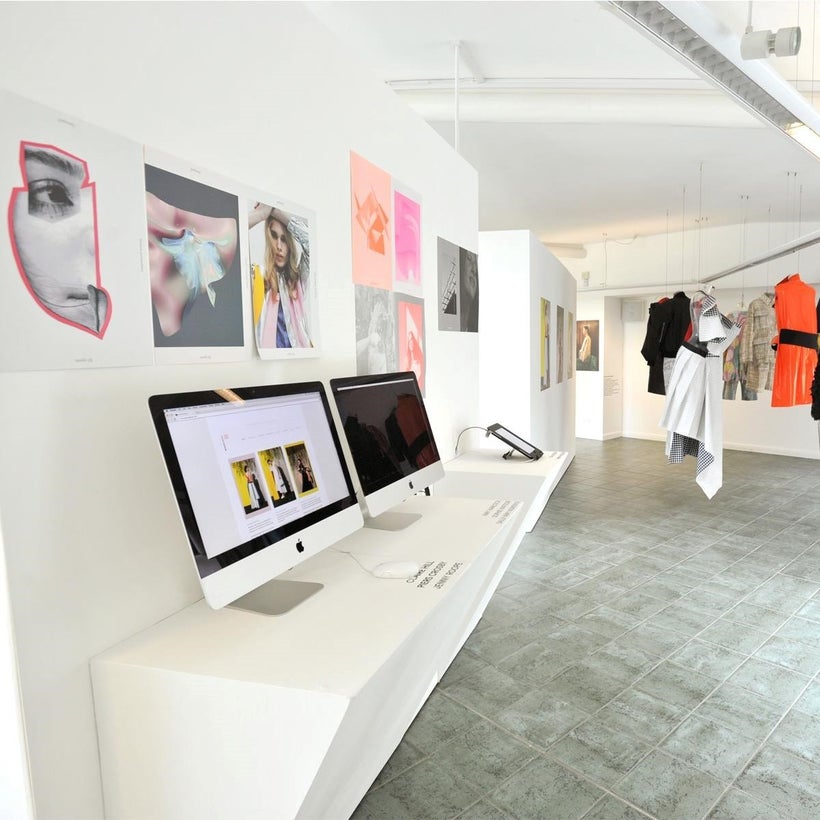 Unfortunately, UCA doesn't offer any graduate fashion journalism courses. Application for the program is competitive, and the student-to-teacher ratio is high at 27-to-1. Since the BA (Hons) program is full-time on campus, those juggling other responsibilities like work and families may find it difficult to juggle the intensive course load.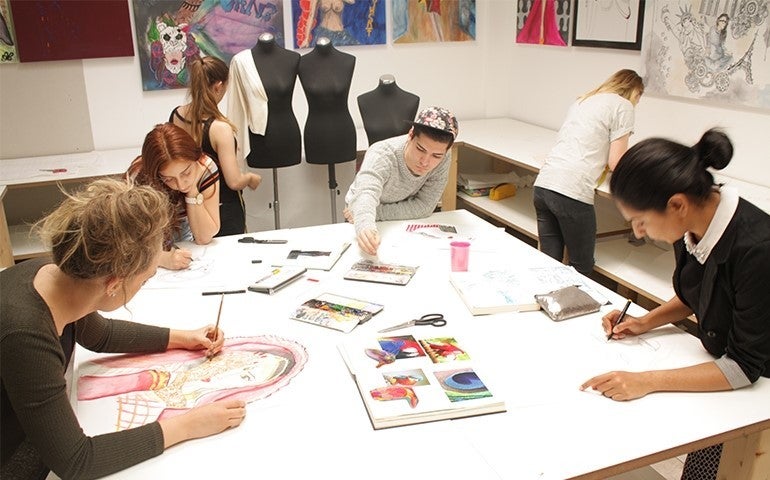 Fashion Design Institut students at work
Based in Berlin, Fashion Design Institut is a small school with a growing reputation. But despite its size and modest acclaim, it's one of the most innovative schools of design in Germany and home to the country's top undergraduate fashion journalism course. Founded in 2008, it's still a relatively new school, which means the institution may not be able to offer as many resources as larger, more established institutions. Nonetheless, the program gives students a well-rounded education with practical tools and skills to prepare them to work in the industry after graduation. The six-semester BA program focuses on research and analytical skills, creative thinking, and social competence. With less than 200 full-time fashion students and small class sizes, students have greater opportunities for individual support from instructors and can develop their skills at their own pace. The school also attracts a number of high profile speakers each year including editors and stylists from Vogue Germany and Vanity Fair Italia.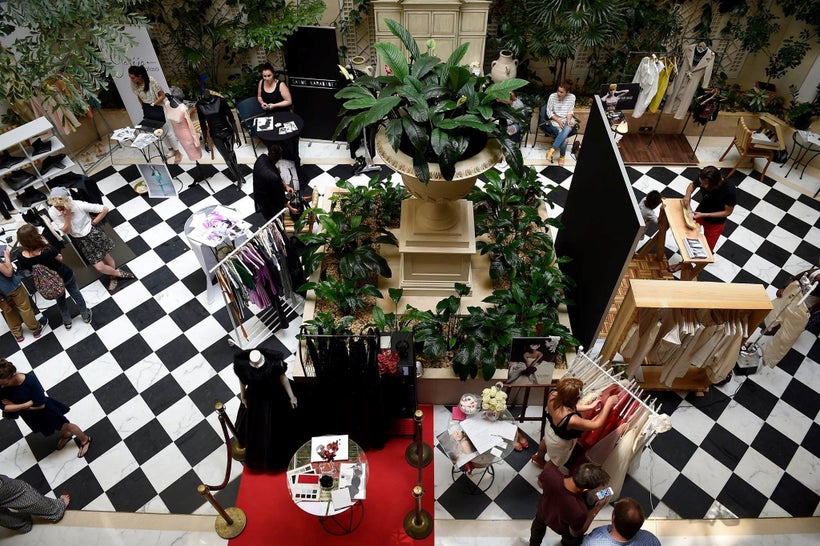 Fashion Design Institut graduates presenting at the Fashion Design Exhibition at Hotel Adlon.
One of the program's biggest downfalls is the lack of recognition it receives from the global industry. But where it lacks in fame, it makes up for in opportunity. Berlin's nascent fashion scene is quickly developing, making it an auspicious setting for anyone eager to make their marks on an emerging market.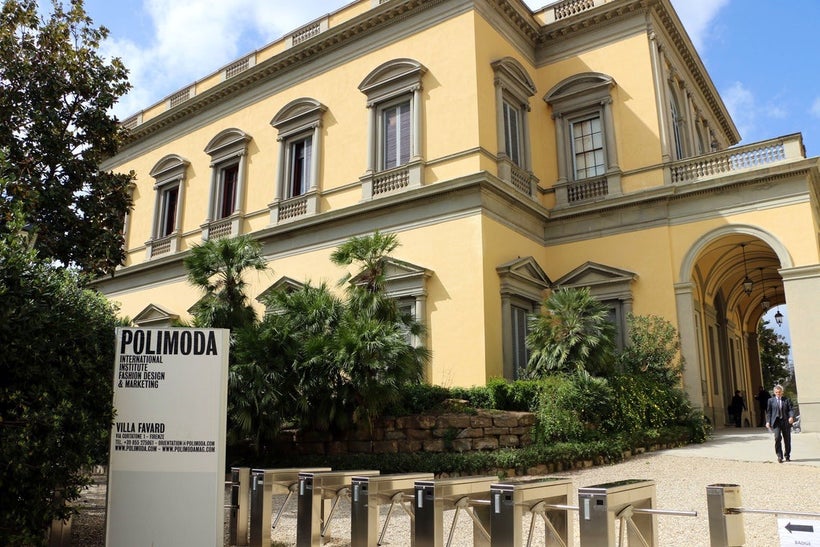 Polimoda headquarters in Villa Favard in Florence, Italy
For those looking for a concise education without the time commitment, Polimoda is the school to check out. While the Italian university doesn't have undergraduate or master programs for fashion journalism, it does offer a seasonal, one month fashion journalism crash course that covers basic journalistic skills as well as studies of contemporary fashion, sociology and psychology of art and fashion, subcultures, digital styling, and blogging. The condensed curriculum also includes a trip to the Gucci and Ferragamo museums, an international guest lecture by an industry expert, and a one-on-one review with an instructor to help assess your potential in the field. Start dates are in March, July, September, and December. The best part? The program is based in the Renaissance city of Florence, which means the school – considered one of the top fashion institutes in Italy – offers a culturally rich experience steeped in art and history unlike any other.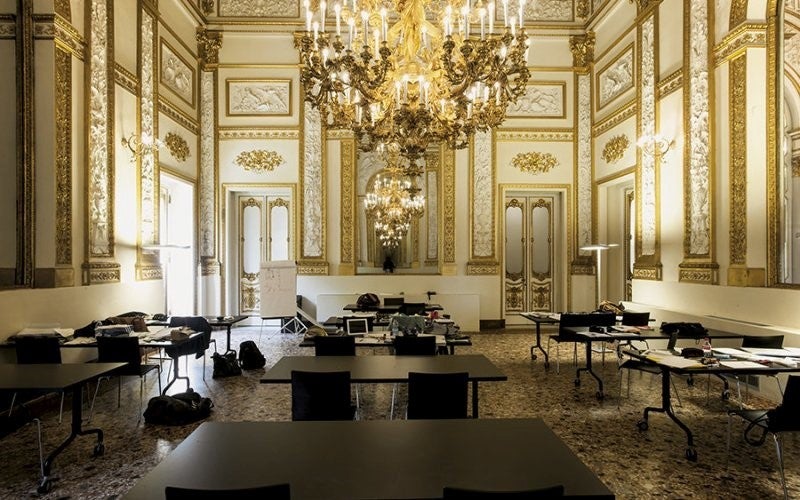 Polimoda in Villa Favard in Florence, Italy
This course is a concise overview that only skims the surface of the field, but it can be a stepping stone for those who want to dip their toe in before plunging into the profession.
Calling all HuffPost superfans!
Sign up for membership to become a founding member and help shape HuffPost's next chapter
This post was published on the now-closed HuffPost Contributor platform. Contributors control their own work and posted freely to our site. If you need to flag this entry as abusive,
send us an email
.