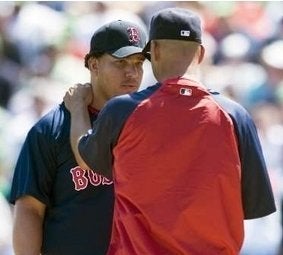 Here's a question for the offseason: who do you think are the best GMs in the game? (Excluding newbies with one season or less like John Mozeliak, Jack Zduriencik, Neal Huntington, Bill Smith, Tony Reagins, Ed Wade, Walt Jocketty, Andy MacPhail, Ruben Amaro, and Frank Wren.) I place a fairly high premium on having won a World Series; the series-winners are all in the first two tiers. Other than that, protracted success, and an ability to make good moves while not making bad moves.
First tier:
Theo Epstein (Boston Red Sox)
Andrew Friedman (Tampa Bay Rays)
Billy Beane (Oakland Athletics)
I think everyone will probably have Theo Epstein and Andrew Friedman near the top of their lists, right along with (and maybe even higher than the ringless) Billy Beane. Epstein and Friedman have won 3 of the last 5 AL pennants between them, and maintain two of the most stacked major league teams, along with two of the most stacked minor league teams. That's a pretty good recipe for long-term success.
Second tier:
Mark Shapiro (Cleveland Indians)
Kenny Williams (Chicago White Sox)
Larry Beinfest (Florida Marlins)
Brian Cashman (New York Yankees)
Dave Dombrowski (Detroit Tigers)
Dave Dombrowski and Mark Shapiro have lost a bit of the luster since their playoff runs a few years ago. They're still pretty good, but they couldn't push their teams over the top, and the AL Central looks ready to move on without them. But they get a lot of credit for their playoff runs and stacked farm systems from a few years ago. Shapiro, in particular, gets props for his cagey deals, trading away Casey Blake and C.C. Sabathia for Matt LaPorta and Carlos Santana (the minor league guy, not the guitarist), both of whom look like studs.
Kenny Williams makes some head-scratching moves (Carlos Lee for Scott Podsednik? Nick Swisher for practically nobody?), but he makes a lot of good ones too (hi, Gavin Floyd), and he probably has to be up there, especially considering the ring. Larry Beinfest is like a bargain-basement Andrew Friedman; the minor league roster is stacked every single year, but the major league club looks so bad most years that it's hard to remember he won it all in 2003.
It's easy to argue that the money makes Cashman look smart, but he was badly hamstrung by Steinbrenner, and in the last couple years that he's had greater control, he's drafted well, signed the guys he wanted, and made the deals he wanted. Rich teams don't necessarily succeed. Cashman spends his money pretty well.
Third tier:
Jon Daniels (Texas Rangers)
Omar Minaya (New York Mets)
Doug Melvin (Milwaukee Brewers)
Dan O'Dowd (Colorado Rockies)
Dayton Moore (Kansas City Royals)
Josh Byrnes (Arizona Diamondbacks)
Dayton Moore started out looking good, but he's stalled. So have the others, though the Rockies, Brewers, and Mets all are in much better shape. Still, they didn't have nearly as far to climb. These guys won't kill you, and they all look like they might be able to build an 85-win team, but they're strongly dependent on resources, and they don't seem to have a fifth gear when their team inevitably falls just short. Jon Daniels could easily be second-tier; his farm system is amazing, thanks in large part to the Mark Teixeira trade, but his major league team hasn't won, and they still can't pitch. He has made a few horrible deals (including one with Kevin Towers, below), but a few awesome ones. We'll see how they do at turning their prospects into a lineup.
Dan O'Dowd has always had some interesting ideas for how to turn the Rockies into a playoff team, despite the most unusual playing conditions in baseball, and he managed to take them to the World Series a year ago. That same team collapsed in 2008. He's creative, but no matter what he does, the team hits a wall. Byrnes has not been as good as the other young GMs, and seems solidly mediocre: an okay ML club, an okay farm system. Good enough for the NL West, but not at all a standout.
Fourth tier:
Jim Hendry (Chicago Cubs)
J.P. Ricciardi (Toronto Blue Jays)
Kevin Towers (San Diego Padres)
These guys do a few things right, but too many things wrong. This is probably unfair to Ricciardi and Hendry, but with the money they have, they really shouldn't have lost so many games. They spend too conservatively and too aggressively, don't pay enough attention to drafting, and don't have much to show for it. They're like Omar Minaya with even less in the way of results. Ricciardi has a huge mountain to climb in the AL East with the Red Sox and Yankees looming, and now the Rays, but the Yankees stumbled last year and the Jays weren't anywhere near able to capitalize. The Rays showed it's possible to beat the Yankees and Sox. The Jays showed it's possible to build an 80-win team in that division. There's a big difference.
Towers is over the hill and should probably move on; he did some good things a few years ago, but his handling of the Peavy situation this offseason was terrible, the farm system is thin, and the major league team is no great shakes, though they really need to move the fences in or risk exposing all their hitters to clinical depression. He stays out of the fifth tier because of the amazing Eaton/Otsuka for Gonzalez/Young trade, and because I like Paul DePodesta and his blog. He doesn't have a lot going for him right now.
Fifth tier:
Ned Coletti (Los Angeles Dodgers)
Brian Sabean (San Francisco Giants)
Jim Bowden (Washington Nationals)
The dregs. Coletti is a worse version of Hendry -- the spend-and-suck variety -- and Sabean has been a shadow of his former self for years now, completely inept at putting together a major league team. Both of them lead teams with money that have resolutely underperformed where they should be, given their financial resources and fan bases. I may not be giving Coletti enough credit for getting Manny Ramirez, but before Manny came along, his outfield was a mess, with two good players, Andre Ethier and Matt Kemp, and two of the worst contracts in baseball, Juan Pierre and Andruw Jones. The upshot: they ate $20 million of Andruw's contract to make him go away, and they'll still have to hand Pierre hundreds of useless at-bats next year.
The image of the Giants is on a slight upswing thanks to the respective 2008 breakouts of Tim Lincecum and Madison Bumgarner, and the extraordinarily weak division combined with the acquisition of Randy Johnson makes them look like they may have a pitching staff, if nothing else. While the farm is looking pretty good thanks to a nice top 4, the major league lineup is still outrageously thin.
Bowden is a classic case of a tinkerer: he can make some great deals, but seems to be content to do just that. He has absolutely no idea how to tie them into a larger strategy. Witness the Aaron Crow debacle. To quote Keith Law: "They botched their first-round pick, fielded an absolutely awful team, and found their GM and a top assistant embroiled in the scouting/embezzlement scandal, and their GM survived." The Nationals are a terrible franchise, and it's their own fault.