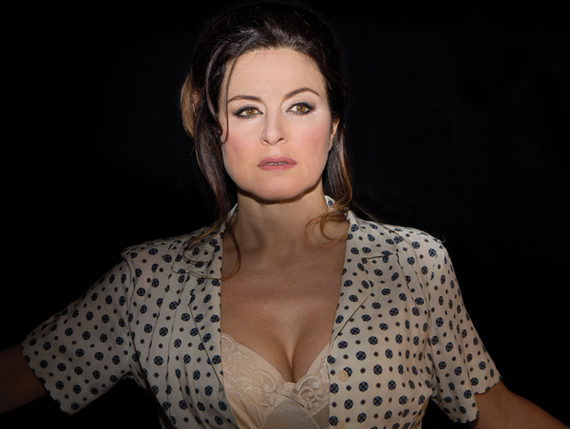 "If you succeed in passing through this line without leaving a single enemy alive (...), I proclaim: these women, these houses, this wine, all that you find there is yours, for your pleasure and your will." The same promise could have been made in ancient biblical times, or uttered by Agamemnon facing Troy, but in this historical case it was made in World War II. In 1944, a French general goaded Moroccan soldiers to break the German lines in Monte Cassino, Italy, in a battle that allowed the Allies to advance toward Rome and ultimate victory. The spoils of war: some 7,000 Italian women were marocchinate or "morrocaned"-- raped in the days following the battle.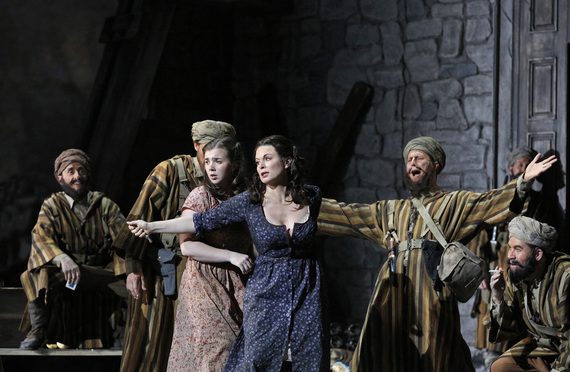 This is the background for Marco Tutino's new opera Two Women (La Ciociara), based on Alberto Moravia's 1958 novel of the same name that led to the filmed version by Vittorio de Sica, starring Sophia Loren as the Roman shopkeeper Cesira, a young widow and mother of a teenage girl. (The film can be watched free on the internet.)
Commissioned by David Gockley, the adventurous director of San Francisco Opera (seven new operas commissioned during his tenure), Tutino co-wrote the libretto and composed the work for star soprano Anna Caterina Antonacci, the perfect operatic incarnation of the down-to-earth, clever, resourceful and sexy heroine. Antonacci is a beauty who has created sensations with the roles of Carmen (Bizet) and Cassandra (Berlioz). She managed seemingly effortlessly to step into Sophia Loren's shoes in this story of a refugee mother trying in vain to protect her innocent daughter and herself from the dangers of war.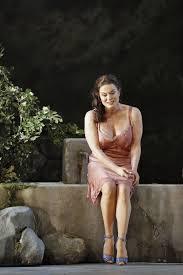 Gockley gathered a remarkable team around Tutino (a renowned composer in Italy, but barely known in the States) and Antonacci: director Francesca Zambello whose latest coup at San Francisco Opera was her "all-American" Ring Cycle; set designer Peter J. Davison who created spectacular town and village scenes of war using historical footage and video collages by S. Katy Tucker; and Company Music Director and conductor Nicola Luisotti.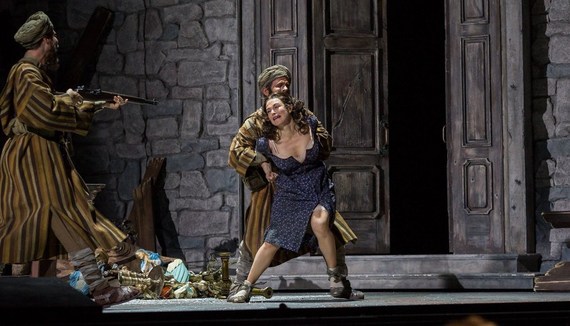 Tutino has written a 21st century opera that looks back at two traditions: the style of Italian verismo opera (like I Pagliacci or Cavalleria Rusticana, both performed at the Met last season) and post-War neo-realism in Italian cinema, creating an excitingly modern blend of these traditional styles. The new opera (Tutino's fifteenth) has been poorly received by the American press, mocked as Puccini-light, as not neo-verismo (as director Zambello called it) but hyper-verismo. It has also been belittled as relentlessly melodramatic film music. These critical voices sound much like the critics who attacked Puccini some hundred years ago and still love to attack him today.
"Musical modernism being so chic -- let's turn our back on that!" Gockley proposed at a press conference for the opera, "Be heroic: go against the grain!" My modernism-tired ears pricked up with relief, thinking: it's about time. Look at Philip Glass who already stepped out some 30 years ago... With Tutino (and two years ago Mark Adamo's The Gospel of Mary Magdalen), Gockley hopes to "ignite a new tradition." Tutino is a neo-romantic composer who dares to show that music has its richest roots in the past. His work honors and celebrates tradition instead of exhausting his energy in trying to annihilate it. Of course, this makes his music a provocation to the modernist party-line.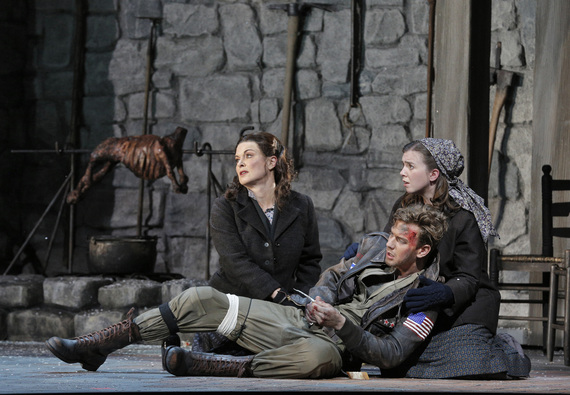 Two Women walks a satisfying line between harmony and dissonance, high drama and lyrical sensitivity. The composer's particular talent lies in the way he writes for the singing voice, the area where most modernist composers tend to fail most painfully. He gives them melodic lines and phrases that are fully integrated into the orchestral composition. There are no arias in the classical sense, but a style of writing between aria and recitative: in an interview Antonacci compared them to arioso recitatives by Mozart.
One could argue that every now and then the drama is laid on a bit thick, as when the return of mother and daughter to Cesira's native village is announced by a long, bombastic "homeland" surge of the orchestra. But most of the time Tutino's dramatic urgency keeps the dread of war present and acute, conveying that, like it or not, being at the edge of life and death is relentless.
By comparison with the novel and film version of Two Women, Tutino exaggerates the role of the villain, Giovanni (powerfully sung by baritone Mark Delavan), a macho rapist par excellence who hounds Cesira throughout the story. One has to remember, however, that opera aims at the archetypal. (Just open the newspaper any day to find that macho rapists have a timeless presence.) Tutino maintains the importance of Michele, the pacifist school teacher with communist leanings (sung with good voice but without much charisma by young, debuting tenor Dimitri Pittas). Michele befriends Cesira, becomes her new love interest and is promptly executed by the fascist Giovanni.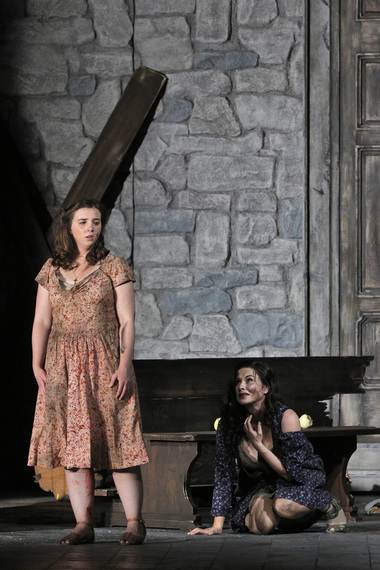 Toward the end, as the dramatic story of Cesira and her daughter Rosetta's survival tenses up, Tutino becomes more lyrical, balancing the brutality of rape and murder with the melancholy of popular songs ("Unlucky is he who hopes and dreams..."), a wartime pop hit and village waltzes -- musical themes that in fact are woven throughout the composition.
One of the most heart-wrenching scenes reunites mother and daughter after they have been raped (offstage) by a bunch of Moroccan soldiers. Rosetta, sung with girlish purity by a brilliant young singer-actress, Sarah Shafer, has turned into a lump, stunned with childlike disbelief and devastating adult realization. Cesira tries to approach her, and under Zambello's subtle psychological direction, Antonacci is torn with guilt and shame, aware there are only wrong approaches, wrong moves, and yet irresistibly drawn by the pain and pity of a mother. Rosetta rejects her, and Cesira sings a tender, desperate lullaby, telling her child to sleep and forget: tomorrow there will be no pain, hoping against hope to still comfort her daughter.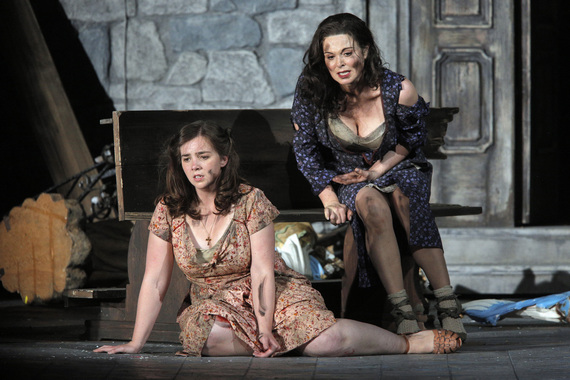 This scene would have made a daringly ambivalent, modern ending. But Tutino pulls off another finale, a village scene with a post-war crooner (charming real-life pop singer Pasquale Esposito) leading the dance. The repercussions of the girl's rape are present in the way Rosetta dances with a disturbing mixture of innocence and self-abnegation, yielding to every man in the square, while her mother helplessly looks on.
If this kind of highly realistic storytelling disturbs critics who scorn it as hyper-verismo, I suspect they prefer not to feel what this opera offers them to feel. (Making me wonder if modernism in music, being an early 20th century and post-War creation, chose as its mission precisely this avoidance of feeling.)
The final scene provides traditional operatic story "closure" with the triumph of the Allied Forces, the unmasking of the collaborator Giovanni and the revelation of his crime of killing Michele. This denouement leads to a somewhat happier ending when mother and daughter are able to share their tears in each other's arms.
The audience was thrilled the day I saw the performance, celebrating the heros and going after the villains with rigorous boos, while outside, at Civic Plaza, hundreds of thousands of Gay Pride revelers danced and shouted their now legal liberation from arcane patriarchal lore.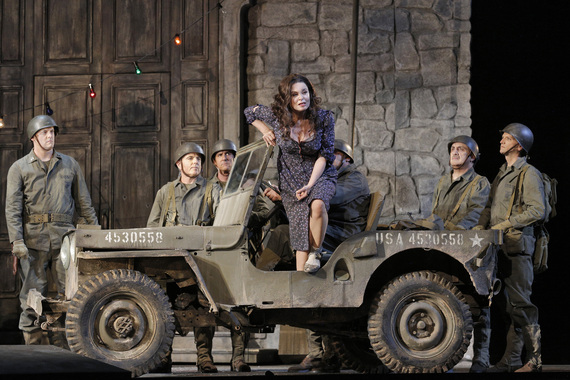 The clear and present danger for women in a war zone is reflected in another oeuvre San Francisco Opera presents right now, featuring Antonacci again, this time in the five-hour epic Les Troyens, The Trojans, by Berlioz. Here, as the visionary of Troy's downfall and doom, she convinces the women of Troy to commit collective suicide rather than submit to the victors, the murdering, raping, enslaving hordes of Greek men.

In this exciting summer season of SF Opera, turning back to the past, in history as well as in musical traditions, is perfectly relevant for our time.
Calling all HuffPost superfans!
Sign up for membership to become a founding member and help shape HuffPost's next chapter