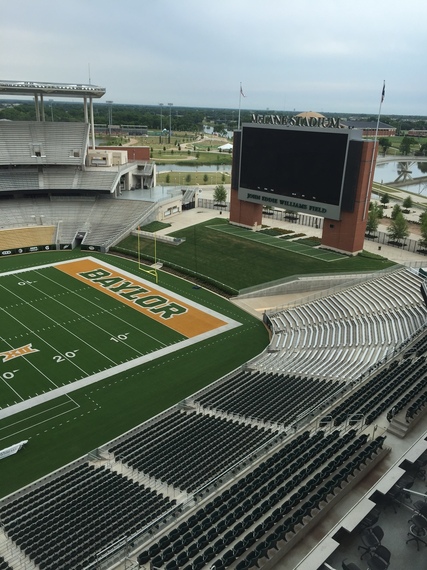 "What if what you do to survive
Kills the things you love?"
Bruce Springsteen, "Devils and Dust"
Some people are telling the Baylor rape scandal as a story of hubris: small private university aims for the stars to achieve wins and dollar signs, falls to earth, the victim of its own extravagant ambition. Too much, too fast, too far.
Some are telling it as a story of sweet, sweet karma: Kenneth Starr, yes, that Kenneth Starr, relieved from his duties as Baylor's president for, get this, a cover up related to sex. The universe is good.
But for me as a Baylor professor, for Baylor's 16,000 students, for its 120,000 alums scattered across the globe, and for anyone who believes that a religious institution of higher learning can and should have a compelling voice in today's culture, the story really is this: Baylor forgot who it was, and in the process of seeking what the world said was important, it almost lost its way.
This is a story told first in our most foundational documents. Jesus, in the Gospels of Mark and Matthew, asks "What good is it if you get the entire world, but lose your soul in the process?"
Augustine of Hippo wrote about his struggles to reconcile what the world said he should value and what, in his heart, he knew was most important. Many of us remember Augustine for coining the concept of Original Sin, but more important might be his focus on what he called "disordered desires"; because we are human, we want the wrong thing even as we think we're questing for the right thing.
In Baylor's own foundational documents we imagined back in 1845, when Texas was still an independent nation, that we were being called to a future of service. "Pro Ecclesia, Pro Texana" is the university's motto, "for church and state," if you like, or even "for God and country." What Baylor has always aspired to be was a voice in the highest-level conversations about what it means to be a person of faith and a faithful citizen; that, and to train and form students to change the world from within our framework of faith and belief. For most of our history we have been exceptionally good at this mission. Our students become lawyers, governors, judges, scientists, pastors, counselors, teachers, writers, artists, doctors, nurses, psychologists, and businesspeople. Willie Nelson went to Baylor. So did Ann Richards.
In recent years, however--and under the leadership of President Starr--Baylor sought success in the arena of athletics. Nothing says a Christian university can't excel at this; Notre Dame, of course, is both deeply Catholic and a perennial football power. And at first, it looked as though Baylor's new prowess on the field was, like Notre Dame's longstanding success, drawing attention back to who and what Baylor was: an institution with a faith-based mission of excellence, and the largest Baptist university in the world.
Even academics know that people are more likely to have heard of your university if it has a Top Ten football team than if it has a top geologist, ethicist, or writer on faculty, and having successful sports teams and recognizable student athletes like Robert Griffin III and Brittney Griner makes more of an impact on most people than knowing you are ranked in US News and World Reports top 100 colleges.
It was fun, actually, having people know Baylor's name.
Over the past year, however, we have learned at what cost those new successes have come. Every college has sexual violence; studies consistently show that from one in six to one in four female (and a smaller but still disturbing number of male) students will be sexually assaulted during their college years. But at Baylor, while sexual assaults by football players did not constitute the majority of such violence on our campus, these alleged perpetrators and their victims were treated differently. While the full report has not been released to the public, the findings of an independent investigation are that the athletic program failed to identify and respond to a pattern of sexual violence committed by student athletes, and that administrators discouraged complainants from reporting attacks, and in one case retaliated against a complainant for reporting what had been done to her.
Instead of manifesting the virtues of our core documents (compassion, justice, service), we gave ourselves to the virtues of national football rankings. Instead of taking care of the most basic thing entrusted to us--our students--we were blinded by millions in donations from excited alumni and a quarter-billion dollar football stadium.
That stadium is the envy of the football-playing world.
But our university is now a laughing-stock, both in the secular culture, where we are deservedly attacked as hypocrites, and in the faith culture, where we are deservedly being maligned for forgetting who we are, where we come from, and what we believe.
I had a gin and tonic in the plush club area of Baylor's McLane Stadium--drinks at Baylor, another once unthinkable concept!--with a faculty friend the other day.
Both of us have avidly followed Baylor football under coach Art Briles. We both know that Baylor's greater name-recognition has benefited us personally in our fields.
And on the most basic level, after a quarter-century of stinking up the field, Baylor's high-flying, fast-scoring offense brought us great pleasure as fans. We had celebrated the high rankings, the bowl games, the two conference championships in the last three years.
"But," my friend said, and I nodded in sad agreement, "I'd rather be 2-10 than win like this."
Better to lose some games--or the world--than lose our soul.
It's a hard lesson to learn. But better late than never.
Calling all HuffPost superfans!
Sign up for membership to become a founding member and help shape HuffPost's next chapter