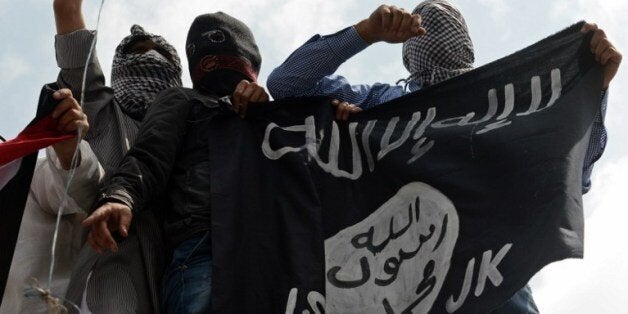 The reports out of Syria and Iraq of ongoing atrocities committed by ISIS are gut-wrenching. Secretary of State John Kerry rightly describes the violence perpetrated by the terrorist group as "ugly, savage... valueless evil." ISIS's despicable brand of destruction knows no bounds.
Through its particularly heinous tactics, including the public execution of journalists, ISIS distinguishes itself from most other combatant groups. But there is one tactic ISIS uses that is almost universal among groups involved in the organized violence of war and terrorism: ISIS uses rape as a tool to punish women and girls, create terror, and subdue communities.
A Wall Street Journal blog details the systematic and rampant use of rape and torture against women and girls across the region, and the destruction that lay in the wake of ISIS's path: "...fighters leave behind pregnant women who, as 'soiled goods,' are ostracized by their own societies...these raped women become targets for honor killings in their own families and communities."
The Daily Beast reports: "Survivors who managed to escape from ISIS say the women held in its prison in Mosul face two fates: Those who convert to Islam are sold as brides to Islamist fighters for prices as low as $25, and ranging up to $150. Those who do not convert face daily rape and a slow death."
Some of them are as young as 14, many have been told to call their families and describe in agonizing detail what has happened to them, and babies have been born to these women and girls, only to be taken away.
Violence against women and rape in conflict is an ongoing problem. It is not isolated, it is not anecdotal, it is far from rare.
One consequence of such atrocities against women and girls is pregnancy. Many are forced to bear their rapist's child.
This summer, Secretary Kerry led the U.S. delegation at the United Kingdom's Global Summit to End Sexual Violence in Conflict, where he reaffirmed the U.S. commitment to work with the international community to strengthen global coordination and individual country capacity to prevent sexual violence, promote justice and accountability, and provide care, including sexual and reproductive health services, for survivors of violence.
The U.S. is the largest bilateral donor of foreign assistance in global health and development and in humanitarian crises. However, in most parts of the world, women and girls -- including survivors of acts of sexual violence -- are not able to access the range of care that they desperately need because of perceived U.S. political barriers to safe abortion access.
In light of the epidemic of sexual violence, from Iraq to Syria to South Sudan to Central African Republic, now is the time for a U.S. policy that not only speaks out against violence against women and rape in conflict, but also provides access to post-rape care, including voluntary abortion, to those harmed so brutally.
Now is the time for executive action to allow help and funding for these women and girls. It is time for our actions to match our rhetoric.
Calling all HuffPost superfans!
Sign up for membership to become a founding member and help shape HuffPost's next chapter