BATON ROUGE, La. (AP) — Republican lawmakers in Louisiana rejected legislation Wednesday that would add exceptions in cases of rape and incest to one of the strictest abortion bans in the country.
This legislative session, there is a package of bills aimed at loosening Louisiana's near-total abortion ban by adding exceptions, clarifying "vague language" and decreasing the punishment for doctors convicted of performing illegal abortions. However, much of the proposed legislation died in a GOP-controlled committee Wednesday or was voluntarily deferred by the bills' authors.
"I simply do not understand how we as a state can tell any victim that she must be forced by law to carry her rapist's baby to term, regardless of the impact on her own physical or mental health, the wishes of her parents, or the medical judgment of her physician," said Democratic Louisiana Gov. John Bel Edwards, who supports abortion restrictions but believes there should be exceptions. "As I have said before, rape and incest exceptions protect crime victims. We must do all that we can to protect them and sadly, the committee failed to do so today."
Across the country, lawmakers are debating abortion laws, some seeking to strengthen current restrictions and others attempting to protect access in their states. Louisiana's current law, which was enacted after the U.S. Supreme Court struck down Roe v. Wade last summer, bans nearly all abortions in the state. The only exceptions to the prohibition are if there is substantial risk of death or impairment to the patient in continuing the pregnancy and in the case of "medically futile" pregnancies — when the fetus has a fatal abnormality.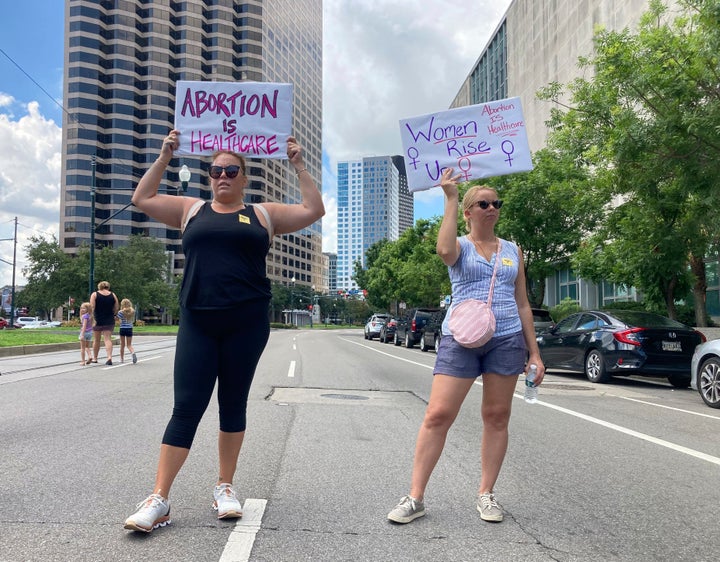 Many Democrats, including Gov. Edwards, made it clear that adding exceptions to the ban in cases of rape or incest was a legislative priority this year.
Democratic state Rep. Delisha Boyd, who authored the bill to add exceptions in cases of rape and incest, said the state is not truly "pro-life" if it does not protect all children, including those who currently are forced to carry their rapist's child to term — which can lead to further trauma and health complications.
Multiple survivors of rape shared their own stories during testimony at Wednesday's committee meeting, speaking on the the detrimental impacts the current law would have had on them and future victims. One woman said if she were forced to give birth to her rapist's baby, she likely would have died by suicide.
"This is extremely dangerous. ... By forcing survivors who want abortions to give birth you are forcing them to forever be connected and controlled by their rapists," said Morgan Lamandre, president and CEO of the Sexual Trauma Awareness and Response organization.
Anti-abortion advocates argued on religious and moral grounds to oppose the bill. Some said that instead of adding exceptions to the ban, lawmakers should seek harsher punishments for those convicted of rape.
While Republican lawmakers ultimately decided the fate of the bill, voting 10-5 along party lines to reject the bill and prevent it from being debated by the full House, they gave little to no reasoning for their opposition to the legislation during the meeting.
A similar bill that would have added exceptions for rape and incest if the pregnant patient is a minor met the same fate Wednesday — with the committee voting 9-5 against it.
"If you're forcing rape and incest survivors in Louisiana to carry forced pregnancy, you are not supporting victims. Hard stop. There's no gray area," said Katie Hunter-Lowrey, a leader at Louisiana Survivors for Reform.
In addition a bill to change the punishment of doctors who perform illegal abortions — removing the penalty of jail time and replacing it with a fine — and a bill that would create leniency for women who have miscarriages to receive abortions, were both voluntarily deferred.
Popular in the Community