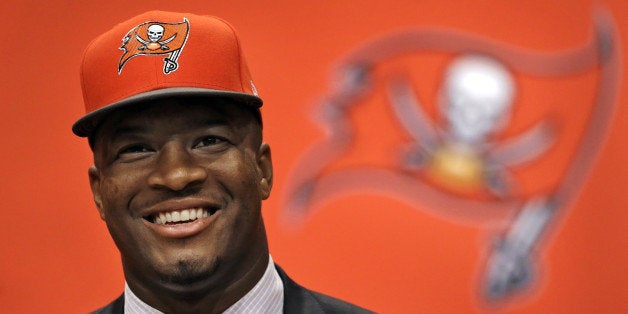 It's no surprise Jameis Winston was first draft pick in this week's NFL draft -- and that's a problem.
Jameis Winston has long been a media fixture for his widely lauded football skills, and if that were all that mattered in signing a new team member, he'd be a deserving first draft pick. But Winston has a history of alleged sexual violence, both verbal and physical, and that matters on the field, too. He has also been in trouble for stealing crab legs from a supermarket. (Showing gross entitlement, a lack of remorse for his actions, and in making a mockery of his legal battles, Winston celebrated the draft by posting a photo of himself with crab legs. The photo has since been removed.)
The media has been simultaneously helpful and harmful: without press coverage, most of us likely would not know of Winston's history of alleged violence, but the media has also contributed to helping him run from that history through the sanitized, minimizing way they've chosen to talk about it.
When the media writes about rape allegations as merely an "off-field distraction," or refers to Winston only as a "controversial player," it's minimizing the impact of sexual violence. Rape is more than an off-field distraction, and to define it as such does an injustice to survivors. With so many calls for survivors to come forward and speak up, it's unacceptable that the media is still often doing more harm than good when survivors do speak out. We can begin to understand why having an assault referred to in such small, unimportant terms would rightly make no survivor feel safe coming forward.
The media's sanitization of domestic and sexual violence is nothing new, but what is newly disturbing is that it's still happening in the midst of increased, often daily, coverage of campus sexual assault. That increased coverage sends the message that the media and the culture it shapes are taking sexual violence more seriously. Yet, if the media is using its platform to continue to dismiss or minimize the seriousness of sexual assault, it's sending the same message survivors have gotten for decades: your story doesn't matter.
When writing about these issues, it's important for us to step back and try, instead, to empathize with a victim who may read that coverage and rightly come away feeling that their body and word are less important than a football contract. We must put ourselves in a survivor's shoes, and think instead about how it must feel to have been victimized by someone, have come forward publicly, and have to forever be bombarded by media coverage of how beloved he remains. We need to continue to talk about sexual violence -- and if we're going to do it in a way that honors the survivors of it, let's have a smarter conversation.
Popular in the Community