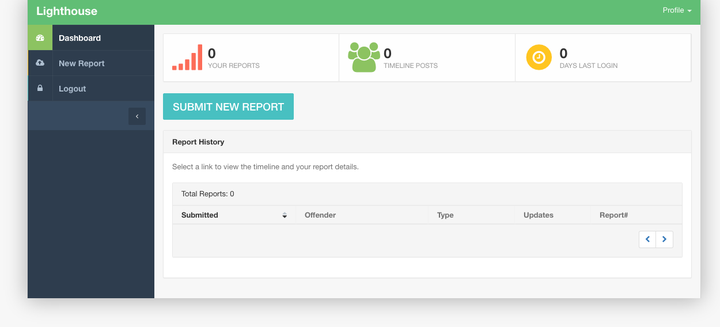 A new website billed as an independent alternative for reporting sexual assaults on college campuses is causing alarm at some universities. 
Lighthouse, a web portal developed by a company called Vertiglo Software, is a third-party online reporting system for sexual assaults. Luke Roopra, CEO of Vertiglo, claims that even without any advertising, the site already has more than 960,000 student and alumni accounts. 
But the problem is that no college has agreed to work with Lighthouse, and many university administrators are scrambling to figure out what the website is, or even trying to shut it down. 
Being independent of colleges and law enforcement is "the reason why [students] would chose us," said Roopra. "They want an independent process that's not connected to the campus, that gives the student the full control."
Lighthouse did not get feedback from survivors, but did survey students, Roopra said.
Both Callisto and Lighthouse timestamp reports when users create them, even if a person creating a report waits a long time to submit it. 
The main difference between Lighthouse and Callisto is that Lighthouse aggregates the data it receives to determine when and where assaults are most likely to occur, according to Roopra. The individual data in the reports is encrypted, and even Roopra himself wouldn't be able to find out who the users are, he said.  
However, some schools weren't too happy to learn that Lighthouse was telling students to use its website to report sexual assaults.
Yale University's Title IX coordinator, Stephanie S. Spangler, sent a campus-wide email last week after a Yale Daily News article mentioned the website as a reporting option for assaults. The email noted that Yale "has no affiliation with Lighthouse," and urged anyone who is assaulted to contact Spangler directly.
Some schools, like Duke University and Princeton University, reached out to Lighthouse to ask that it cease and desist, though school officials declined to comment to The Huffington Post. 
After the Yale email went out April 22 HuffPost contacted the other colleges and universities listed on Lighthouse's website as campuses where it was possible to submit an assault report.
But representatives from the following schools, all listed on the website, said they had no relationship with Lighthouse: The University of California, Berkeley; Florida State University; the College of Charleston; California State Polytechnic University, Pomona; Boston University; The University of Connecticut; Ohio State University; Baylor University; The University of Kansas; Grand Valley State University; North Carolina Central University; The University of Louisiana at Monroe; Saint Mary's College of California; The University of Vermont; and Arizona State University. 
Some schools went further, claiming they'd never even heard of the website. 
"Your email is the first I've heard of [Lighthouse]," a spokeswoman for the University of Kansas told HuffPost. 

"University of Louisiana Monroe has never used and is under no contract with a company called Lighthouse," a spokeswoman said. 

"People here aren't sure why we're listed on this company's website," said a spokesman for the University of Vermont. "We don't have a contract with them, and students can't report assaults using their app. All assault reports are done internally through UVM's bias, harassment, and discrimination reporting form, or by calling our campus police." [Note: Lighthouse does not currently have an app.]

An administrator at Grand Valley State University said she checked with many units on campus, and no one had any idea what Lighthouse was. She told HuffPost the fact the school was named on the website "is concerning to us."
Roopra said fine print on Lighthouse's website disclosed that the colleges listed did not "endorse or constitute support for Lighthouse." He said he would make the language more explicit after HuffPost asked if he expected someone who was just raped to pay attention to the fine print or understand that their university lacked any established relationship with Lighthouse.
"When anything rolls out for the first time, they have to go through adjustments," Roopra said. He later changed the list of schools on the website into a list of cities -- but he doesn't have partnerships with the cities, either.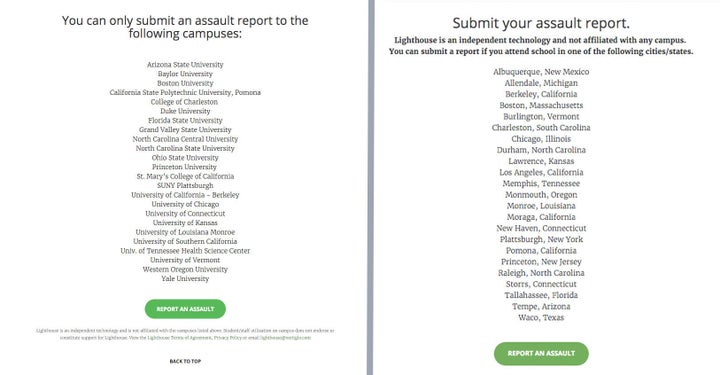 A November 2015 PDF presentation from Roopra states that Lighthouse's "data research partners" include the Department of Health and Human Services, the CDC, the Substance Abuse and Mental Health Services Administration, the National Science Foundation and the Department of Veteran Affairs. 
Officials at those agencies told HuffPost that they couldn't find any information on file about Lighthouse or Roopra. Roopra later told HuffPost that he is just having initial conversations and has reached out to let the agencies know that Vertiglo has data it's willing to share. 
Lighthouse is a for-profit corporation, but it doesn't charge users like some apps designed to document sexual assault reports, Roopra said. He's already spent $240,000 developing the website, he added, and does not intend to make a single cent.
Originally, Roopra said, he intended to have universities pay for access to the aggregate data. But since no one is biting, he's trying to get grants to do more research with the information he collects. 
Calling all HuffPost superfans!
Sign up for membership to become a founding member and help shape HuffPost's next chapter
BEFORE YOU GO
PHOTO GALLERY
Images From 'Surviving In Numbers' -- A Project Highlighting Sexual Assault Survivors' Experiences