The Irish legal system is facing ridicule after a 17-year-old's underwear was used as evidence of consent during a rape trial resulting in the acquittal of a 27-year-old defendant.
According to the Irish Examiner, defense attorney Elizabeth O'Connell asked jurors at Cork Central Criminal Court last week to consider the teen had worn "a thong with a lace front."
"Does the evidence out-rule the possibility that she was attracted to the defendant and was open to meeting someone and being with someone?" O'Connell asked jurors during closing arguments.
"You have to look at the way she was dressed," she added.
News of O'Connell's remarks spread like wildfire on social media and gave birth to the hashtag #ThisIsNotConsent, which is being shared with photos of women's underwear.
The jury of eight men and four women heard from the defendant at trial. He reportedly testified he and the teen had been "attracted to one another" and she consented to sex.
Prosecutor Tom Creed argued a witness allegedly said the defendant had his hand on the teen's throat.
"She is quite clear she did not consent," Creed said in court. "She said she never had sexual intercourse before."
On Nov. 6, the jury deliberated an hour and a half before unanimously finding O'Connell's client not guilty.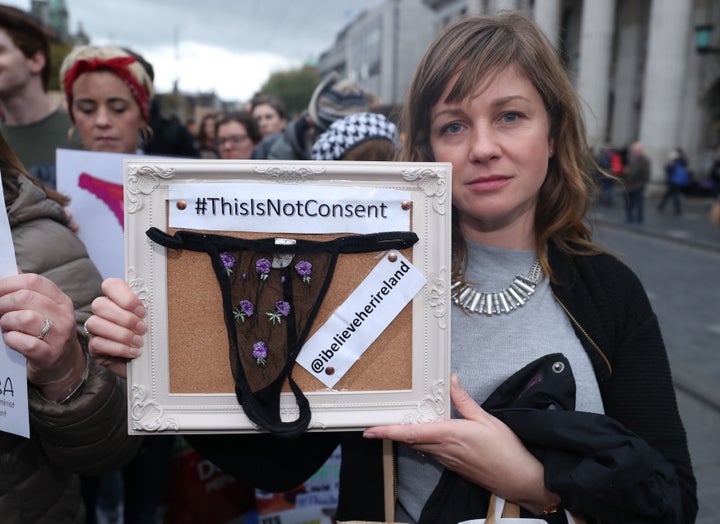 Although it's unclear whether the jury was influenced by the display of the underwear, at issue for many is the fact that Ireland has no specific law regarding whether such evidence should be used to impugn someone's character or virtue. As a result, jurors must weigh the value of such items as evidence.
Noeline Blackwell, Chief Executive of the Dublin Rape Crisis Center, told The Independent, "These kinds of mythologies and stereotypes around rape come up again and again in court cases, because the defense to rape is that the sex was consensual."
Politician and parliament member Ruth Coppinger told officials clothing, fake tans and contraceptives "have recently been used to discredit women who had the bravery to go to court."
"The women of this country are getting a little weary at the routine victim-blaming going on in Irish courts, and the failure of lawmakers in this House to do anything about it," said Coppinger, who illustrated her point by holding up a black thong.
According to The Independent, the Law Reform Commission is conducting an examination of Ireland's legislation in the area of rape.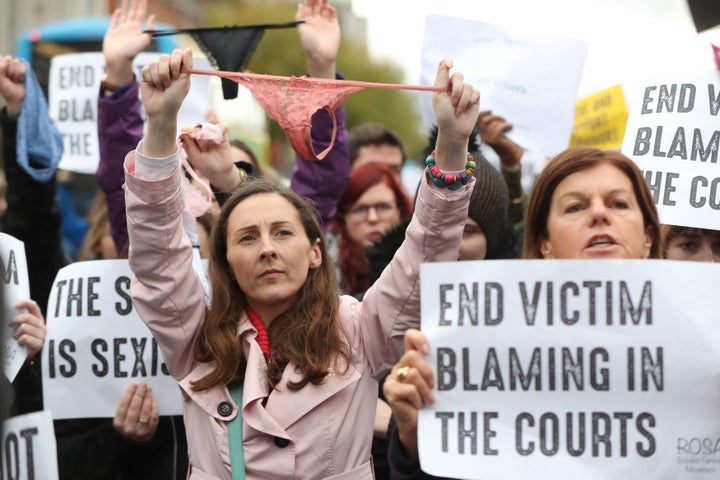 For some, that legislative review cannot come soon enough.
"We decided to call this rally not just specifically about this case, but … for an end to victim blaming in court," ROSA spokeswoman Fiona Ryan told The Independent. "The international solidarity that's been extended to these awful cases when they're exposed will go a long way towards pushing for genuine legal change."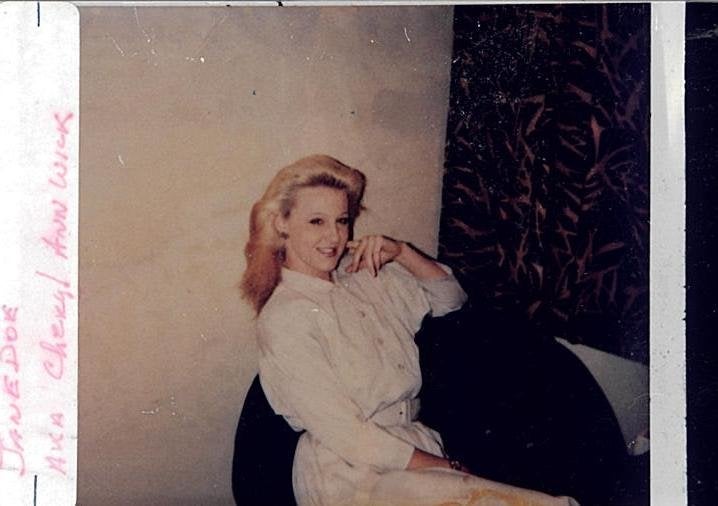 Cold Cases
Popular in the Community