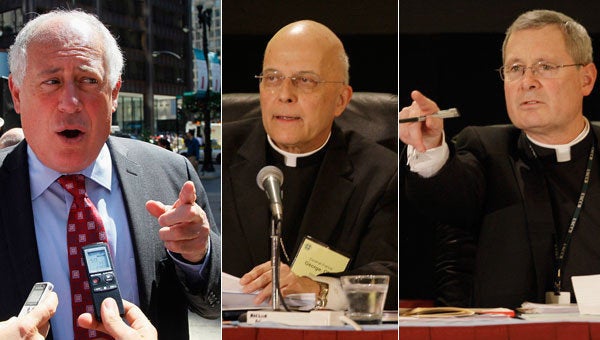 Last week, Cardinal Francis George joined a group of Illinois bishops in condemning Illinois Governor Pat Quinn's planned speech at a pro-choice event, accusing the governor of "rewarding those deemed most successful" in "terrible work." Now, George is backing away from those comments -- after learning that Quinn will be presenting an award to a rape victim.
Quinn is slated to present an award to Jennie Goodman, a rape survivor, rape-crisis counselor and stay-at-home mom, at the Nov. 17 luncheon for Personal PAC, a political action committee that works to get pro-choice candidates elected in Illinois.Goodman is being named a "preeminent advocate for rape victims" at the luncheon, according to the Chicago Sun-Times.
"We deeply regret the Governor's decision to present this award, which so closely associates him with a political action group whose purpose is contrary to the common good," the Catholic Conference of Illinois said in a statement last week. The group consists of state bishops and Cardinal George. "With this action, Governor Quinn has gone beyond a political alignment with those supporting the legal right to kill children in their mother's wombs to rewarding those deemed most successful in this terrible work."
Goodman, who is pro-choice but has never had an abortion, told the Sun-Times that she was upset by the whole ordeal and didn't understand why the Catholic Conference came after a rape victim.
"... you know what, cardinal? I didn't have a choice when I was raped. And I didn't have a choice when my life was turned upside down, and I didn't have a choice to feel the worst violation a person could feel. And how dare you tell me what choice to make when I didn't have a choice when I was raped."
Goodman worked with Personal PAC to get Quinn elected. Bill Brady, the Republican State Senator who ran against Quinn, was against abortion in all cases -- including rape and incest.
After being called out in the media, Cardinal George backed away from the Catholic Conference statement and blamed conference executive director Bob Gilligan for not informing the bishops of Goodman's "tragic story" before they signed off on the statement.
"That Ms. Goodman would feel attacked, I regret that very much," George said, according to the Sun-Times. "But the statement is not about her, it is about Gov. Quinn, who on one hand identifies himself as a member of the Catholic Church and on the other hand is identifying himself strongly with a group that supports the killing of unborn children in their mothers' wombs."
REAL LIFE. REAL NEWS. REAL VOICES.
Help us tell more of the stories that matter from voices that too often remain unheard.