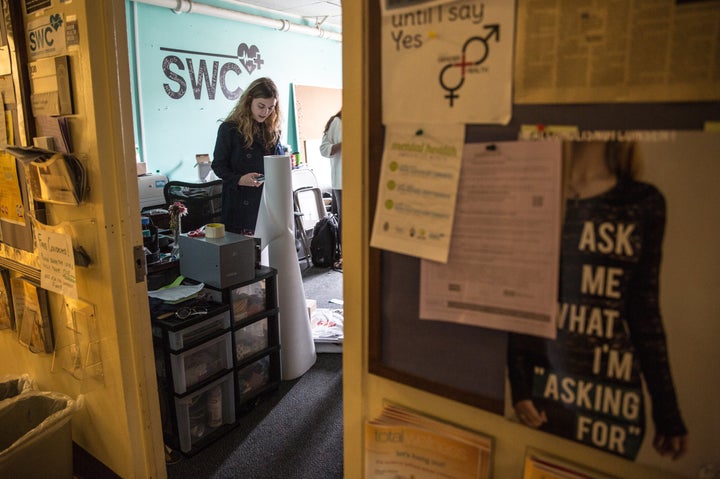 A bill being considered in the House that would restrict colleges from punishing students accused of sexual assault is meeting near-universal opposition from advocacy organizations who work with rape victims.
The Safe Campus Act, originally sponsored by Republican Reps. Matt Salmon of Arizona, and Pete Sessions and Kay Granger of Texas, would prohibit colleges and universities from punishing a student accused of sexual assault and battery unless the reporting victim also goes to police with the complaint.
Twenty-eight advocacy organizations working with sexual assault victims contacted by The Huffington Post in recent days said they are opposed to the bill. A handful declined to take a policy position, but no group working with or on behalf of rape victims offered to endorse the legislation.
Under the Safe Campus Act, colleges would still be allowed to punish a student for illegal acts like selling drugs, stealing or physical assault regardless of police involvement, but sexual assault and battery would be off limits unless the reporting victim goes to cops in addition to school administrators.
In one scenario that could be envisioned under the bill, a student could accuse a classmate of sexual assault, and also accuse the classmate of harassing her in the hallways by pinching her butt -- but if she doesn't want to report the incidents to police, then the university would only be allowed to discipline the accused student for the hallway harassment.
Monika Johnson-Hostler, president of the National Alliance to End Sexual Violence; Annette Burrhus-Clay, executive director of the Texas Association Against Sexual Assault; and Allie Bones, executive director of the Arizona Coalition to End Sexual and Domestic Violence, sent a letter in August to the sponsors of the Safe Campus Act to express their "grave concern" with the bill.
Higher education institutions have long "exercised authority to sanction their students for policy violations, regardless of whether the conduct also constitutes a crime," Johnson-Hostler, Burrhus-Clay and Bones said in their letter, shared with The Huffington Post. They added: "Campuses are obligated to determine whether or not a student violated school policy and to protect the civil rights of the victim."
The three also questioned why sexual assault was the only crime and form of student misconduct for which due process concerns are raised.
"We don't force victims of other crimes to interact with police and file reports and initiate a criminal justice investigation," said Kristen Houser, chief public affairs officer for the Pennsylvania Coalition Against Rape.
Colleges and universities are obligated under the gender equity law Title IX to address reports of sexual violence, due to a series of court decisions and guidance from the U.S. Department of Education. Currently, when a student reports that they were sexually assaulted by a peer, regardless of whether they decide to engage law enforcement, the college may investigate and discipline the accused under the school's code of conduct.
Johnson-Hostler, Burrhus-Clay and Bones said in their letter that this is similar to obligations an employer has when one employee accuses another of harassment or assault.
"The campus process and criminal process are two separate and distinct processes with different purposes and goals," Johnson-Hostler told HuffPost. "Campuses should be able to continue their process regardless of the student's decision to move forward with a police report."
The Safe Campus Act would change that by requiring colleges to send cases to police first.
"It sends the message that if you didn't go to law enforcement, then what happened to you wasn't real and wasn't important, and that is the opposite of the culture we're trying to create," said Sofie Karasek, director of education and co-founder of End Rape on Campus.
National fraternity and sorority groups are working to promote the bill, after suggesting earlier this year that schools restrict campus rape investigations until after a criminal investigation and trial are completed. The organizations have declined to make anyone available to HuffPost for an interview.
"It would be really great if the Greek system would own up to this problem and say, 'We haven't been perfect, we're far from perfect,' but instead they're trying to sweep it under the rug even further," Karasek said. "It's exactly the opposite of what we were hoping they would do."
Salmon, Sessions and Granger's offices did not respond to requests for comment. The North-American Interfraternity Conference and the National Panhellenic Conference also did not respond to request for comment for this story.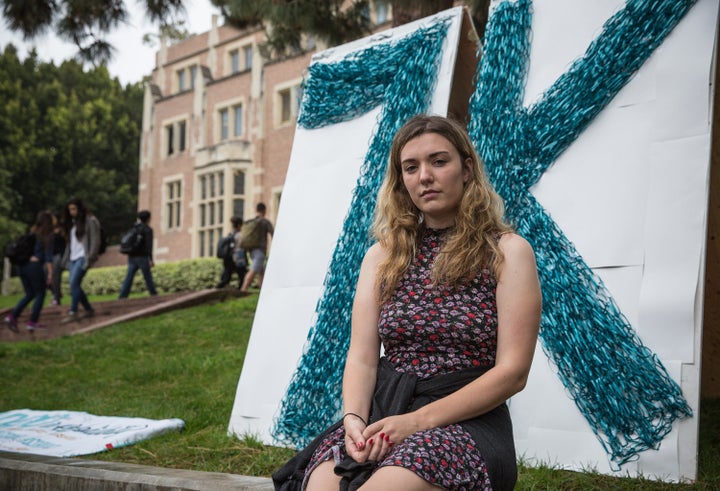 Statements from representatives from sexual assault victim advocacy organizations in opposition to the Safe Campus Act:
Savannah Badalich, founder of the Bruin Consent Coalition at UCLA: "Many survivors don't feel comfortable with going through a criminal justice process and do not have access to resources to maintain a case/attend court hearings/etc. Their comfortability may relate to their identity, as students of color and undocumented students do not feel comfortable going to law enforcement due to historical context of systematic oppression. I was once told by a survivor of color, 'if you don't think the death of Michael Brown or Eric Garner or activism happening in Ferguson has everything to do with why I didn't report my rape to the police, you have no idea about my experience or how to advocate for me.'
"Reporting to the criminal justice system often takes an incredibly long time for a case to be investigated, prosecuted, and a decision to be made. In the meantime, a survivor has to deal with the presence of their perpetrator on campus -- which directly affects their access to an education and that is prohibited under Title IX. These are some of the many reasons, but ultimately, it is the university's responsibility under Title IX to protect students from sex discrimination and to allow for an equal opportunity for access to their education. The (un)Safe Campus Act does the exact opposite."
John Foubert, president of One In Four: "There are many reasons why a rape survivor would want to report an incident to her campus -- where the result could be expulsion with a preponderance of the evidence standard -- versus potential seeing a perpetrator go to prison under a beyond a reasonable doubt standard. This colossally stupid legislation is opposed strenuously by One in Four."
One Less at the University of Virginia: "One Less at UVA is a group composed of survivors and allies, united in our passion for the prevention of sexual assault through education and advocacy. Should it pass, the Safe Campus Act of 2015 would negatively affect us, our peers, and survivors of sexual assault across college campuses. Therefore, we cannot stand with the Safe Campus Act. Instead, we stand for decreasing barriers to reporting instead of erecting new ones. We stand for students' rights to a fair adjudicatory process guaranteed by Title IX. We stand for the right of survivors of all races, sexualities, and backgrounds to have control over their voices, their bodies, and their stories. Today, and every day, we stand with survivors."
Peg Langhammer, executive director of Day One in Rhode Island: "With regard to these provisions, we believe first and foremost that the victim should remain in the driver's seat, maintaining control at all times. ... Women have always had the choice whether or not to involve law enforcement in cases of sexual assault. Ideally, yes, victims would involve law enforcement in most cases. But we know that is not always the reality. In fact, less than 20 percent of college sexual assaults are reported. We know there are various reasons why victims seldom want to report. However, there still needs to be some kind of investigation on campus to keep students safe. The majority of these perpetrators are repeat offenders, putting even more students at risk. Whether or not law enforcement is involved should be irrelevant when it comes to student safety."
Shaina Brown, communications manager for the California Coalition Against Sexual Assault: "One of the more alarming pieces of the Safe Campus Act is really the conflation of the campus adjudication process and the criminal justice process. When we start to make one rely on the outcome of the other we don't allow them to operate in their separate spaces. They have different implications both for the survivor and the accused."
Nita Chaudhary, co-founder and co-executive director of UltraViolet: "UltraViolet stands with countless rape survivors who oppose the so-called 'Safe Campus Act,' that in reality would make campuses even less safe for far too many. An assault should never force a student to have to withdraw from college -- Title IX is designed to ensure equal access to education, and this bill completely undermines that. Put simply, police departments and courtrooms are not friendly or welcoming places for many survivors of rape. There are myriad reasons why a survivor might be uncomfortable reporting to the police, from invasive questions to fear of retribution, especially for survivors of color and international students. Survivors should still receive accommodations on campus even if they cannot, or do not feel comfortable, seeking justice through the courts."
Jasmine Lester, founder of Sun Devils Against Sexual Assault at Arizona State University: "Sun Devils Against Sexual Assault does not support the Safe Campus Act because police are often hostile to survivors of sexual violence, especially survivors of color. Police have historically re-traumatized and mistreated survivors, and when sexual violence is reported to police the perpetrators are rarely prosecuted. Reporting to police can also put a victim in danger of retaliation from their attacker. ... Sexual violence robs victims of power over their bodies, their minds, and their futures Survivors need to feel like they have choices. The option not to report to police but still have schools investigate is imperative."
The Victim Rights Law Center in Boston said in an email they "STRONGLY OPPOSE" the bill.
Sarah Merriman, spokeswoman for Students Active For Ending Rape: "Survivors should be able to choose the path they want to their definition of justice and healing. We cannot support legislation taking away one form of campus resource if a survivor wants to opt out of interaction with law enforcement."
Laura Dunn, a sexual assault survivor who founded SurvJustice, an attorney advocacy firm: "This legislation exemplifies the limited understanding many have about the nature of sexual violence It is more than a crime, it is a civil rights violation based in discrimination."
Jennifer L. Dritt, executive director of the Florida Council Against Sexual Violence: "We strongly oppose that provision of the Safe Campus Act. Institutions of higher education have for years been disciplining students for conduct violations, including criminal acts, regardless of whether the students are defendants in a criminal case."
Jeanne Ronayne, executive director of the Minnesota Coalition Against Sexual Assault: "We know many victims don't report their assault and some of the things that keep victims from reporting their assault are only going to be exacerbated if we close pathways for victims to seek justice. ... No, we haven't written off the criminal justice system, but we still believe it needs to be a victim's choice and unforunately many victims still make that choice based on how the current system operates."
Patricia H. Davis, CEO of Aequitae, Title IX Center: "The Safe Campus Act would upend current Title IX protections for students and colleges for no good reason. Under the current Title IX, VAWA, Clery Act compliance structure, Colleges do NOT adjudicate criminal issues on their campuses via their investigation/hearing board processes. Colleges cannot impose criminal penalties. Colleges are required, however, to investigate and adjudicate violations of their own student and campus conduct policies. Penalties meted out where students are found 'responsible for' sexual assault are much less severe than criminal penalties. Under the Safe Campus Act, colleges would find themselves unable to investigate some of the most serious violations of their own conduct codes unless students reported these violations to law enforcement."
Kristen Houser, chief public affairs officer for the Pennsylvania Coalition Against Rape: "Campuses definitely have a responsibility to handle misconduct that happens on their campus and by students or employees. What makes anything related to sexual assault difficult is we get a really emotional and knee-jerk response to it, and part of that emotion is we have to lock up all the perpetrators in perpetuity, which isn't always the case. ... Both systems certainly can be flawed and both systems can be retraumatizing. There's no perfect remedy, unfortunately, if there were one we would be advocating for it."
Lara S. Kaufmann, senior counsel at the National Women's Law Center: "It directly conflicts with [a college's] obligations under Title IX and deprives that student of their civil right to an equal opportunity to get an education, and not feel like she's in a hostile environment. Under the bill, a student maybe could be expelled for plagiarism but not for raping someone. That's not the message that schools should be sending to students."
Monika Johnson-Hostler, speaking as a member of the NO MORE Steering Committee: "I believe this will gravely impact survivors coming forward. This process is not trauma informed, victim centered and doesn't allow survivors to make the best decision for themselves. Many survivors don't report to policy for various reasons including fear of not being believed, fear of being revictimized by the criminal justice process or fear of biases (racial, gender and/or LGTQI). Believe it or not some victims also want other options of accountability such as treatment, on campus accommodations and the hope they will not rape again."
Meghan Warner, past director of the Sexual Assault Commission in the University of California-Berkeley student government, and co-chair of Greeks Against Sexual Assault: "The criminal justice system has had a bad history with sexual violence: not believing survivors, not even writing down their reports, requiring evidence of physical resistance, even punishing some survivors who they believe are lying. Police have also been the perpetrators of violence, especially against women of color. The criminal justice process is expensive, timely, and traumatizing, often requiring that the survivor repeat their story multiple times to people who do not understand even the basics of how trauma affects memory. As a survivor, I would never report to the police. The last thing I would want to do is share my story with a stranger in a uniform, with a gun, who treats me like a possible criminal."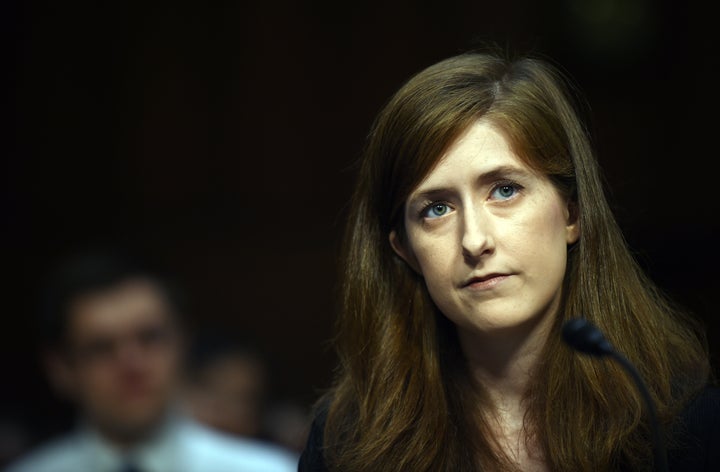 Dana Bolger, co-founder of Know Your IX: "Some states still don't recognize men as victims of rape, leaving them without recourse in the criminal legal system. For undocumented student survivors, reporting to law enforcement can trigger deportation proceedings. And for student survivors from heavily policed and criminalized communities, interacting with law enforcement can feel like the furthest thing from safe. Who do you turn to for protection when the very people entrusted to do so are agents of violence against you? For many student survivors, the answer has been their college."
Lisa Maatz, vice president of governmental relations at the American Association of University Women: "We know that there are issues in terms of gender bias in policing and racial bias in policing. For women of color to mandate that they report to law enforcement is a great way to ensure that they don't report to anybody."
Dominic W. Holt, public policy and communications coordinator for the Wisconsin Coalition Against Sexual Assault: "This provision would significantly reduce the choices and control that sexual assault survivors have after an assault. Survivors should have as much control as possible over their lives after an assault. Survivors should also be empowered to make their own choices, especially whether to report the assault. Currently, the vast majority of survivors of sexual assault do not report the crime for many valid reasons. This bill could create even more barriers to survivors reporting, which would reduce the number of survivors getting the help they need and perpetrators held accountable."
Faculty Against Rape: "Rape and sexual assault have been underreported, both on college campuses and in the general population because of the failure of institutions to respect survivors and to hold perpetrators accountable. Making a police report a pre-condition to an investigation and adjudication of rape and sexual assault by campus officials is likely to deter survivors from coming forward. Moreover, for survivors who choose to report their rape to the criminal justice system off campus, the process is long and complicated, often interfering with their academic study and leaving them trapped on a campus that their perpetrator attends while the case moves through the criminal justice system. As an advocacy group whose primary mission is to support survivors and to encourage more faculty to play an active role in confronting sexual assault, we insist that survivors should have the choice of whether to report rape or sexual assault and to whom. The Safe Campus Act was not designed to make college campuses safe for ALL students. Instead, its primary goal is to prevent college administrators from finally assuming the responsibility and taking the necessary steps to end sexual violence on campus."
Not On My Campus (University of Texas at Austin): "Our organization opposes this provision because we believe that it would prevent victims from reporting (even more so than with the current reporting system). From our experience of speaking with survivors, we have learned that survivors who choose to report to law enforcement feel as though they are being punished more than their perpetrator. The process can be extremely exhaustive and detrimental to the already unstable survivor. It is essential that Universities are able to take action to protect and support survivors of sexual assault so that they can have an equal educational opportunity, which is granted to them under Title IX."
National Alliance to End Sexual Violence, Texas Association Against Sexual Assault and Arizona Coalition to End Sexual and Domestic Violence:
This story has been updated to include additional groups that have said they oppose the Safe Campus Act. It originally said 25 groups opposed it, but more have come forward to declare their opposition.
Support HuffPost
The Stakes Have Never Been Higher
Popular in the Community