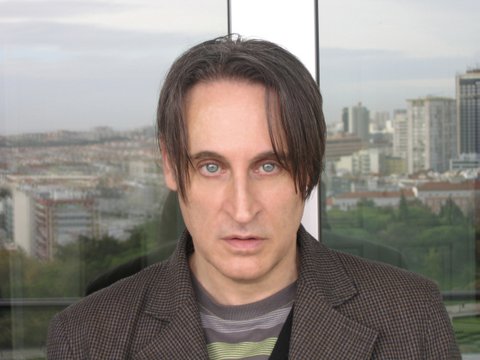 Trebor Healey: How long have you been with the University of Wisconsin Press? How many books do you publish annually, and of those, how many are LGBT titles?
Raphael Kadushin: I've been the acquisitions editor since 2001. The Press does an average of 60 titles a year, and it varies, but we do about six to 10 LGBT titles annually, a mix of memoirs, fiction, biographies and occasionally historic and sociological themes. We've published over 140 LGBT titles since I initiated our gay list.
Healey: How have you been able to make the University of Wisconsin such a gay-friendly press? Is it just because you are the editor and like gay stuff? Or does the university have some kind of mission in this regard?
Kadushin: No, we didn't have any LGBT list at all when I started as acquisitions editor, but the real leap for us was incorporating more trade titles into our list, since the LGBT list was always conceived as largely a trade list, not a scholarly/academic list. And once I got the OK to do trade titles, I just saw so many strong LGBT titles going unpublished -- especially some very powerful memoirs. And when I researched it, I was amazed that no other publisher had a series devoted to LGBT autobiography, and that such a series had never existed anywhere in the world. It just seemed like such an odd vacuum that needed to be filled, especially at that time, when books were still the only way that most LGBT people could get their voices heard. No other medium 13 years ago really allowed for any real range of LGBT voices. So I launched the Living Out series, and it took off almost immediately, and as a result of its success, we started publishing an eclectic range of LGBT books. In fact, the first gay title we did, Will Fellows' Farm Boys, was one of our best-selling titles ever, and I think it really helped define the series, because the Living Out series is dedicated to recovering LGBT voices and stories that would have remained invisible otherwise. And Will's book, which is a series of oral histories of gay men who grew up on midwestern farms, recovered lives that were largely ignored by the LGBT culture itself, which was predominately focused on club culture on the two coasts.
Healey: There's been a lot discussion about that issue over the years: finding and cultivating more voices from outside the gay mainstream on both coasts. What other books have you found and published along those lines?
Kadushin: Yeah, it's funny, but I've lived in both San Francisco and New York, and there is this sometimes odd, faux ignorance about gay life between the coasts in those cities -- funny because a lot of people on the coasts are actually Midwestern or Southern transplants themselves. But actually, a large percentage of our books recover lives between or beyond the coasts. Will Fellows' second book for us, A Passion to Preserve, examines how gay men in cities all over the U.S. -- from Charleston to Cooksville, Wis., to Minneapolis and New Orleans -- were the local conservators who really helped preserve and restore the local architectural heritage and reclaim the historic neighborhoods. Our really seminal anthology, Gay American Autobiography: Writings From Whitman to Sedaris, which was edited by David Bergman, one of the two original editors of the Living Out series (along with Joan Larkin), includes writing by everyone from Edmund White -- originally, of course, a Midwesterner -- to Sedaris, a Southerner. And our recent title, Windy City Queer, is a collection of pieces paying homage to Chicago by LGBT writers. Mack Friedman, whose novel Setting the Lawn on Fire won a Publishing Triangle Award, was born in Milwaukee, and his picaresque novel trails from the Midwest to Alaska to the Southwest. Brian Bouldrey, one of our best travel writers now teaching at Northwestern, writes about every place but the coasts, and Lori Soderlind's Chasing Montana is an all-American lesbian road-trip romance. Lucy Bledsoe's The Ice Cave zooms from the Mojave to the Antarctic, and my own travel anthologies, Big Trips and Wonderlands, feature LGBT writers reporting on just about every destination imaginable. And coming up on our 2014 list -- something I'm very excited about -- is Edmund White's second edition of his classic States of Desire, which includes a new essay on how the Internet has really collapsed the very notion of discrete gay spaces. We're all essentially living in a gay world now.
Healey: There are just a few small gay presses now, which I also hope to interview: Sibling Rivalry, Lethe, Chelsea Station, Bold Strokes, Rebel Satori, Magnus. (Am I leaving any out?) What is the state of gay publishing?
Kadushin: I'm not sure if Magnus still exists. Gay publishing as an entity is pretty much dead. All the big commercial houses, of course, do the occasional LGBT title if it's by a big, marketable name, or concerns a big name, but none of them have dedicated LGBT lists. I think the most interesting stuff now is coming out of the university presses.
Healey: I ran across Rob Stephenson's book Passes Through, put out by University of Alabama, when I was in New York. What other universities are friendly toward LGBT material?
Kadushin: Chicago does some very strong LGBT titles, and Minnesota as well.
Healey: How is your funding and bottom line, what with all the cuts in state budgets?
Kadushin: Our goal is to break even, and that allows us a luxury the commercial presses don't have. We can afford to do books simply because they're good books and worth doing, instead of worrying about whether they are going to make a whopping profit. But of course things are tighter everywhere. The Republican war on the government, which is really designed to privatize everything in a few hands in the end, is about limiting options and voices on every level.
Healey: What is your advice to writers in such a hostile environment? Is self-publishing the only option for many?
Kadushin: I think the real question writers have to ask themselves is why they are writing. I think everyone with a Facebook page or a blog essentially thinks of themselves as a writer now, and that's fine, but too much of that writing is a form of self-indulgent exhibitionism and really has more to do with wanting to be liked, or just known, than anything else. And that's its own genre. I'm not sure what to call it. But it doesn't interest me. Because writing worth publishing is writing that isn't really interested in being liked. It has bigger goals: it wants to break through to something universal, and it is driven by a love of language, and it comes informed by actual talent, something that is too often derided as effete now. And those books will still find a home as long as there are some editors and publishers left who value literature over simple self-exposure.
Healey: I've been impressed with your list for years. What are some of the titles you are most proud of?
Kadushin: There are so many. Gad Beck's An Underground Life was one of the first memoirs by a gay Jew living in, and somehow surviving, Nazi Germany. Edmund White's Loss Within Loss is a series of portraits of major American artists lost to AIDS, some of whom died before their work became known. Illumination and Night Glare is the unfinished autobiography of Carsen McCullers. Tobias Schneebaum's Secret Places: My Life in New York and New Guinea is the amazing memoir of a man who changed the face of anthropology. Jaime Manrique's Eminent Maricones: Arenas, Lorca, Puig and Me is a gorgeous collective portrait of gay Latino writers, and Rigoberto Gonzalez's poetic memoir Butterfly Boy won the American Book Award. Recently, we published Rigoberto's Autobiography of My Hungers. This year, we are publishing Glenway Wescott's journals and a collection of his short fiction, A Visit to Priapus and Other Stories, much of which has never been published in the U.S. We're reclaiming a seminal modernist writer who tackled gay themes, in a purely contemporary voice, decades before that became the norm. And I love Duncan Fallowell's How to Disappear, a beautiful collection of portraits of British eccentrics, including the man who was the inspiration for Sebastian in Brideshead Revisited, and I'm a fan of our recent title by David Leddick, called The Beauty of Men Never Dies, a bittersweet romantic memoir by a gay man in his 80s, which broaches the subject of ageism, the last acceptable form of bigotry. Probably my own personal favorite among our LGBT works, though, is Robert Tewdwr Moss's Cleopatra's Wedding Present, which is the memoir of Moss' travels through Syria in the '90s. Like the best books, Cleopatra's Wedding Present keeps changing shape, so it starts out as sort of a parody of the mad Englishman abroad, but then it morphs into a detective story when Moss discovers a massacre in the Syrian desert, and then a romance when he falls in love with an Arab refugee. The tragedy is that Moss, though in constant danger in Syria, came back to London safely and then was murdered in his apartment by a boy he was mentoring, so this is the only existing work by a very gifted writer.
Healey: And Moss' book sounds particularly topical considering the horrors going on in Syria now. What new books have you got coming up that you are excited about?
Kadushin: Our fall list is actually a good example of how eclectic our LGBT list has become. In addition to Wescott's short fiction collection, we have Christopher Hennessy's Our Deep Gossip: Conversations With Gay Writers on Poetry and Desire; Hennessy includes very telling personal interviews with a who's who of gay writers, including Wayne Koestenbaum, Dennis Cooper, John Ashbery, et al. And then Joel Derfner's Lawfully Wedded Husband: How My Gay Marriage Will Save the American Family, a very funny but also telling memoir of Derfner's wedding, makes for a perfect wedding present actually. And then the paperback edition of Joy Ladin's Through the Door of Life: A Jewish Journey Between Genders is the first transgender memoir we've done and an amazingly powerful, moving portrait of how Joy balances her religious faith and her role as a parent to three children with her transition.
Healey: Impressive and important and vital work. We're so fortunate to have you and the University of Wisconsin Press putting such work out there. Thank you, Raphael.