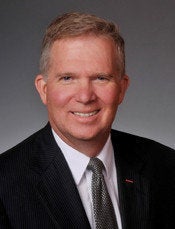 A Democratic legislator in Arkansas wants to strip convicted rapists of their rights to children conceived during the rape.
State Rep. John Charles Edwards (D-Little Rock) has introduced legislation that would take away the parental rights of convicted rapists who father a child during the rape. He said the bill, which was inspired by a Georgetown Law Journal article , would prohibit men convicted of rape from seeking custody of or visitation rights with the child conceived. Edwards said this would allow the victim to sever a potential lifelong relationship with her rapist.
"We had no protection for a woman who had conceived a child through rape," Edwards told HuffPost.
The legislation, filed earlier this week, would kick in upon conviction, he said; similar laws in other states vary on when custody or visitation can be blocked. Currently, 31 states do not have laws prohibiting a convicted rapist from seeking custody or visitation.
Edwards said his interest in the issue was spurred by a law review article by Shauna Prewitt, a lawyer who battled the man who raped her over visitation with the daughter conceived during the rape. He said after seeing media profiles of Prewitt he read the law journal piece and wanted to introduce the legislation in Arkansas.
During his research on the subject, Edwards said he reached out to those in law enforcement who supported the ban. "I visited with retired judges and I talked to people who worked as prosecutors," Edwards said. "The feedback I've gotten from those individuals was positive."
He said he believes the new law would give rape victims more information to make decisions if a pregnancy occurs from a rape.
"Having a bill like this in place will give a woman more freedom to make informed decisions on an issue like this," Edwards said.
Prewitt and others have explained that many of the states that have not adopted such laws have not tackled the topic due to being "ignorant" to the need. In cases where legislation has been proposed, questions have been raised about when parental rights would be terminated.
Edwards said he has not had a chance to talk to his colleagues about the bill, but plans to have those conversations in the coming days. He expects the bill to get a "fair hearing" in the Republican-controlled legislature and a shot at passage.
He wants to gather feedback from other lawmakers on the proposal and see if there are other proposals that could change the final draft of the bill.
"Sometimes you don't know you have a problem until you have a problem," he said. "If there is anything we can to do have a law in place, we will be a far better place. Rape is wrong, very wrong."
Calling all HuffPost superfans!
Sign up for membership to become a founding member and help shape HuffPost's next chapter
BEFORE YOU GO
PHOTO GALLERY
U.S. State Capitol Buildings