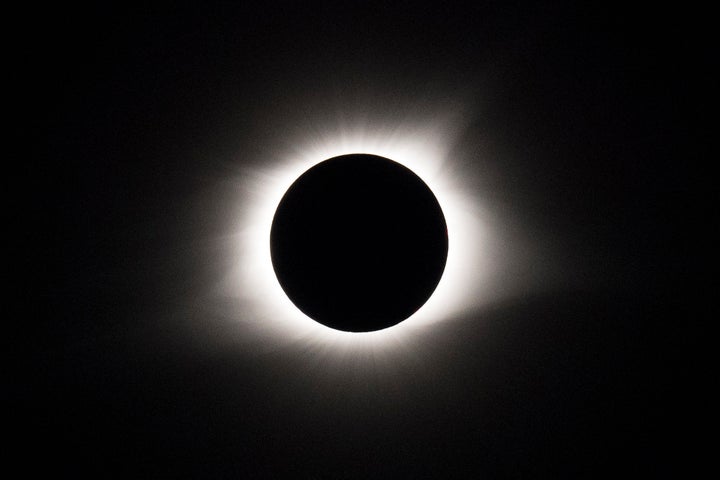 A hip-hop artist named Joey Bada$$ has been dubbed "Joey Badeyes" on social media after he bragged that he was going to watch Monday's eclipse without protective eyewear ― and then abruptly canceled three upcoming shows.
It's unclear why the shows were actually canceled, but the coincidence has caught a lot of people's attention.
"Am I crazy for watching the eclipse today [with] no glasses?" Joey Bada$$, whose real name is Jo-Vaughn Virginie Scott, had tweeted on Monday. "I've sungazed before and afterwards saw colors for a whole day. I didn't die tho (sic)."
He went on to argue, "This ain't the first solar eclipse and I'm pretty sure our ancestors ain't have no fancy eyewear. Also pretty sure they ain't all go blind."
Twitter users were quick to mock his suggestion, with one person replying, "You tell, em, Joey. Look right at that sun. You'll be fine."
As far as whether Scott actually looked at the sun without proper protection, it's anyone's guess.
But fast forward to Tuesday, and the hip-hop artist announced the cancellations of shows in Cleveland, Chicago and Toronto "due to unforeseen circumstances."
Needless to say, that announcement produced a new round of jokes and jabs against the rapper, with his news called "eyeronic."
That damage could result in blind spots and blurriness, which can appear within hours. Fortunately for anyone who may have improperly stared at the sun on Monday, the retina can largely heal itself if the damage is not too severe, Reuters reported.
As far as how Scott is doing after announcing his cancellations, he seems to have a positive attitude, tweeting Wednesday, "Seeing double, stacking triple."
Popular in the Community