Soulja Boy knows the "pressure" of being a Hip Hop superstar. "It's always a knot in my stomach," the 23-year-old says of industry expectations to constantly top his previous efforts, "But I look at it like I'm having fun."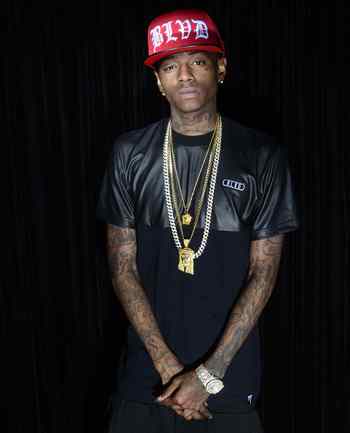 It's been a wild, unpredictable ride for the rapper, who shot from un-signed artist to the top of worldwide charts in a matter of months with his 2007 debut "Crank That (Soulja Boy)." Self-produced and initially released on the internet, the single went on top the Billboard "Hot 100" chart for seven nonconsecutive weeks and sell in excess three million copies.
Since that time, Soulja Boy has scored five Top 40 hits, twice topped U.S. Rap charts, racked up a half-billion YouTube views and received a Grammy nod. This week he launches the national "We Made It" tour to support the release his fourth studio album. With King Soulja 3 hitting stores July 29 (the day after his 24th birthday), the Chicago native acknowledges critic pressure to live up to past accomplishments.
'They always say 'Can he top his last record?' 'Can he top his last album?' - stuff like that," stated Soulja Boy, who hits Sacramento's Ace of Spades on Fri., July 25 and Oakland's New Karibbean City the next night.
Still, the rapper sees no point in comparing the performance of his upcoming album to the commercial success of his debut. Powered by the popularity of "Crank That," SouljaBoyTellEm.com has sold nearly a million copies in the U.S. alone. Even his hit-laden 2008 follow-up iSouljaBoyTellEm, which included Top 5 smash "Kiss Me Through the Phone" featuring Sammie, failed to match it.
"I don't get caught up in the numbers," Soulja Boy insisted during a recent telephone interview. "I just have fun and put out music. That's what got me in the position I'm in now."
Instead of competing with himself, Soulja Boy says King Soulja 3 is about building on his musical legacy. To that end, he's called on some of the biggest names in hip hop to deliver a record he describes as "more lyrical, better beats, bigger collabs."
He certainly isn't exaggerating on the quality of his collaborators! King Soulja 3 includes industry heavy-hitters such as Drake, Nicki Minaj (on whose hit 'Yasss Bish' he worked earlier this year), Young Thug, Lil Wayne, The Migos and more.
"This album shows the new school Hip Hop, what the younger people in the club and streets are listening to, what's hot in the streets," Soulja Boy said. "It really solidifies me as one of the hottest rappers in the Hip Hop game."
As the new disc prepares to drop, he's hitting the road to introduce the music to fans. Tour dates from late-July through mid-August are planned along the West Coast, throughout Montana, the Dakotas and Texas, with international dates planned for Brazil and Japan.
"I just have fun with it," Soulja Boy says of his music and career.
"I work as hard as I can. Whatever I sell, I sell," he says, "As long as my music is out to the people, in the clubs and I'm having fun, I'm happy."
Soulja Boy's Upcoming "We Made It" Tour Dates:
Thurs., July 24 - Los Angeles - El Rey Theatre
Fri., July 25 - Sacramento, CA - Ace of Spades
Sat., July 26 - Oakland, CA - New Karibbean City
Fri., Aug. 1 - Houston, TX - Warehouse Live
Sat., Aug. 2 - Dallas, TX - Prophet Bar
Thurs., Aug. 7 - Spokane, WA - Red Room Lounge
Fri., Aug. 8 - Seattle - The Crocodile
Sat., Aug. 9 - Eugene, OR - EMU Ballroom at University of Oregon
Sun., Aug. 10 - Portland - Alhambra Theater
Mon., Aug. 11 - Bellingham, WA - Wild Buffalo
Weds., Aug. 13 - Missoula, MT - The Wilma
Thurs., Aug. 14 - Billings, MT - Babcock Theater
Fri., Aug. 15 - Bismarck, ND - Bismarck Civic Center
Sat., Aug. 16 - Fargo, ND - The Venue
Sun., Aug. 17 - Sioux Falls, SD - J. Ramkota Exhibit Hall
For More Information, Follow @SouljaBoy on Twitter.
Calling all HuffPost superfans!
Sign up for membership to become a founding member and help shape HuffPost's next chapter