It's been quite a year for celebrities who speak their minds regarding the lesbian, gay, bisexual, and transgender community.
Even the 2012 Oscars -- thanks to director Brett Ratner's careless use of the word "faggot" during a Q&A -- had to be rebooted.
Celebs sounding off about LGBT topics isn't an uncommon occurrence in the hip-hop world, either, where rappers like 50 Cent, Eminem, and Tyler The Creator have come under fire for anti-gay statements and lyrics and where pro-gay artists like Nicki Minaj and Fat Joe have stood up for the community.
In the December issue of the magazine T.I. says (in part):
"Man, I will say this, the funniest joke I ever heard Tracy say during a stand-up was, 'C'mon man, I think gay people are too sensitive. If you can take a dick, you can take a joke.' [Cracks up laughing.] That shit was funny to me. And it's kind of true." While T.I. makes clear that he supports anyone's sexual preference, he then connects, in his opinion, a current oversensitivity among gay people with a consequential and ironic offense of the First Amendment. "They're like, 'If you have an opinion against us, we're gonna shut you down.' ... That's not American. If you're gay you should have the right to be gay in peace, and if you're against it you should have the right to be against it in peace."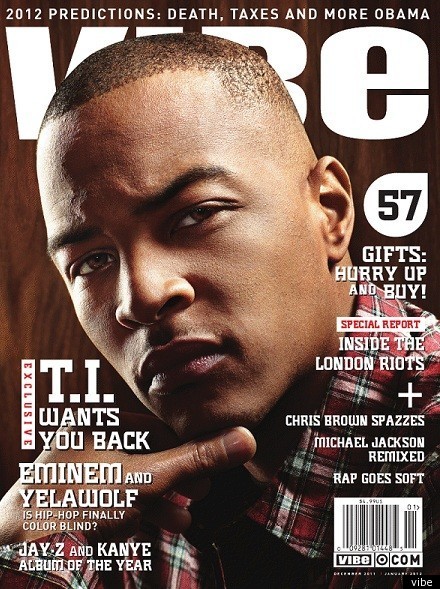 What are your thoughts? Freedom of speech or hate speech? Sound off in the comments section below.
The December issue of Vibe hits newsstands on December 6.

Popular in the Community