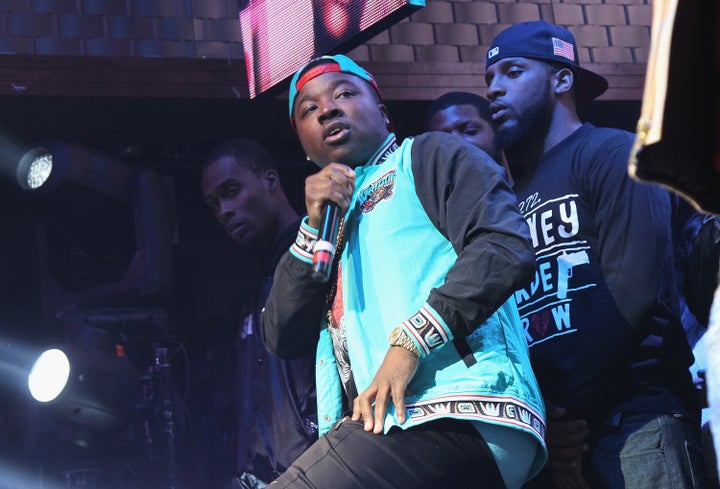 Rapper Troy Ave, who is charged with attempted murder over a Manhattan concert shooting this year, was shot twice while sitting in his Maserati convertible at a New York City intersection Sunday, police said.
The 34-year-old and his girlfriend were on their way to spend Christmas Day with family when a gunman opened fire through the driver's side widow of the car as he stopped at a Brooklyn traffic light around 4:20 p.m, according to law enforcement authorities. One bullet struck his the shoulder and another grazed his head, they said.
The rapper, whose real name is Roland Collins, managed to drive for a few more blocks until he crashed his car and a passerby took him to the nearest hospital. He was listed in stable condition.
Police had yet to arrest anyone over the shooting by early Monday.
Collins wears an ankle bracelet and is out on $500,000 bail following a May shooting backstage at a T.I. concert that left his bodyguard, Ronald McPhatter, dead. He has been charged with second-degree attempted murder and an illegal weapons count.
Surveillance footage at the concert shows Collins firing a gun, but he said he had wrestled the weapon away from the man who killed McPhatter and that he shot back in self-defense. Collins was shot in the leg during the altercation. 
"Tonight, Troy Ave was targeted again — at Christmas," said his lawyer, Scott Leemon, in a statement to Billboard Sunday. "...Thankfully, he will survive the second attempt on his life. As we have said from the beginning, he is a victim."
The rapper escaped more serious injury because he spotted his attacker just in time, according to another attorney.
Collins "looked to his left. He saw that the guy had a gun and was about to fire, and he started driving away," John Stella, told the New York Daily News. 
"He's in pain, but he's grateful. He said to me that he feels blessed that this wasn't fatal," Stella added.
Collins is due to appear in court again on the concert shooting charges on Jan. 26.
REAL LIFE. REAL NEWS. REAL VOICES.
Help us tell more of the stories that matter from voices that too often remain unheard.