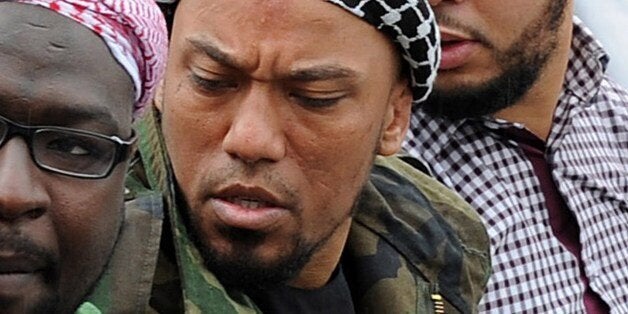 Born Denis Cuspert, the hip hop artist--who once toured with DMX--achieved a different kind of notoriety earlier this year when the State Department designated him a global terrorist, claiming he had become a top recruiter for ISIS in Syria. "Cuspert is emblematic of the type of foreign recruit [ISIS] seeks for its ranks--individuals who have engaged in criminal activity in their home countries who then travel to Iraq and Syria to commit far worse crimes against the people of those countries," the State Department wrote at that time.
Vocativ first reported on Cuspert last November after he appeared in a mass execution video reportedly made by a group called "Deir Ezzore Is Being Slaughtered Silently." In the two-minute clip, Cuspert picks up a severed head and says the dead men fought against the Islamic State. "That's why they received the death penalty," he tells the camera.
Cuspert reportedly returned to rap several months later. In April, fawning ISIS fans claimed Deso Dogg cut the track for an ISIS propaganda video. The voice, which bears a striking resemblance to Cuspert's, raps in German: "To the enemies of Allah, where are your troops? We can no longer wait, O Allah destroy them! Now listen you dogs of hell, this is a message and more are going to follow. This is just the beginning." The song also promised German sleeper cells armed with suicide vests.
Born to a German mother and Ghanaian father, Cuspert ended his official rap career in 2010. He was converted to Islam by a Salafist preacher, a mentor of the "Sharia Police" that made headlines for patrolling German streets last year. He reportedly decamped for the Islamic State in 2012.
More Stories from Vocativ:
Calling all HuffPost superfans!
Sign up for membership to become a founding member and help shape HuffPost's next chapter