In a quiet dusty ranch town in the middle of nowhere (literally) a rap concert sprung from the dirt in stark contrast to the cows, ranches and saloon that stood nearby.
Little old Pozo, California -- 16 miles down a one-lane country road populated more by wildlife than humans -- has long hosted musicians of all genres, from Lynyrd Skynyrd to Damien Marley. The town lays some 28 miles north of San Luis Obispo, Calif. on California's Central Coast.
April 23rd it had Snoop Dogg, Wiz Khalifa and several other hip hop artists entertain the crowd of more than 2,000 under a haze that Bob Marley would appreciate (this being a 4-20 event). These name brand artists made the trek from Los Angeles or further to play.
As far as venue goes, Pozo Saloon is kind of unique. An outdoor field with two stages, concessions and little else. Fans stand on the field and take in the music. The weather during this show was perfect, mid 70s, no wind.
As a fan of music in general and as a former DJ that played hip hop when it first started I bring a little more perspective to these shows than most. For me the show hit highlights when the artists were paying tribute to other artists, such as a Prince song being played during Wiz Khalifa's set. Or a Biggie Small song played during Snoop Dogg's set.
Both Wiz and Snoop played the songs their fans know. Snoop's resonated with the West Coast hip hop vibe that got started when most of the audience were watching Teletubbies. Wiz ended his set with the song from Fast and Furious "See You Again."
The event also introduced to fans some new names and up and comers in hip hop, artists such as Berner and Young Deem who got things going early in the afternoon. The line up: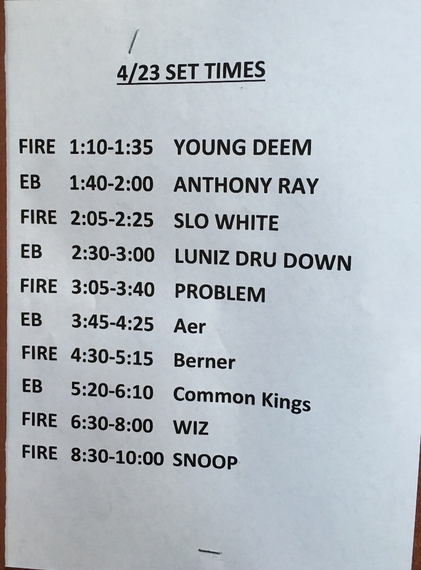 Overall, great venue and big name artists. I'd like to see more interaction with fans from them though. Photos ops, etc. Cell phone cameras worked but not calls or texts, as in the hills here there's no cell phone signal. NO SERVICE shows on your phone.
But that is perhaps the appeal of a remote place like Pozo. It's music without the distraction of the little screen. Music, food, drinks, and not a text message in sight.
Popular in the Community