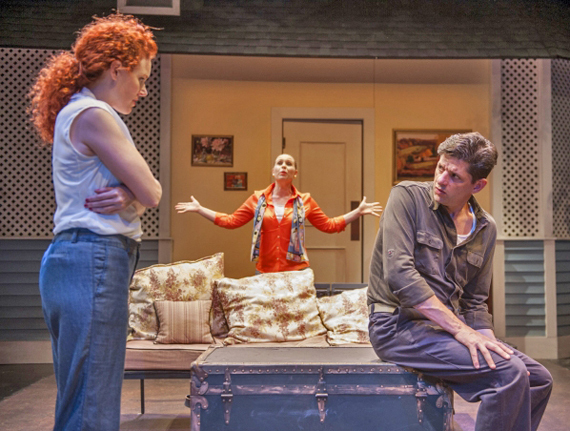 Confronting a quandary: Marilee Talkington as Catherine, Rebecca Schweitzer as Gwen, Gabriel Marin as Don
Photos by David Allen

Four women explore, debate, dissect and display aspects of feminism in Gina Gionfriddo's Rapture, Blister, Burn, which is receiving its regional premiere at Aurora Theatre in Berkeley. It's heady stuff, to be sure, and possibly controversial to some viewers. But it's wildly funny, too, giving a bright start to the company's 23rd season.
There's Gwen (Rebecca Schweitzer), a homemaker, 42 years old, married for some 20 years and the mother of two; there's Catherine (Marilee Talkington), the same age, never married, and a spectacularly successful academic as well as the author of books that examine erotic aspects of feminist thought, including pornography; there's Avery (Nicole Javier), early 20s, a student who might view herself as free of sexual and social inhibitions of any sort, and there's Alice (Lillian Bogovich), Catherine's 70ish mother, who lived through the years that brought prominence to Betty Friedan, Gloria Steinem and Phyllis Schlafly, and paid little heed to any of them.
And there's one male to complicate the equation, and to serve as catalyst for a variety of squabbles and soul-searching: His name is Don and he is not only Gwen's husband but also Catherine's lover of many years past, and currently a dean at the small New England college that Avery attends.
Although the women generally regard him as a dud in both his personal and professional life, Don (Gabriel Marin) possesses one trait that most of us would find admirable: a deep concern for troubled students and an eagerness to help. Avery is one of them.
To Gwen, however, Don's compassion is just one facet among many that she despises. When he hires Avery as a babysitter, the decision sends Gwen into barely controlled fury. It also opens the door to the show's conflicts and revelations.

With the possible exception of Avery, who is too young to have faced a broad range of life's choices, none of the women holds the illusion that it's possible to have it all: marriage, children, career, status and whatever else one might fancy.
For Gwen and Catherine, middle-age angst has hit hard, leading both to question the choices they made in their college years, and to seethe with envy for each other.
Literary fame has brought Catherine an active but unfulfilling sex life, often pursued in an alcoholic stupor. She has never married, though she and Tom were engaged before she took off for the academic allure of London. Would she have been happier with the sort of domestic security that Gwen enjoys? She thinks so, at least for a while.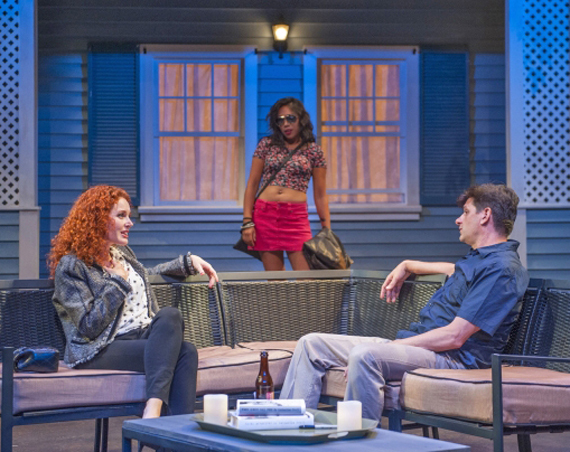 Youth sees things differently: Avery (Nicole Javier) interrupts Catherine (Talkington) and Don (Marin)
For Gwen, the puzzle is reversed: Where would she be and what might she have experienced and achieved if she had finished grad school and pursued a career? And would that have brought the fulfillment and happiness that married life no longer brings? Could she reverse course now?
The contrast sounds trite, and so do the attitudes: But Gionfriddo's lively text, Desdemona Chiang's direction and a generally strong cast under turn the ideas into fresh realities, always engrossing and frequently hilarious.
Those ideas encompass something of a history of American feminism, at least as it affected white, middle-class, heterosexual women in the 20th century: such issues as voting rights, property rights and access to birth control. In a more contemporary and provocative twist, they also include arguments over the likes of horror and slasher movies, which sometimes evoke feminist praise when they close with lethal power in the hands of dominant women.
Those aspects of history and intellectual debate are important to the play, of course. But on stage they are far overshadowed by the human element, expressed in tension, passion, insecurity, hope and a steady stream of laugh-provoking dialogue and quirks of character.
It's an expertly crafted play, and a wonderful opener for Aurora's season.
Rapture, Blister, Burn runs through Oct. 5 at Aurora Theatre, 2081 Addison St., Berkeley. Tickets are $32-$50, from 510-843-4822 or auroratheatre.org
REAL LIFE. REAL NEWS. REAL VOICES.
Help us tell more of the stories that matter from voices that too often remain unheard.