The self-described Islamic State finally lost its tenuous grip on the Syrian city of Raqqa on Tuesday as U.S.-backed forces retook the extremist group's last major urban territory following a four-month military campaign. 
Raqqa has been ISIS' de facto capital for years and was one of the first cities that fell under the group's control during its rapid takeover of territory in 2014. ISIS enforced draconian laws during its rule, dictating daily life and carrying out horrific punishments for dissent. 
But the last ISIS fighters in Raqqa have now either surrendered, died or fled, leaving behind bombed out buildings and rubble-covered streets. In ISIS' place, Kurdish-led forces that retook the city did doughnuts in a tank as they celebrated in a public square formerly used for beheadings.
Raqqa's recapture marks a major blow for ISIS, culminating a steady depletion of its coveted territory that included losing the Iraqi city of Mosul earlier this year. The extremist group has lost thousands of fighters during the ongoing international anti-ISIS offensive and has seen its influence in Iraq and Syria dwindle.
ISIS has long anticipated the fall of urban centers like Raqqa, however, and for months has moved key forces out of the city as it prepares to focus more on insurgent attacks and its online presence. But, although ISIS will adapt and persist, losing the city that was once the organization's central hub will likely see a fundamental shift in how the group operates.  
"It marks the end of the so-called caliphate as we knew it," Amarnath Amarasingam, a senior research fellow at the Institute for Strategic Dialogue, told HuffPost.
"They are now on the defensive and will continue on as an insurgency, which still wreaks havoc both internally and abroad."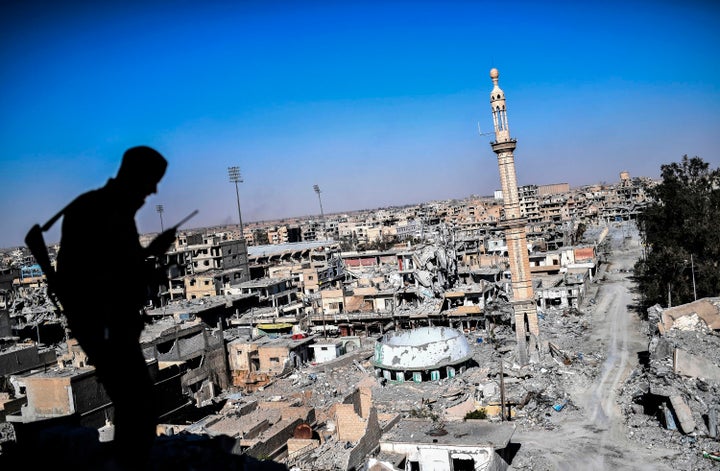 ISIS now faces the challenge of keeping its organizational structure intact and maintaining some physical presence in Iraq and Syria, while also reworking its narrative to convince followers they still command power and respect. 
At the height of its territory, ISIS' propaganda put heavy emphasis on a vision of a "lasting and expanding" caliphate that would take over wide swaths of land. But ISIS' grandiose rhetoric has come up against the reality of the group's consistent military losses, including last year giving up the town of Dabiq, a place that figured heavily in its apocalyptic ideology.
"Ever since the fall of Dabiq, their messaging has undergone a slight shift to say that land is no longer that important and that's not what they were fighting for this whole time," Amarasingam said.
"This is, of course, a bit ridiculous since the establishment of the so-called caliphate was a major part of what established them as a presence to be reckoned with."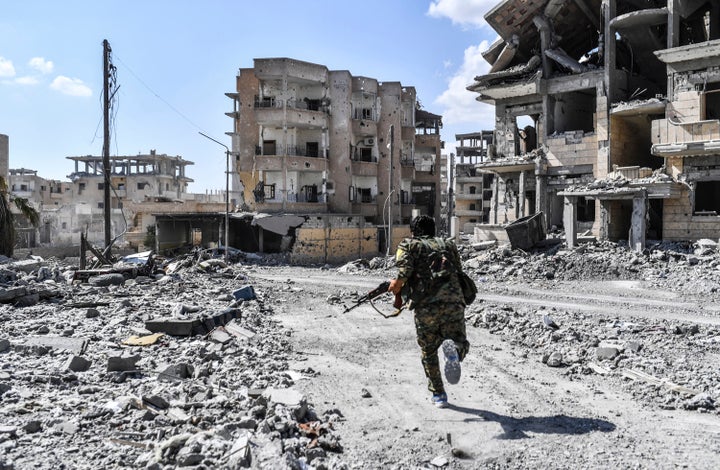 ISIS still holds some areas of Syria and parts of Iraq, but nothing on the scale of Raqqa or Mosul. Whereas the group used to boast of having its own currency, hospitals and courts, it will now likely retreat to mountains and villages in eastern Syria, where its fighters can go underground. 
Many analysts expect the next phase for ISIS to be a return to the type of insurgent attacks that dominated the group's tactics before its rise in 2014. The group has proved that it can remain a deadly and destabilizing force even after being pushed out of an area, and it has carried out hundreds of attacks in recent years on recaptured Syrian and Iraqi cities. 
As ISIS has suffered consistent defeats in Iraq and Syria, it has also increasingly highlighted international terrorist attacks as proof of its international reach. The group has continued to claim responsibility for mass killings in Europe, North America and Iran as propaganda victories and proof that it's still relevant.
"Carrying out attacks abroad has always been very important for ISIS since the very beginning, Amarasingam said.
"With increasing losses on the ground, though, I think they will emphasize these more and more as a way to prove to their supporters that they are still viable and capable of carrying out attacks in the West."
Calling all HuffPost superfans!
Sign up for membership to become a founding member and help shape HuffPost's next chapter
BEFORE YOU GO
PHOTO GALLERY
Palmyra After ISIS