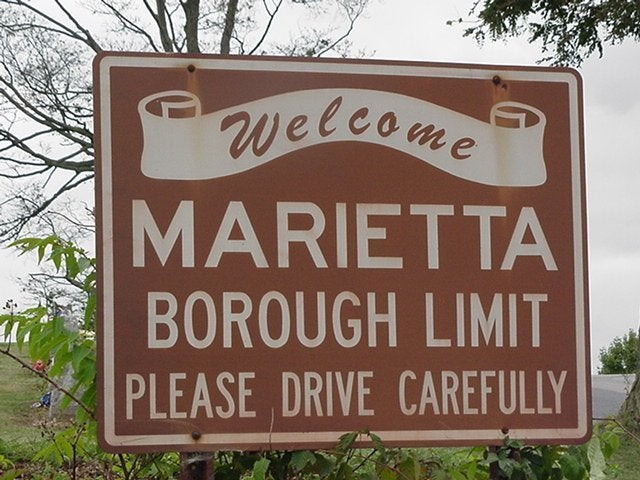 On April 10, 2010, Raquel Nelson lost her 4-year-old son. Nelson was crossing a busy Marietta, Georgia, street with her son and his two siblings when they were struck by a hit-and-run driver. Police were able to track down the driver, Jerry Guy, who later admitted he had been drinking and had taken painkillers the night of the accident. He was also mostly blind in one eye. Guy had already been convicted of two prior hit-and-runs. He pleaded guilty, served six months of his five-year sentence, and was released last October.
If it ended there, this story would merely be tragic. But it gets worse. Last week Nelson herself was convicted on three charges related to her son's death: reckless conduct, improperly crossing a roadway and second-degree homicide by vehicle. Each is a misdemeanor, punishable by up to 12 months in prison. Nelson could spend up to six times as many months in jail as the man who struck her son and then fled the scene. Nelson's crime: jaywalking.
Nelson had taken her children with her to shop for groceries and supplies for her upcoming birthday party. The working mother and college student regularly took public transportation, but she and her kids missed their intended bus that night, putting them an hour behind schedule. The bus they caught pulled up to their stop after nightfall, and Nelson stepped off, clutching her kids' hands through the shopping bags wrapped around her wrists. Nelson's apartment complex sits across the street from the bus stop, but the nearest crosswalk is three-tenths of a mile away. So Nelson did what everyone who uses that bus stop does, and what the other disembarking passengers all did that night: She crossed one side of the divided highway to the median, where she waited for a break in the traffic.
Several people then crossed the street before Nelson thought it was safe. She waited with her kids. But when others started to move towards the road, Nelson's son must taken it as a cue it was time to go. She felt his grip on her hand loosen and he darted out into the road. She followed. Guy's car struck Nelson, her son and her daughter, and the boy died.
Over the next month, as Guy was processed by Georgia's criminal justice system, Nelson buried and grieved for her son. But on May 14, the Atlanta Journal-Constitution ran a long story under the headline, "Jaywalkers take deadly risks." The article mentioned Nelson and her son, pointing out that she hadn't been charged with any crime. Three days later, the Georgia Solicitor General's office charged Nelson with the three misdemeanors.
Nelson, a black woman, was convicted by an all-white jury. She relies on public transportation; she is a pedestrian in a car-oriented Atlanta suburb. During jury questioning, none of the jurors who would eventually convict Nelson raised their hands when asked if they relied on public transportation. Just one juror admitted to ever having ridden a public bus, though in response to a subsequent question, a few said they'd taken a bus to Braves games.
Nelson was not judged by a jury of her peers; she was convicted by a jury that had no understanding of the circumstances that compelled her to cross the street where she did.
According to the Daily Mail, other tenants in Nelson's apartment complex had complained to the city about their difficulties getting home from the bus stop. The Transportation in America blog shows a photo of the stretch of highway where Nelson crossed as evidence city planners are guilty of "poor planning and dangerous designs."
No one forced Raquel Nelson to jaywalk the night of her son's death. The suggestion here isn't that the city owes Nelson anything for the consequences of her actions. But there is something to be said for designing cities with an eye toward how people actually behave, not how urban planners wish they would. Putting a bus stop in the middle of a busy highway, three-tenths of a mile away from the nearest crosswalk -- while zoning for apartments and businesses on the other side of the same street -- is poor planning.
But it's really the decision to prosecute Nelson that's outrageous. That the state can prosecute someone doesn't mean that it should. And it seems that a little empathy would be in order here.
Prosecutors have a great deal of discretion over when to bring charges, and over what charges they bring. If those in the office of Solicitor General Barry Morgan are charging Nelson to punish her for her jaywalking, they're misguided -- it's hard to conceive of a more potent punishment than the loss of a child. If their aim was to make an example of a devastated mother to prevent others from jaywalking, they're delusional.
But this isn't even the first time they've done it. According to the Journal-Constitution, in 2010, Morgan's office charged another woman whose child was struck and killed while the two were jaywalking.
A recent Pro Publica/Frontline investigation found prosecutors seem especially prone to find criminality -- then over-charge once they do -- in instances of child death, even when the evidence suggests the death was an accident.
Earlier this month, I wrote a column criticizing the so-called Caylee's Law, the bill sweeping state legislatures across the country in response to the Casey Anthony verdict. I mentioned a number of scenarios in which innocent parents or caretakers might be prosecuted under the law. The response from the law's supporters was that a prosecutor would never charge a grieving parent under those circumstances. This case shows that such prosecutions can and do certainly happen.
There are nearly always strong incentives for prosecutors to over-charge defendants. Prosecutors receive praise, and are reelected and promoted based on their ability to win convictions. They're rarely punished or held accountable for over-charging, or committing misconduct en route to a conviction. They're also rarely praised or credited when they decline to bring charges in the interest of justice.
There are a couple of solutions here. Lawmakers should anticipate ways laws might be abused or misapplied -- even in scenarios that seem unlikely -- and craft laws in ways that minimize the chance that they'll be abused. The justice system should not rely on the goodwill of prosecutors.
Another solution: We need to start holding prosecutors accountable for bringing unjust charges like those brought against Nelson -- even if they may technically be legally permissible.
In nearly all jurisdictions, "prosecutor" is a political position. That means voters can realign the incentives. If Cobb County residents want to make it clear that the prosecution of Raquel Nelson is an abuse of power and a waste of resources, they could let Solicitor General Barry Morgan know, both now and next Election Day.
Correction: An earlier version of this article misstated the prosecuting office as that of Cobb County District Attorney Patrick Head. Misdemeanors in Georgia fall under the jurisdiction of the solicitor general's office, not the district attorney's.
Related
Popular in the Community