BALTIMORE -- As a girl in Costa Rica, Raquel Rodriguez knew she wanted to be a professional soccer player. But in a country that had achieved little success on the international level and where she had to compete against boys because not enough girls played, there were few indications that was even possible.
"I didn't have a soccer role model necessarily. I was just kind of a dreamer," Rodriguez said. "I kept telling my mom what my dreams were, and kind of hoping she'd tell me good news about my dreams."
On Friday, that dream became real when Sky Blue FC made Rodriguez the second overall pick in the National Women's Soccer League's college draft (Virginia's Emily Sonnett went first overall to Portland). 
The pick followed a stunning year on the field for Rodriguez, who scored Costa Rica's first-ever Women's World Cup goal this summer and the goal that clinched Penn State's first national championship before winning college soccer's women's player of the year award this fall. 
I want to be that role model and take that much responsibility."
Rodriguez is not the first Costa Rican woman to reach professional soccer. Shirley Cruz, her teammate on the country's national team, plays for Paris Saint-Germain in the French league, and others have recently joined teams in Spain.
But the vast majority of women's pro soccer players still come from the handful of countries that traditionally dominate on the international level, and as she enters NWSL, Rodriguez hopes to show young Costa Rican girls that they belong too.
"My hope is to be that role model that in the past, my generation did not have," Rodriguez said at the draft Friday. "I hope that this just helps grow the game. I want to be that role model and take that much responsibility."
"The World Cup, that was the huge booster," she added. "And me joining that professional group of players, I think it's great in every sense. ... Just growing the networking, and growing the belief in some players that this is what you can achieve, we are tangible examples of that dream."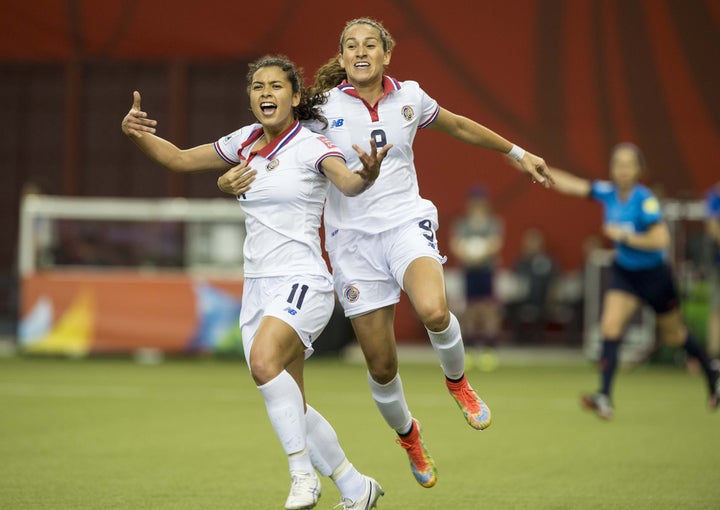 While women's soccer has grown steadily -- particularly at the international level -- in the biggest countries, investment and opportunities to play have lagged in many smaller nations. According to a report published by FIFA last year, for instance, countries in the top 20 of the world rankings invest on average nearly four times more in their women's teams each year than those ranked between 21st and 40th (Costa Rica is currently ranked 34th). Just a quarter of the world's national federations, the report found, had staff devoted to the women's teams.
Costa Rica has in some ways tried to buck that trend over the last two decades, as its national soccer federation increased its efforts to develop women's soccer and build its women's national team into a contender to qualify for the 2015 Women's World Cup, which it reached by finishing second to the United States in regional qualifiers in 2014.
Las Ticas failed to advance out of the World Cup's group stage but secured two draws in three matches, driving excitement into the sport that Rodriguez says she noticed even during her final year at Penn State. Media members and fans back in Costa Rica, she said, followed her college season and watched online live streams Friday to find out where she would be drafted.
"The media at home, this is the first time I've ever felt so announced in Costa Rica," she said. "They're very aware, and in that sense I can see that change. ... People already know what happened [at the draft]."
That success could provide an example to countries that have failed to invest in the women's game, including federations in the North and Central American region that struggled just to finance their national teams' travels to World Cup qualifiers last year. 
But more progress needs to be made in Costa Rica too, and Rodriguez is hopeful her success will continue to drive more interest and funding to the women's game there.
"The mentality that has to change in Costa Rica is we have to invest to see results. There has to be interest," she said. "I think that's growing. But as more girls start involving in women's soccer, and the population is now more involved in women's soccer, I think that's the key."
"It has to increase, hopefully to the point that it's like the men's coverage," she added. "But I'm also aware that it takes time. It's a process."
PHOTO GALLERY
The Most Badass Photos From The Women's World Cup Final
Calling all HuffPost superfans!
Sign up for membership to become a founding member and help shape HuffPost's next chapter