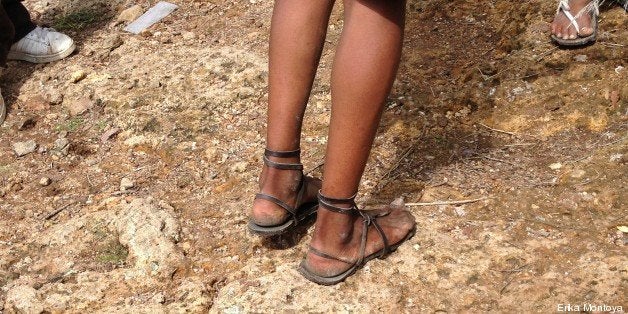 Arnulfo Quimare Qui can run 100 kilometers (approx. 62 miles) -- amid gullies and dirt -- with the promise that if he arrives in less than eight and a half hours his livelihood, for the rest of the year, will be secured. Arnulfo is part of the Tarahumaras, a native people of Mexico who are settled in the Mexican state of Chihuahua; their endonym is rarámuri.
Much like Arnulfo, hundreds of Chihuahua natives await the Ultramaratón de los Cañones (Ultramarathon of the Canyons) in Guachochi, where to win can mean receiving up to 40 thousand pesos that can be exchanged for bags of corn or beans. This year's race took place last weekend in Chihuahua, Mexico.
"We were born to run, It does not hurt, there is only winning," Arnulfo, who can barely speak Spanish and moves around in the regional attire of a blouse, loincloth and sandals he made himself, told HuffPost Voces.
For three consecutive years, Arnulfo, 33, has run the four hours that separate his community from Guachochi, where the race actually beings and, despite arriving less than 12 hours before it starts, he has managed to sweep the competition in the 100 kilometer event. His personal best has been 8 hours and 16 minutes.
Unlike the city runners, who prepare for months for the event and carry backpacks with supplements, nutritional bars, water and other instruments that may be needed, runners like Arnulfo only carry a flask of water strapped to their belt and at times grab a branch along the way to help with the descent.
"Along the way I just take bananas they give me [at the aid stations] and water with cornmeal," said Arnulfo, who this year had less luck in the race and came in tenth place.
The first place in the 63 kilometer race went to Onorio Tomás Juárez with a time of 6 hours and 54 seconds. In the 100 kilometer race, the winner was Miguel Lara with a time of 8 hours and 40 minutes.
In the end the difference was profound, the Rarámuri swept the competition -- with sandals and all -- and took first, second and third place in the race. They beat the prepared national and international city dwellers who crossed the finish line after over 15 hours of racing.
In the 63 kilometer race, Catalina Rascón left the audience amazed after finishing in second place with only 13 years of age.
Catalina -- a small and serious girl with a dark complexion -- crossed the finish line happily, knowing that the prize money would allow her to continue studying.
"This is the first time that I run and I did it because I want the money to buy my high school uniform and continue studying," said Rascón.
PHOTO GALLERY
Ultramarathon of the Canyons
Calling all HuffPost superfans!
Sign up for membership to become a founding member and help shape HuffPost's next chapter