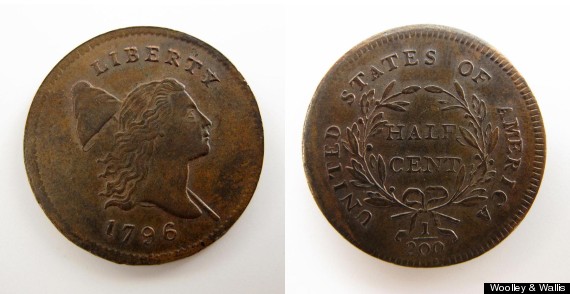 A rare U.S. half-cent coin from 1796 fetched $357,000 at auction this week. The piece also carries a fascinating backstory about how it remained hidden for 50 years.
The Numismatic Financial Corporation, a Florida-based coin seller, purchased the sought-after coin, auction house Woolley and Wallis of Salisbury, England, announced in a Jan. 22 release. The corporation already owns four other half-cent coins of far less value from the period, according to its website.
Its new "Liberty Cap" acquisition is among 1,390 of its kind, struck at the Philadelphia Mint, and among a mere handful in its condition, the auctioneer explained on its site.
The seller happened upon the pure-copper treasure by accident. During a recent housecleaning, the brother of deceased Oxford scholar Mark Hillary found the coin inside a makeshift cabinet of glued-together matchboxes kept by Hillary, who died at age 20 in a 1963 mountain-climbing accident in Greece, CBS News wrote. The brother then brought the find to the local auction house for appraisal.
Deemed to be "very much in its original condition," the coin was expected to fetch between about $40,000 and $47,000, according to Woolley and Wallis. That's far below what the coin sold for.
The final amount represents a $292,000 hammer price, plus a 22 percent buyer's premium.
"We had to have a conservative estimate," W&W silver specialist Lucy Chalmers told The Huffington Post by phone. "It's a rarity and that certainly helped us."
The Hillary family originally thought the matchboxes where Hillary housed 70 of his coins were "junk," Woolley and Wallis said.
Exactly how the little American treasure ended up back in England is a mystery, but the auction house noted that it was common for coins from the colonies to make their way back across the Atlantic because copper items were "widely collected" in Britain.
NOTE: All U.S. dollar amounts have been converted from British pounds sterling via Google's currency conversion tool.
Popular in the Community