Amazing people have come into my life lately, and I can't help but feel a deep knowing that it is nothing close to coincidence. Doctor Gary Hammer is one of them.
I met Gary because my sister-in-law was dying of a rare cancer that was supposed to kill her within months of diagnosis. Adrenal Cortical Cancer, or ACC for short. Doctors looked at her gravely. Mayo threw up their hands. There are only 300-600 cases in the U.S. annually. That's one to two per million. There was no cure. There was very little research being done. It looked hopeless. This is a cancer that often times lays dormant, wreaking silent havoc in the stomach, often caught too late. It goes where it wants. There's little to radiate or chemotherapize. She was going to die, and fast. Five kids under 16. A woman who never drank alcohol, did drugs, smoked. An athlete, a practitioner of positive thinking and positive being, the definition of community leader, Sandra was that "one." The one who defined the difference between the "two kinds of people: the ones who think about things, and the ones who do things." Sandra was a doer.
So when she was stripped of her future, she caught her breath, and then she did the impossible. She lived for another nine years. She lived on will and positive affirmation and love. And then eventually, the cancer came back, and the only hope fell in the hands of a man who has devoted his life's work to finding a cure for ACC. Gary Hammer, who is the University of Michican's director of their adrenal cancer program. He is one of the only doctors in the U.S. doing research on her kind of rare cancer. One of the only people in the world.
When she barely had the energy to walk down the stairs of her home, Sandra participated in his clinical trial, traveling week after week with a family shepherd from her home in Ft. Collins to Denver to Chicago and back in the same day, processing the side-effects of the treatment, which is essentially a pesticide banned in the 1950s for use on crops. Because who wants to put money into such a quick killer of so very few. If you ask her children this question, they'll try to find grace, because that's what they learned from their mother. But inside they feel mad, ripped off and beyond shocked that they live in a country that even still has expendable populations. How are they supposed to find trust again? How are they supposed to find faith after this tragic loss?
Gary Hammer is their link to making sense of loss, tragedy. It's doctors like him around the globe who are blazing new trail, despite the odds, and in-so-doing, become the gatekeepers to new terrain. I am so inspired by Gary and his work, and also by his spirit. He has not detached from the heartbreak of his chosen field. He has moved deeper into it. He learns from his patients and has much to teach us about finding freedom even, and especially in the most challenging times. He is the sort of person who reminds us to have faith in the things that matter right now, wherever we are in our lives. My nieces and nephews can't regain their mother, but they can rediscover faith.
My book is about rediscovering faith. Faith in yourself, against the odds. Mine were different odds. But finding faith in yourself is fundamental, whether it's in death or love or both. For we all face both. In my book, there is a section that has to do with clear vision in the midst of crisis. The crisis, as you may know, had to do with my marriage, but on a deeper level, it had to do with my husband's relationship with himself. Like me, he had rigged it that his personal worth was only as good as his career success, and though he worked so very hard, he wasn't seeing financial results. He went into a crisis of self in which he questioned his love for me and our marriage. I felt that this was a crisis of his own self, and felt in my gut that the best thing I could do was to get out of his way. To not engage the drama. To focus on what I could control, and let go of the rest.
There began a time of soul searching for my husband that came together with crystal clarity when he went to be the family shepherd, assisting his sister on the long trek from her home in Colorado to the clinical trial here in Chicago and back again. He called me from the waiting room with a tone in his voice I hadn't heard in a long time. He was flattened by the weight of cancer all around him. Whatever fears he had about our finances and his job were washed upon the shores of his own good physical health, and his relationships. "It's who you love and how you love," he said, as humble as I'd ever heard him. That was his sister's gift to him. To us. She passed away a few months later. And in her dying, she taught those of us who loved her how to live.
Her message was to find the freedom of the present moment. To affirm life in all its abundance right where you are, whether you've been given months to live, or if your husband has announced that he no longer loves you. Her message was and is one of empowerment.
Gary has written something that is groundbreaking. He debuted it last week in Chicago at a hospital fundraiser where we were the keynote speakers. You could have heard a pin drop, but for the tears. I would like to share it here. I have never known a doctor to show this sort of vulnerability. Here is his hypothetical letter to a doctor from a patient diagnosed with cancer, and his hypothetical response. This is the very definition of empathy. I am honored to share it with you.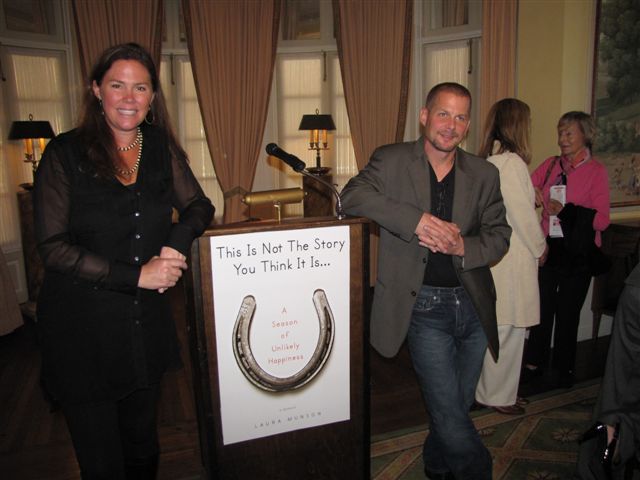 Gary Hammer's Hypothetical Letters: from patient to doctor and back.