February 29, 2016 is the rarest day of the year. It is Rare Disease Day. Every year Rare Disease Day takes place across the world and brings together anyone affected by a rare disease, patients, their families and caregivers. It also serves to raise awareness of rare diseases among policy makers, industry, researchers and health professionals.
Anyone can get involved. Hundreds of thousands of people will come together on February 29th to hold events all over the world.
The digital age has introduced a myriad of opportunities to patients, including the possibility to connect with others living anywhere in the world. Social media networks have become a vital communication channel for patient organizations to reach patients, researchers and other organizations at home or abroad.
For rare disease patients, affected by a rare disease but not so rare in number (there are an estimated 60 million people living with a rare disease in Europe and the U.S. alone), finding somebody else with the same disease can be a challenge.
A disease is considered as rare when it affects less than 1 in 2,000 people. Over 6,000 different rare diseases have been identified to date. Due to the low prevalence of each disease, medical expertise is often rare, knowledge scarce, care offering inadequate and research limited.
Rare Disease Day has broken down borders and brought together people affected by rare diseases. Since Rare Disease Day began, thousands of events have been held throughout the world, reaching hundreds of thousands of people.
Similarly, RareConnect.org aims to unite patients and caregivers in online communities and helps to fight against the isolation rare disease patients often face.
An online social platform for rare disease patients, RareConnect allows a person affected by a rare disease (patient or family member) to connect with somebody affected by the same rare disease on the other side of the world to share experiences.
RareConnect, which reaches out to a global audience, hosts online patient communities, blogs, and discussions to amplify the voice of people affected by a rare disease. Posts are translated by humans across six languages (English, French, German, Italian, Spanish, and Portuguese), allowing people to discuss how to manage living with a disease, no matter where they live.
Annie and Karl are the parents of Jonah, an energetic, engaging boy. They live in the US. After a long odyssey of trying to understand the reasons behind Jonah's developmental challenges, Annie and Karl learned that he has a point mutation in the FOXP1 gene. Feeling very isolated, with little to no information on their son's condition they created the first FOXP1 community on RareConnect.
In only four months, they brought together nine families from around the world that now exchange experiences and information. "Creating this community and watching these families join and start sharing information has been so incredibly rewarding", says Annie. Today, the community brings together 30 families across the U.S., Canada, England, Holland, Spain, Germany, France, and Australia.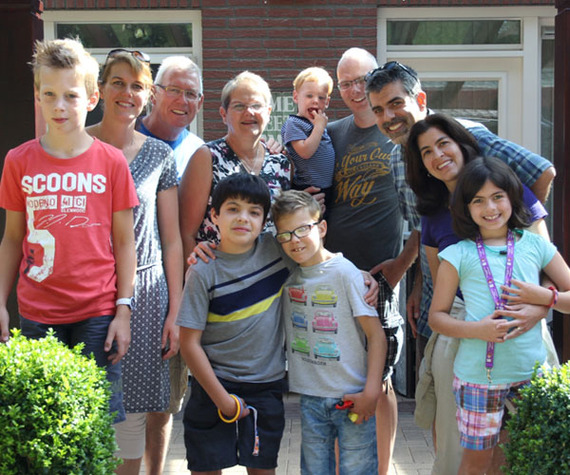 The community brings together 30 families across the U.S., Canada, England, Holland, Spain, Germany, France, and Australia. Photo: RareConnect.

Jonah's family connected with a family in Holland; Nico and Maike's son Siem is also living with the FOXP1 gene mutation. Following their connection online, the two families traveled to meet in person in Holland. Watch the story of when they met and hear Nico, Maike, Annie and Karl talk about their experiences of living with the FOXP1 gene mutation and the challenges a rare disease can present for healthcare professionals.

The RareConnect platform partners with over 600 rare disease patient organizations to stimulate conversations across 82 disease-specific communities and over 100 discussion groups. It aims to create a safe space in which people can interact and seek support knowing that they are supported by people who have gone through a similar experience; each disease-specific community is moderated by an expert patient advocate.
If you are affected by a rare disease but cannot see a community for your rare disease on RareConnect, start a discussion by asking a question or sharing a blog.
Since the early days of the internet we have seen how people living with a rare disease have been on the front line of searching for others similar situations in order to build their capacity and knowledge, and to find solutions to their situation.

Since RareConnect started we have seen countless stories of people finding each other.

As a result of that online meeting, and based on the support and information they find, they end up making life-changing decisions. There is still so much work to do to network all those people out there, but we're confident that we're on the right road.
My first story about Denis Costello and rare diseases may be seen here.
See Stories by Jim Luce on Health:

The James Jay Dudley Luce Foundation (www.lucefoundation.org) supporting young global leadership is affiliated with Orphans International Worldwide (OIWW), raising global citizens. If supporting youth is important to you, subscribe to J. Luce Foundation updates here.
Popular in the Community