After three hours of a dolphin's labor, the mixture of nervous and excited chatter from onlookers gave way to gasps and applause.
"It's out!" someone exclaimed as a tiny dolphin wriggled to the tank's surface and took its first breath of air.
Now, we can all share in that moment, as the aquarium on Tuesday uploaded a new video (above) to YouTube showing the birth in breathtaking detail.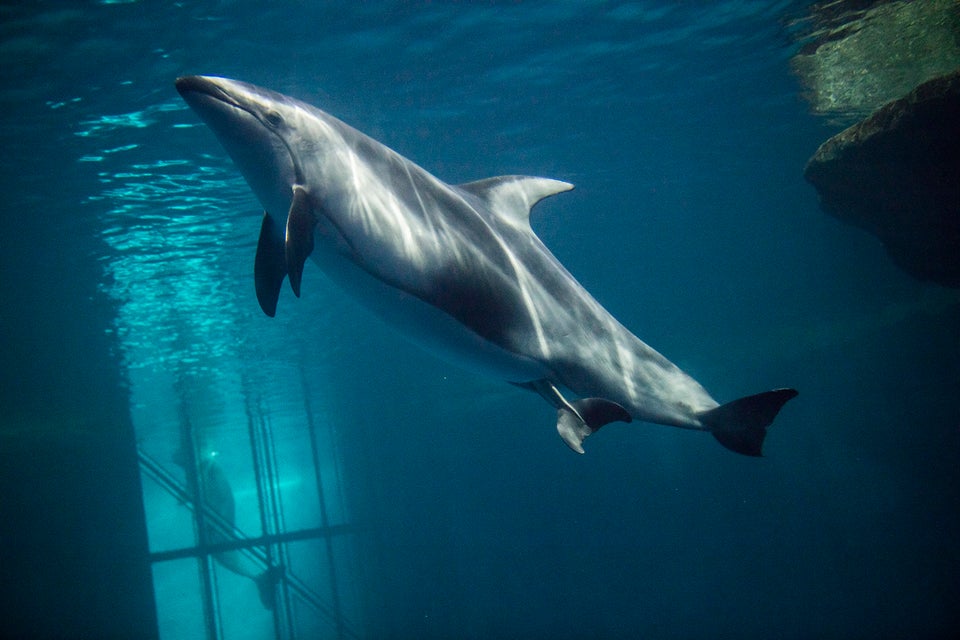 Rare Dolphin Birth Caught On Film
By all accounts, the estimated 3-foot, 25-pound calf is a beauty -- just like mom. The tiny gray and white torpedo was filmed gracefully zooming around its tank alongside first-time mom Katrl ("kuh-TREHL").
The video shows the pair gracefully splashing in and out of the water as mom guided her overzealous newborn so it doesn't crash into a wall.
"To watch a dolphin be born is beautiful, but to also see its natural instincts fully take over in a matter of seconds as it kicks its tiny tail to propel its little body to the surface to take its first breath is overwhelmingly emotional," Lisa Takaki, senior director of marine mammals, said in a statement.
As for Katrl, Takaki says they're all proud of her motherly instincts.
"We couldn't be more proud of the job Katrl is doing as a new mother, showing signs of protectiveness by steering her calf away from the sides of the habitat and helping to guide it into position to conserve its energy reserves," said Takaki. "Not all first-time mothers are successful in knowing how to rear their newborns. She is being extremely attentive."
Though clearly an adorable addition to the aquarium, the dolphin's birth is especially significant since there are only 16 Pacific white-sided dolphins in accredited North American aquariums and zoos, according to the aquarium's website.
"Pacific white-sided dolphin births have never been seen in the wild, so it's a unique opportunity for Shedd to deepen our scientific knowledge of this species," Takaki said.
The newborn's gender has yet to be determined.
The aquarium said the dolphin's tank has been temporarily closed to the public to give mom and baby privacy.
CORRECTION: This article previously stated that this was the first Pacific white-sided dolphin aquarium birth witnessed by humans. That is not the case.
Popular in the Community