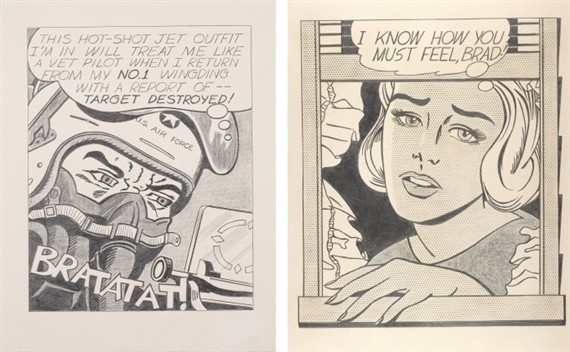 Running from January 28th through May 15th, the Albertina in Vienna will be showcasing some rare works by the celebrated artist Roy Lichtenstein. Roy Lichtenstein: Black and White 1961-1968 features pieces from one of the most prolific periods in the artist's career, illustrating a shift in style that would influence his later works.
Inspired by advertising and media, Lichtenstein began creating his famous comic-strip pop-art in the 1960s. The artist created about seventy impressive black-and-white drawings and paintings between 1961 and 1968, which were completely new in terms of subject and style. The Albertina presents the black-and-white drawings in conjunction with selected black-and-white paintings for the first time in this special exhibition.
Mutualart.com spoke with Isabelle Dervaux, curator of Modern & Contemporary Drawings at New York's Morgan Library and Museum, who is also curating the highly-anticipated Lichtenstein show. In an exclusive interview, Devreux offered up details about the show's highlights, as well as insights into the artist's groundbreaking works from this era.
This exhibition presents a radical departure from Lichtenstein's earlier works. Could you
describe possible reasons for this departure as well as how this moment from 1961-1968 fits into the artist's overall oeuvre?
In the early 1960s Lichtenstein, like many other young artists at the time, was eager to move
away from the then dominant Abstract Expressionist style, which he had embraced in the late
1950s. Sweeping brush strokes a la de Kooning had become a formula increasingly perceived
as devoid of vitality and authenticity. In reaction, Lichtenstein turned to comic strips and
advertisements as a form of drawing that was the exact opposite of individual and spontaneous
expression and that was deliberately ruled by clichés and conventions.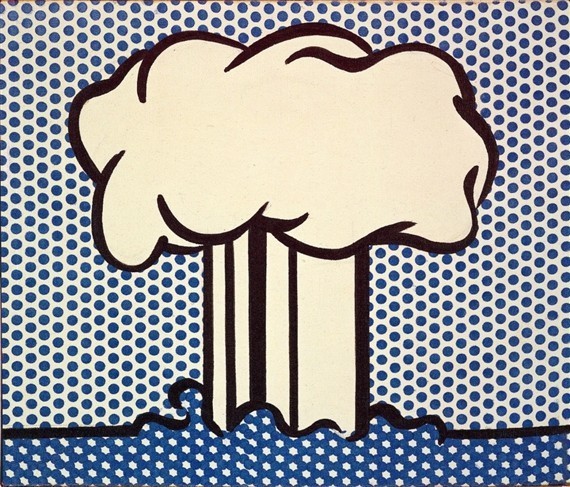 Roy Lichtenstein
Atomic Landscape, 1966
Oil and Magna on canvas
Private Collection © Estate of Roy Lichtenstein / VBK Vienna, 2011
The period covered by the exhibition corresponds to an essential moment in Lichtenstein's career and in the history of Pop Art. The group of finished, black-and-white drawings that are the subject of the exhibition show how Lichtenstein's exploration of the conventional, impersonal style of commercial imagery revolutionized modern art. These drawings were conceived as independent works, markedly different in size, technique, style, and degree of finish from the small sketches that Lichtenstein was making at the same time in preparation for his paintings.
How is the exhibition organized? What do you think the viewer will be most surprised by? How do you think this exhibition will change people's notions of Lichtenstein's work?
The exhibition is organized chronologically. Although the period it covers is rather brief--less than a decade--one can observe a constant evolution in Lichtenstein's style and technique. He is constantly exploring. We knew the year in which each drawing was completed but we tried to refine the chronology within each year. In addition to stylistic changes, the artist's use of different materials and techniques was crucial to place the drawings in a more precise order. We worked closely with the Morgan's Conservation Department in these investigations. I think viewers will be fascinated by the sheer beauty and visual impact of these drawings.
What may be surprising to many is the extent to which one can see the hand of the artist in the drawings, despite Lichtenstein's effort to mimic the effect of a highly impersonal kind of drawing. This is a major difference between Lichtenstein's drawings and his paintings, with which the public may be more familiar. For people who are under the impression that Lichtenstein was merely enlarging comic book panels and advertisement, the exhibition reveals the amount of careful transformation and artistic decisions that were involved in his work, in addition to the technical craftsmanship. Lichtenstein was a superb draftsman. His drawings are highly composed, in the traditional sense. For instance, I Know How You Must Feel, Brad! of 1963, combines a stereotypical comic-book imagery with a composition derived from the conventional format of classical portraits with the hand of the sitter resting on a window ledge.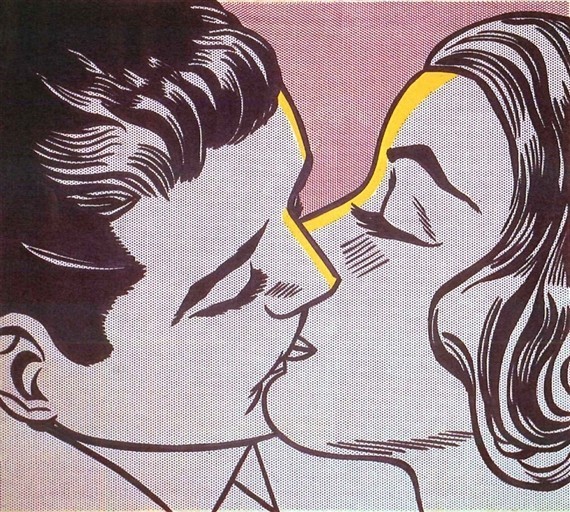 Roy Lichtenstein
Kiss IV, 1963
Oil on canvas
Private Collection © Estate of Roy Lichtenstein / VBK Vienna, 2011
Why have Lichtenstein's black and white works been somewhat overlooked in the past?
Pop drawings in general have not received as much attention as paintings and sculpture, although it is beginning to change. Lichtenstein's large and brightly colored paintings are very striking and had a strong impact on the public from the start. By comparison, the drawings are more subtle. One reason for which the black-and-white drawings are less known is also that most of them are in private collections, therefore less visible.
What are some new techniques and mediums which he is exploring at this time in terms of his own work as well as his peers?
The drawings are exceptional for their unusual approach, which combines the most trivial sources with highly sophisticated methods and techniques. Lichtenstein was interested in mimicking the look of halftone prints, replicating the famous Benday dots that became a hallmark of his style. To make the dots he experimented with a variety of techniques, including stencil and frottage, which he perfected over the years.The originality of Lichtenstein's graphic style can be seen when one compares his drawings to those of two other major Pop draftsmen, Andy Warhol and Claes Oldenburg.Their subjects were similar to Lichtenstein's: cartoon characters and consumer goods. But their treatment was more traditional--with shading to convey a sense of volume and the unfinished, sketchy quality that one associates with fine-art drawing. Lichtenstein's drawings resist this "artistic" flourish in favor of the deadpan, straightforward style of commercial draftsmanship. Paradoxically it is in reproducing the most impersonal form of drawing that Lichtenstein developed his highly original style.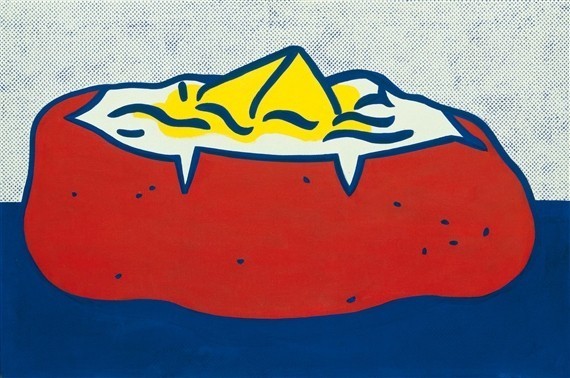 Roy Lichtenstein
Baked Potato, 1962
Acrylic on canvas
Kunsthaus Zürich, Schenkung aus Sammlung Erna und Curt Burgauer © Estate of Roy Lichtenstein / VBK Vienna, 2011
How is the subject matter of Lichtenstein's work during this period similar or different to
his later works?
Lichtenstein's early Pop works--both his drawings and his paintings--are based on the most
rudimentary type of commercial imagery: advertisement from cheap newspapers, the yellow
pages, mail-order catalogues, and packaging for household products. And of course comic books, with which he is more closely associated than any other Pop artists. (It should be noted that only a small number of black-and-white drawings were based on comics in comparison with the high proportion of paintings derived from them during the same years.) By the mid-sixties, however, Lichtenstein moved away from this imagery toward a wider variety of sources and greater freedom of invention, as can be seen in the landscapes and in the Brushstroke series for instance.
Could you describe some of your favorite works in the show?
There are many! The 1961 Couch is wonderful in its directness and simplicity--the exact
opposite of what one expects a "fine-art" drawing to be. Like New of 1962 uses with great humor the before-and-after image of a torn and repaired swatch of cloth to illustrate the transition from Abstract Expressionism to Minimalism. I love the combination of sophistication and simplicity in the 1963 Ball of Twine, an object which materializes line itself. I should also mention the highly ironic Brushstroke drawings, which beautifully undermine the traditional idea of the visible brushstroke as a symbol of free and spontaneous gesture through their tight, deliberate, and highly controlled technique.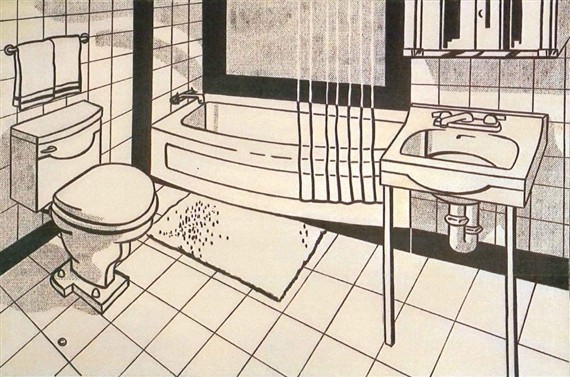 Roy Lichtenstein
Bathroom, 1961
Oil on canvas
Whitney Museum of American Art, New York. Gift of the American Contemporary Art Foundation, Inc., Leonard A. Lauder, President. / VBK Vienna, 2011
Do these works define parts of the cultural discourse going on at that time?
Definitely. This is one of the aspects of Pop art that has been most written about: the way it
reflects post-war American consumer culture, or what Lichtenstein liked to call "gas station
culture." Lichtenstein was perhaps more focused on the phenomenon of industrialization. Several black-and-white drawings are comments on the development of processed food, for instance the hot-dog, the ice-cream cone, or a roast turkey that looks completely dry and unappetizing, as opposed to the traditional representation of a Thanksgiving turkey. Beyond the iconography, there is another dimension in Lichtenstein's aesthetic of flatness derived from clichés and stereotypes that can be compared to movements developing in literature at the same time. For instance in the French Nouveau Roman, or New Novel, which explored a form of realism that was to the 19th-century realist novel as Lichtenstein's work was to traditional realist painting.
How are these works and ideologies relevant for the modern viewer?
First, these are extraordinary drawings, wonderful to look at--and that is of relevance in itself.
But the relevance of Lichtenstein's drawings today can also be appreciated in the fact that
so many artists working now find inspiration in commercial graphic arts and appropriate the
iconography and techniques of cartoon drawings, as do for instance Raymond Pettibon, Jim
Shaw, and Arturo Herrera.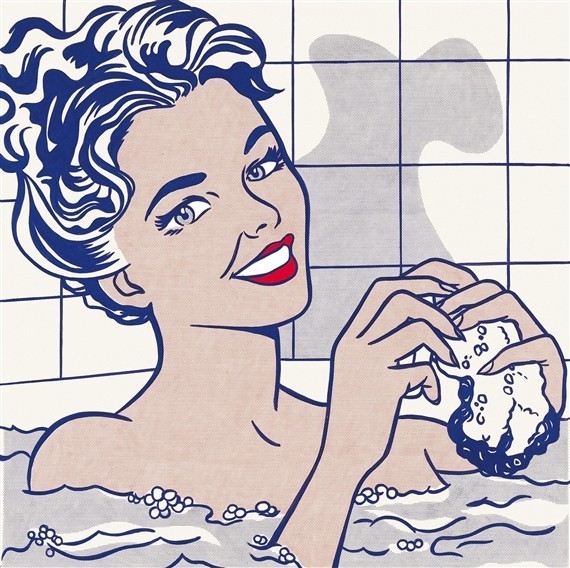 Roy Lichtenstein
Woman in Bath, 1963
Oil on canvas
Museo Thyssen-Bornemisza, Madrid © Estate of Roy Lichtenstein / VBK Vienna, 2011
Top image:
Left: Roy Lichtenstein, Bratatat!, 1962, Frottage and graphite pencil
Minneapolis Institute of Arts, The Ethel Morrison Van Berlip Fund © Estate of Roy Lichtenstein / VBK Vienna, 2011
Right: Roy Lichtenstein, I Know How You Must Feel, Brad!, 1963, Graphite pencil, pochoir and lithographic rubbing crayon, Private Collection © Estate of Roy Lichtenstein. Photography: Schecter Lee, 2009 / VBK Vienna, 2011
Popular in the Community