There are more books on Marilyn Monroe than any other woman in history. An American icon, certainly - she now belongs to the world. Her private life in particular has been approached from every conceivable angle. The book that I put together tries to avoid that by celebrating the public Marilyn. It pictorially chronicles her evolving beauty and style over the twenty years of her life, from 1942 to 1962.

It wasn't easy to do.

Editing her extraordinary body of photographic work down to one 320 page book was an enormous task. Marilyn posed for almost every major photographer in the world. Not only that, she pretty much said "No" to nobody. So if you were on the street with a brownie box camera, and you politely asked to take her photo, chances are she would say "Yes," AND she would take direction - "new" photos are continually surfacing. I also felt a big responsibility when editing out many of them. I wanted to give a wide range of diversity to the choices featured while trying to keep in mind what Marilyn may have wanted, as she was highly critical of herself.

Marilyn Monroe stands alone as a photographic subject for two reasons - visual transformation (her metamorphosis) and inner projection (her charisma). She was a very pretty woman of course, but she wasn't what you would call a traditional beauty. She didn't have a long neck or perfect symmetry or particularly strong bone structure. Her beauty was more subtle, but the way she was able to project that beauty - especially on screen or in a still photograph - was absolutely dynamic.
Her features and the line of her face translate almost like caricature on film. They're very defined and easily processed by the viewer and therefore make for an indelible vision. She was also very clever at being able to change the way she looked in a photograph using different makeup, almost like an artist would paint a canvas. Some photographers have said they were underwhelmed when first meeting her, but then as soon as she got in front of the camera an unexplainable change took place. Eve Arnold remembers she was the only person she ever worked with who photographed ten pounds lighter, which is against every rule in photography.

Some of her strongest images are the candids taken by anonymous news photographers. It is here, in a street-level environment without the benefit of studio props or stage lighting that you really get an idea of how spectacularly she read on film. Her image explodes. She is flawless. She makes every photograph a work of art simply by being in it.

The reason we are still fascinated with Marilyn almost half a century after her death is because of her films and the thousands of wonderful photographs she left behind. Her porcelain face looking back at us from countless posters, calendars, coffee mugs and mouse pads, we take comfort in such nostalgia. Also, her life is inspiring to many.
I certainly don't think it's fair that she be seen as a tragic figure. She started out with less than most, had a dream and then worked extremely hard to make it happen - and she did make it happen. That alone has to be admired.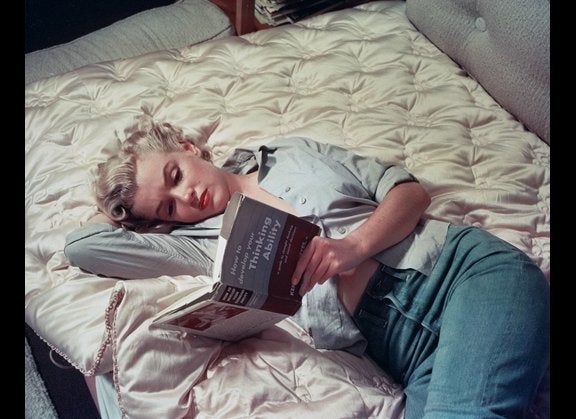 Marilyn
Related
Popular in the Community