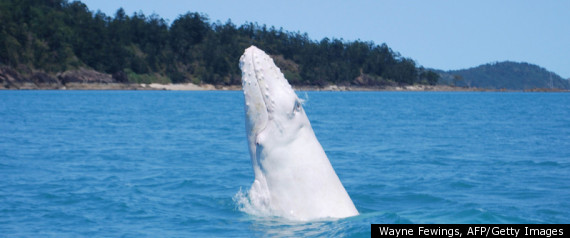 A white humpback whale calf is getting a lot of attention after making a brief appearance off the coast of North Queensland in Australia, near the Great Barrier Reef.
Many are left wondering if the calf has any relation to the famous white humpback, Migaloo.
Local Wayne Fewings was diving with his family when he said the white calf approach his boat.
"The calf, being a silly pup, when he popped his head out and saw the boat I think that excited his interest and he started to come towards us, but his mother didn't like that too much so she got him away, but we managed to capture all the photos," Fewings told the Townsville Bulletin.
Migaloo, the famous all-white whale, was first spotted in 1991. (Naturally, the whale has its own website and Twitter.)
"There is another couple of purely white whales and then there's a very very low number of animals that are a sort of blotchy color," Mark Read, an official with the Great Barrier Reef Marine Park Authority, told News 24.
While this whale appears quite content playing in the waters, many whales are threatened around the world. Whaling is still practiced by some countries, and Japan recently announced it caught 195 whales in the Pacific Ocean "under a research program opposed by activists who call it commercial whaling in disguise," reports the Associated Press.
Calling all HuffPost superfans!
Sign up for membership to become a founding member and help shape HuffPost's next chapter