Rashaad Newsome's upcoming exhibition at the New Orleans Museum of Art will serve up a hypnotizing medley of Baroque and bling. The show, titled "King of Arms," remixes the Western European coats of arms, infusing the Renaissance heraldry tradition with hip-hop swagger.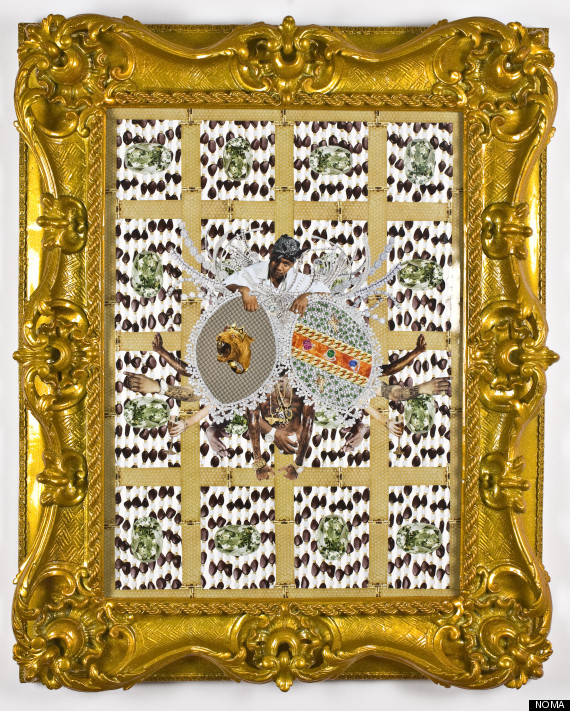 "Duke of NOLA" featureing hip-hop musician and fellow New Orleans native Juvenile

For years the NOLA native has entranced the art world, collaging status symbols old and new. Newsome, layering and comparing the power of an armorial shield and a golden chain, withholds judgment to revel in the grandeur of both.
Newsome's exhibition will feature over a dozen large-scale collages as well his 2011 piece "Herald," to be installed amidst NOMA's historic paintings of French royalty. We spoke to the king of bling himself to hear more about his new work and journey home. Scroll down for interview.
PHOTO GALLERY
Rashaad Newsome
The Huffington Post: How did growing up in New Orleans shape your artwork?
RN: In a lot of ways I think my sense of putting music in the work or using sound or audio as a source of inspiration stems from growing up there. I think also jazz is really born in New Orleans and the improvisational component of jazz plays a lot into some of my performance works, like "Shade Composition" or "Five," in terms of this idea of composing improvisation. I'm also inspired by the long legacy of street performance, looking at the Mardi Gras krewe and how they orient their bodies. Performance here really begins in the streets. For my show you start outside and enter the museum but then it ends back outside; it is really about activating that outside space.
I left New Orleans for New York years ago and it was because when I left I felt like there wasn't a lot of support, and I liked a lot of the things going on in New York. But when I returned to New Orleans for this show I really started to realize how much I was influenced by this place.
HP: How does the third installment of "Heraldry" differ from the first two?
RN: The work in my last show was thinking a lot about the idea of the tournament, which is why I staged a joust. But the visual work centered around tournaments also. The frame was competing with the background which was competing with the center piece -- there was this visual battle happening. This show I've been really concerned with the baroque, and the history that history, ornament and architecture share. What really brought me to this show was architecture. I'm stepping away from the body and looking at architecture and ornament. There's also much more trompe l'oeil, a style where you create depth within a 2D space, giving the feeling it is open when, in fact, it is not. The frames are starting to creep into the picture plane; this show is definitely more sculptural.
HP: What are you obsessed with right now outside of your work?
RN: Architecture. I'm really looking at a lot of architecture from the Renaissance. It's something im really fascinated with, going back to the beginnings of baroque and looking at a lot of domes. They were created as these structures of power and really send a message but at the same time deliver this sense of spiritual euphoria. I wanted my work to somehow communicate that. A lot of the objects I am incorporating, like jewelry, send a message about power and status, but also create an escape from the real world.
HP: Back in 2011, you mentioned a disconnect between the fine art and hip-hop worlds. Have you seen progress in the past two years?
RN: I think so, definitely. You have people like Jay-Z, who played at MoMA and Kanye West, who worked with George Condo on his album covers. People in the industry are starting to become more aware of contemporary art and incorporating that into their work a lot more. The two communities are becoming more aware of each other and I hope they start to work together even more. I don't understand why a musician would choose a graphic designer to design their album art when you could choose an artist.
Rashaad Newsome's "King of Arms" will run from June 21 until September 15, 2013 at the New Orleans Museum of Art. In case you can't make it down South, check out the slideshow above and let us know your thoughts.
Calling all HuffPost superfans!
Sign up for membership to become a founding member and help shape HuffPost's next chapter