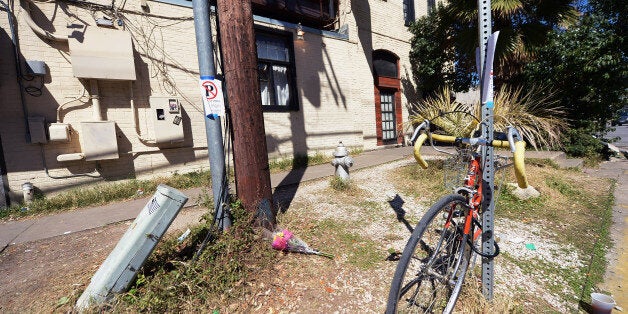 Massive Music, a company with offices in Amsterdam, New York and London, said employee Steven Craenmehr, 35, died suddenly in Austin. Additional information wasn't available.
The Travis County Medical Examiner identified the other person who died as 27-year-old Jamie Ranae West of Austin. West was on a moped that was struck by the car. Her husband, Evan West, was among those hospitalized.
The names of the other injured people were not released.
Public records obtained by the AP show that, as a 19-year-old, Owens was charged and pleaded guilty to driving under the influence in Fairbanks, Alaska, in October 2011. He also was charged with leaving the scene of an accident, but that charge was dismissed.
He also was charged in Alaska with criminal mischief related to a May 2012 incident. Court records show a warrant was issued for him in October 2012 after he failed to appear in court and the case remains open.
Records also show that in September 2010, Owens was arrested in Texas by the Killeen Independent School District police for criminal trespassing. He pleaded guilty and was convicted in October 2010.
Police said the latest incident started when an officer on a drunken-driving patrol tried to stop the driver at a gas station a few blocks away. The car took off, weaving between parked cars, and racing the wrong way down a one-way street.
The driver rammed through police barriers — three wooden pieces held up by metal poles — forcing an attending police officer to dive out of the way near The Mohawk nightclub, where the bands X and TEEN had just wrapped up and rapper Tyler the Creator was scheduled to perform at 1 a.m.
Next door, Ted Evans, 29, watched singer-songwriter Kurt Vile on the outdoor stage at Cheer Up Charlie's nightclub when the New York City resident said he heard what he thought was a gunshot.
"There was blood on the ground. I saw some people who had blood on their hands," said Evans, who said police canceled shows at both clubs shortly after the incident.
The driver continued down the street, hitting a bicyclist, two people on a moped and a taxi before striking a van.
One bouquet of flowers sat by a telephone pole in front of The Mohawk on Thursday afternoon. Daytime concerts there and next door were canceled, but Thursday evening's slate of bands was to go on as scheduled.
This story is developing. Check back for updates.
Popular in the Community