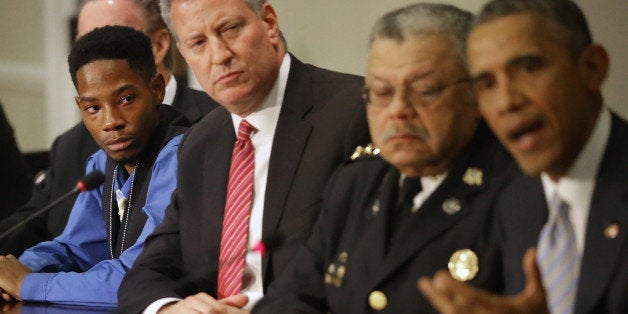 WASHINGTON -- The St. Louis Metropolitan Police Department this week convinced the local prosecutor's office to charge a prominent young Ferguson protester with misdemeanor assault because he allegedly made fleeting physical contact with a law enforcement official blocking access to St. Louis City Hall during a demonstration last month.
Rasheen Aldridge, a 20-year-old community activist, has been protesting in and around the St. Louis suburb of Ferguson on a regular basis ever since then-police officer Darren Wilson shot and killed 18-year-old Michael Brown on Aug. 9. Last month, Gov. Jay Nixon (D) named him to the Ferguson Commission, a task force intended to address problems in the St. Louis region that were highlighted in the wake of Brown's death. On Dec. 1, Aldridge was at the White House to meet with President Barack Obama to discuss the relationship between law enforcement and local communities. (He later said he left the meeting "disappointed" with Obama, whom he used to consider his "idol.")
It's no surprise, then, that the misdemeanor assault charge brought by St. Louis Circuit Attorney Jennifer Joyce against Aldridge grabbed local and even international headlines and gained traction in conservative circles. After all, a story about a prominent Ferguson protester being charged with assault fits in perfectly with the broad generalizations that many have made about those demonstrators: namely, that they're violent "thugs" with no respect for the law.
"From street mob activist to White House guest," conservative blogger Jim Hoft wrote on his website, Gateway Pundit, about the charge against Aldridge. "Torch a town -- Get invited to White House!" he added. But Hoft offered absolutely no proof that Aldridge had participated in any capacity in the looting, vandalism and arson that hit parts of Ferguson after a grand jury decided not to indict Wilson in Brown's death last month.
One video of the alleged misdemeanor assault appears to show Aldridge, in a gray cap, attempting to gain access to St. Louis City Hall along with a number of other demonstrators on Nov. 26, less than 48 hours after the grand jury decision was announced. At the time, the public building was on lockdown because authorities thought someone in the crowd may have had spray paint.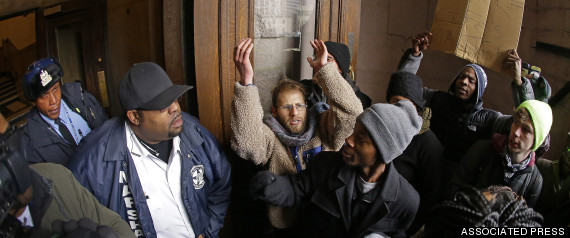 Rasheen Aldridge (center in the gray cap) shortly before he came into brief contact with a city marshal (left) as protesters tried to enter St. Louis City Hall on Nov. 26, 2014. (AP Photo/Charlie Riedel)
Aldridge -- who is just 5 feet 4 inches tall and weighs 110 pounds, according to court documents -- seems to be trying to open a City Hall door as a much larger city marshal stands guard. The marshal then appears to shove Aldridge, and the protester's hand touches and perhaps pushes the official.
Soon after the incident, police in riot gear wielding pepper spray would break up the demonstration around City Hall, claiming that the entire daytime assembly was unlawful because a few demonstrators "made contact" with law enforcement.
Susan Ryan, a spokeswoman for the Office of the St. Louis Circuit Attorney, emphasized that the third-degree assault charge against Aldridge is the "lowest-level misdemeanor available under the law." Aldridge has not been arrested, according to Ryan. Instead, she said, "He'll get a note in the mail, just like a parking ticket."
Ryan said that the prosecutor's office had a duty to evaluate the case after it was referred to the office by the St. Louis Metropolitan Police Department.
"When we've got evidence that somebody has violated the law, then we review that evidence, and if we believe we can prove it beyond a reasonable doubt, we will charge somebody," Ryan said. "All over the county, protesters are being arrested for violating the law, and it's unfortunate. But there are peaceful ways to protest without shoving city marshals or without hurting police officers."
"This has nothing to do with the protest or the speech or anything that anybody was saying," Joyce said. "You can say anything you want, but what you can't do is physically, you know, touch someone or push them or shove them or spit on them. And so that's the line, and that line was crossed here."
Aldridge is a first-time offender, according to Ryan, and it is "highly unlikely" that he will face any jail time if he is found guilty. "He'll probably get probation, and he'll probably get a probation that would require some community service, and after a certain amount of time it would be erased from his record," she said, while adding that it was not her decision to make.
Ryan said that Aldridge's role on the Ferguson Commission did not play any part in the decision to charge him. She referred questions about the police investigation to the St. Louis Metropolitan Police Department, but a spokeswoman there declined an interview request because the case is now in the hands of the circuit attorney. Ryan said that her office was in a "no win" situation because of Aldridge's higher profile.
"If the evidence was there, and it was, and if we had decided not to charge him because of his role on the commission, we would have been criticized for having him have special treatment," Ryan said. "If we charge him based upon the evidence, then we're criticized for charging someone who is on the commission."
But the lack of any sort of swift disciplinary action against many police officers who used very aggressive force against peaceful demonstrators in the months after Brown's death versus the speedy charges against one prominent protester for very minor physical contact with a law enforcement official raises concerns in the community.
"The contrast that we see ... between the actions of police that are caught on camera versus the actions of protesters that are caught on camera, how and whether these things are prosecuted -- the disparity is remarkable," Rev. Starsky Wilson, the co-chair of the Ferguson Commission, told The Huffington Post.
"I've had a team of my church members who have been involved in actions, including being present for some of those actions downtown last Wednesday, and they were concerned about the level of aggression that they saw from police out on those lines, particularly from City Hall," Wilson said.
The Don't Shoot Coalition issued a statement condemning the "retaliatory" action and declaring that it fit into a pattern of "exaggerated charges" being brought against protesters.
"Numerous activists in our movement have been followed, harassed and intimidated by the St. Louis Metropolitan Police and other local police agencies," Michael T. McPhearson, co-chair of the Don't Shoot Coalition, said in a statement. "The treatment of Rasheen stands out as politically motivated in response to his leadership on the ground and as a Ferguson Commission member."
So far, the charge seems unlikely to affect Aldridge's role on the Ferguson Commission. Wilson said that Aldridge's perspective is "remarkably valuable for the work that we have to do." Representatives of Gov. Nixon's office did not respond to a request for comment.
Chris King, managing editor of The St. Louis American, said that he was made aware of one of the videos showing Aldridge's interaction with the marshal before the charge was brought forward and that he believed the charge was "avoidable."
"In a way, if you think about it, it makes him even a better commissioner, given the role he was expected to play on the [Ferguson] Commission, which is a kid that's been there," King said. "How perfect that he's appointed as the youth protester commissioner and then gets [charged]."
Aldridge's lawyer told The St. Louis American that he planned to fight the case. "This is a bogus charge. Looking at the video, you don't see him intentionally act against that law enforcement officer," said Jerryl Christmas.
Aldridge did not respond to HuffPost's interview request, but tweeted on Friday that "Fighting against injustices is in my DNA cant stop me even if they tried."
Before You Go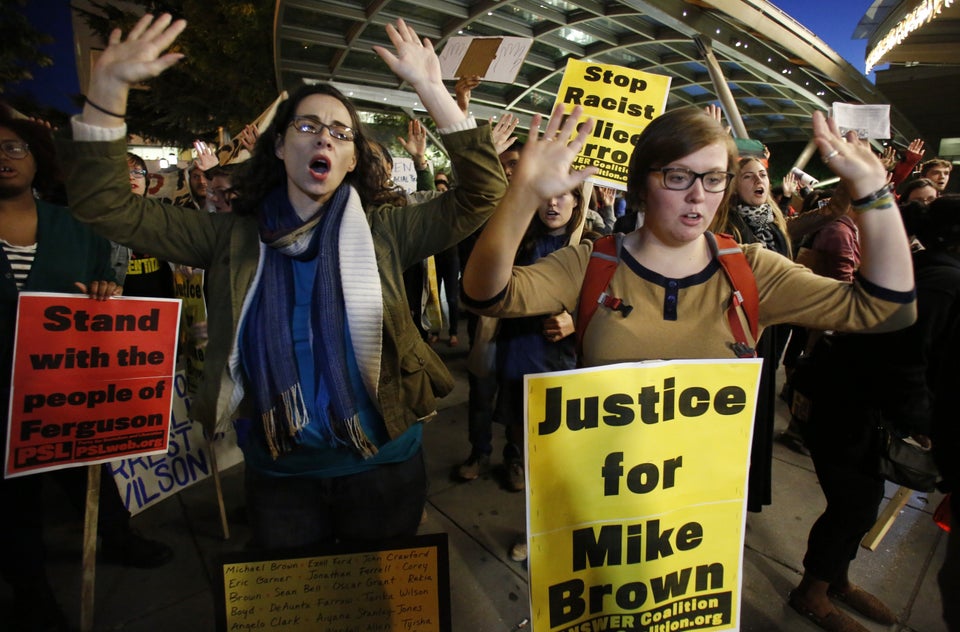 Ferguson
Popular in the Community