Don King is a man and a legend. His promotion of "Rumble in the Jungle," the heavyweight fight in Mobutu Sese Seko's Congo (then Zaire) that pitted Muhammad Ali against George Foreman back in 1974, is the stuff of collective memory. Three years later, the artist Rashid Johnson was born. He soaked up these memories and began to create a body of work that reflected on the black experience in America.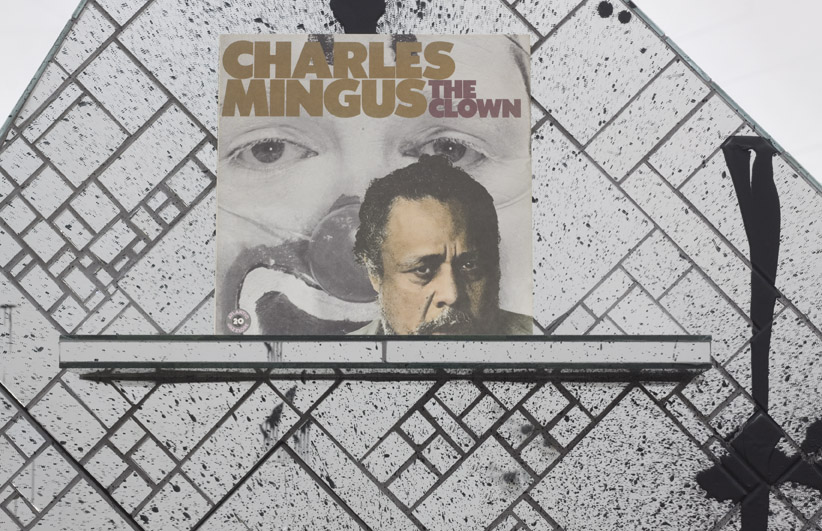 "In the 1970s, a lot of contradictory symbols and signifiers were occupying the same space in national consciousness." Johnson says in the press release. "One moment, everyone was wearing dashikis and looking for their African roots. Suddenly that all stopped and they were listening to hip-hop and watching shows on the Black Entertainment Network. I'm interested in exploring that sort of seismic change, looking into the space between things that came before and after."
Music is carefully woven into Johnson's work; we see album covers from Charles Mingus to The Ahmad Jamal Trio incorporated into installations that feature black splats dripping on a white background, occasionally onto a lump of shea butter perched on a small shelf. Julie Rodrigues Widholm, an associate curator at the Museum of Contemporary Art, said in The New York Times: "Rashid's work derives from his personal experiences, but it's about shared connections. He doesn't lose the specifics of his story, while making work that feels universal."
See examples of Johnson's work in the slideshow below, and let us know what you think in the comments section.
REAL LIFE. REAL NEWS. REAL VOICES.
Help us tell more of the stories that matter from voices that too often remain unheard.
BEFORE YOU GO